Key events
Argentina are strong favourites with the bookies this evening. Messi et al are priced at evens, while you can get fours on Croatia. Those prices surely reflect more on Argentina having the greater number of fans lumping on – they'll certainly have the bigger backing in Lusail tonight – than any major disparity in quality. Easy to forget that these two countries met at the last World Cup, in Nizhny Novgorod, where Modrić stood out in a 3-0 romp for Croatia. Actually, having thought twice, it's probably not been that easy for Argentina to forget, has it.
Argentina make two changes to the XI named for the quarter-final win over the Netherlands. Nicolas Tagliafico and Leandro Paredes come in for Lisandro Martinez and the suspended Marcos Acuña.
Croatia boss Zlatko Dalić is in If It Ain't Broke mode. He names an unchanged side in the wake of the quarter-final victory over Brazil.
Argentina: Damian Martinez, Molina, Romero, Otamendi, Tagliafico, De Paul, Paredes, Fernandez, Mac Allister, Messi, Alvarez.
Subs: Armani, Foyth, Pezzella, Di Maria, Rulli, Palacios, Correa, Almada, Rodriguez, Dybala, Lautaro Martinez, Lisandro Martinez.
Croatia: Livakovic, Juranovic, Lovren, Gvardiol, Sosa, Modric, Brozovic, Kovacic, Pasalic, Kramaric, Perisic.
Subs: Stanisic, Barisic, Erlic, Majer, Grbic, Vlasic, Livaja, Petkovic, Budimir, Orsic, Vida, Ivusic, Sutalo, Sucic, Jakic.
Referee: Daniele Orsato (Italy).
Another fascinating edition of PENNANT WATCH. Look at these two beauties, commensurate with a place in the final four. You'd have to go some to cock up either of these gorgeous colour schemes, and although some federations would surely manage to do so – the FA, for example, whose pennant designer hit print while midway through a yawn – both the AFA or HNS have delivered a quality product off the pitch as well as on.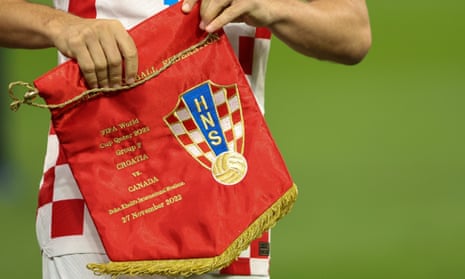 PRIMATE PREDICTION CORNER with Kent the Zagreb Zoo gibbon. Kent's got all of his predictions correct to date, and this afternoon the simian seer favoured the food box with the Croatian flag on it. Again. Some observers may question the sporting and political neutrality of this exercise, or quibble with the methodology and sample size, but we're just presenting events as they happen, without comment or spin. So congratulations to Croatia for making it through to the final!
A living legend will run out of road tonight. Lionel Messi wants to put those GOAT arguments to bed by single-handedly dragging Argentina, Maradona-style, to the top of the world. Luka Modrić, one of only two players to break the Messi-Ronaldo Ballon d'Or duopoly of the last 14 years, dreams of another masterclass in overachievement with four-million-strong Croatia. Both of their teams are more than capable of winning this World Cup; both are far from perfect; only one can make it to the final. Good luck calling it, but this much we do know: in a few hours, one of our 35 and 37-year-old superheroes will be smacked flush in the face with the realisation that their World Cup dream will almost certainly remain unfulfilled for eternity. Tears before bedtime are nailed on, then. It's a promise, a certainty, a cast-iron Guardian guarantee. Kick off is at 7pm GMT, 10pm at the Lusail Iconic Stadium. يحدث! It's on!