Key events
The department of transport has completed 40,000 pothole repairs across the state, Weibusch says. A crew of 400 people are continuing to patch up those holes and any new holes that appear.
Flash-flooding is a major cause of pot holes so drivers may not get a lot of warning. Weibusch urged people to keep across the VicTraffic website for any road closures.
Flood waters peaking in northern Victoria with Murray River to flood until November
The chief officer of SES Victoria, Tim Wiebusch, says some of the river systems around northern Victoria are now reaching their peak.
At Kerang, the Loddon River is currently at 77.94 metres AHD. That is expected to peak at 78 metres later today.
He says:
We have seen this morning some overtopping of one section of the levee near Taverner Road at Kerang. We have seen some doorknocking of around 20 properties warning that there is a risk of flooding.
Wiebusch says Kerang remains under an emergency warning, and that will remain in place for the next seven days until the waters recede enough for the road to reopen.
The town of Rochester, which was severely hit in the first 48 hours of the floods, is starting to get a reprieve: the Campaspe River is down to a minor flood level.
Wiebusch says:
We are certainly not expecting to see the river levels get back to what they were with the flooding last week.
The Campaspe River at Echuca River, which is downstream of Rochester, is at moderate flood levels. The greatest risk, says Wiebusch, is the Murray River.
The Murray River is now at 94.77 metres as it continues to rise and is expected to reach 95 to 95.2 metres from Sunday into Monday. There is still a warning to evacuate … we cannot guarantee that the levees will necessarily hold back the waters that are coming down the Murray at this time.
He says there are currently levee engineers in Echuca assessing those levees, but adds:
If you don't want to be isolated and we don't want to rescue people, our strongest message is evacuate now.
Murray River floods are slow-moving and long-lasting. Once the peak passes Echuca, which will happen early next week, the waters will move downstream toward South Australia, reaching Swan Hill by late October.
By the middle of November we'll start to see flooding at Mildura.
Victorian emergency services give flood update
The Victorian emergency management commissioner, Andrew Crisp, is speaking in Melbourne now, giving an update on the flood and storm situation.
He says there are 20 swiftwater rescue boat crews from Queensland on standby to help in case of flood rescues.
The SES received 70 calls for assistance overnight in the Geelong region which experienced really heavy falls. She Oaks near Geelong recorded 85mm overnight, 40mm of which fell in just half an hour.
Michael Efron, a senior meteorologist with the Bureau of Meteorology, says thunderstorm activity will clear across the state today, still lingering a bit in northern parts of the state.
There is still a risk of heavy rainfall across northern Victoria tomorrow.
On Monday the rain will be more widespread, he says, with chances of falls from 20-40mm.
By Tuesday afternoon it should have cleared, and there will be isolated showers for the rest of the week but no big falls. "Settled weather," Efron calls it.
Echuca floods: residents on the 'wrong side' of the flood levee band together
In Echuca, everyone is talking about the levee. There are about 60 houses trapped on the "wrong side" of the enormous wall of dirt that will protect the rest of the town from going under.
The forecast has jumped around but the river is now expected to reach major flood levels of 94.8m AHD later today, with the river peaking at 95m between Sunday and Monday.
The wall stretches for kilometres – running along Pakenham Street, Bowen Street and down Goulburn Road – but won't save everyone.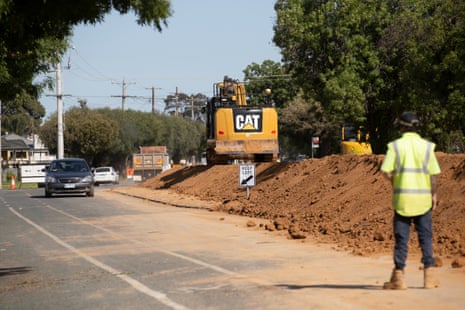 Those on the dry side will have their homes protected, while those on the wet side have water already lapping at their doors.
People walk over the wall, visiting friends and families. "It is such a grub move," one man says as he tries not to slide down the bank of mud.
On the wet side, those who have stayed to defend their homes are managing daily tasks – this morning it's rubbish collection.
On boats and paddleboards they collect mounds of rubbish from the homes cut off from the rest of the town.
They're ferrying it to the end of the street, over the wall and into a waiting truck. When this side is done, they'll dive over and do the other 30 homes. Julie Golledge's house is on the wet side.
They're collecting more rubbish in the boats going around. That's community spirit.
Golledge says the wall has not pitted the townsfolk against each other – neighbours take flowers to each other, they check on elderly residents who are still there and at 4pm each day they gather for drinks.
People's generosity has been amazing, and the messages from the dry side, the good side, they say 'whatever you need, we'll help'.

If I needed a click and collect, they would go and get it. The towns, Echuca and Moama, are united.
Golledge says the people on the wet side are just waiting. They will likely be waterlogged for weeks now. Afterwards they want a real levee built that will protect them in the future.
We are just annoyed with the bureaucracy to build this now when it should have been built years ago.

It's done, let's move on and make it better.
Dreyfus reiterates government will not direct Nacc on what it investigates when asked question about Lidia Thorpe
Dreyfus was asked by a reporter if the allegations against the Greens senator Lidia Thorpe – that she had an undisclosed romantic relationship with the former state president of a motorcycle gang while sitting on the joint parliamentary law enforcement committee – would be the kind of thing the government would refer to a national anti-corruption commission, once such a body was established.
Dreyfus said he would not direct the Nacc at all.
As I've said before, I would not direct the national anti-corruption commission, when we establish it next year, on what it should be investigating.
He said he would not comment on Thorpe, saying it was a matter for the Greens and for the law enforcement committee.
Thorpe resigned as the deputy leader of the Greens in the Senate over the issue, and apologised for failing to disclose the relationship, saying: "I accept that I have made mistakes and have not exercised good judgement."
New fines for serious data breaches will act as a deterrent, attorney general says
The attorney general, Mark Dreyfus, has addressed reporters in Canberra about legislation that will go before parliament next week to introduce massive new fines for serious or repeated data breaches.
Under the proposed legislation, companies could face fines up to whichever is higher: $50m, three times the value of any benefit obtained through the misuse of information, or 30% of their annual turnover.
Dreyfus said the penalties could be in the hundreds of millions of dollars. He told reporters:
Simply changing the law so that there's a possibly of these much heavier penalties will be a deterrent.
You can read more detail about the proposed change here: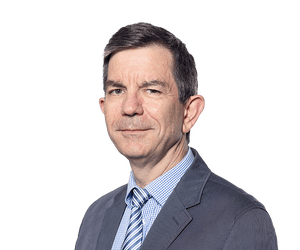 Peter Hannam
Analysis: rate rise expectations lift ahead of big week for economic news
Investors have lifted their expectations of how far the Reserve Bank of Australia will lift its cash rate, suggesting it will peak at 4.4% next year – it's currently at 2.6%.
That's at odds with the tone of the RBA this month, which shared a more cautious view that inflation will subside quickly, hence the 25 basis point increase in the cash rate on 4 October (rather than the 50bp that those investors were betting on).
Minutes out this week from that RBA board meeting noted there's a lag in the impact of the rate rises since May. We're in the midst of the sharpest tightening phase of monetary policy since 1994, after all.
This week, though, will give us important pointers to the Albanese government's fiscal priorities for the rest of its term, even if next Tuesday's budget is likely to be mostly a collection of modest forecast updates and the odd slashing of wasteful the previous government's wasteful whimsy.
The September quarter consumer price index numbers from the ABS, due out the day after the budget, may steal much of the news cycle, particularly if the annual inflation spikes much above 7% rate.
The headline rate was 6.1% in the June quarter, and, depending on your inflation flavour, was the fastest pace of price increases in three decades.
Impacts from the ongoing floods, of course, won't show up in higher prices for a while.
On the bright side, the end of the fuel excise "holiday" late last month hasn't really led to the jump in petrol prices many motorists feared.
Average prices in NSW and Melbourne today, for instance, are in the $1.75-$1.80 range, well shy of the $2 per litre that seemed likely a couple of weeks back when increases of 25 cents/litre loomed.
Ninety-nine flood warnings issued for NSW
Thousands of NSW residents are bracing for flash flooding with heavy rain and thunderstorms to hit many parts of the state, AAP reported.
Ninety-nine flood warnings are current, with the SES performing more than a dozen rescues and answering hundreds of calls for assistance overnight.

The focus of the crisis continues to be in the state's far northeast and southeast, close to the Victorian border.

In the north, emergency warnings are in place for Moree, Narrabri and the hamlet of Terry Hie Hie, while in the southern borderlands an evacuation order is current for Moama.

The Bureau of Meteorology warns the big wet will likely continue, with widespread showers and thunderstorms forecast for eastern NSW, resulting in flash flooding for many regions.

The BoM said the northeast is an area of concern as a trough and possible low-pressure system develops off the coast, bringing heavy rain to the Northern Rivers, including Lismore and Byron Bay.

"Exact rainfall amounts will depend on where this trough forms and how it moves and in particular whether the low-pressure system develops near the coast or further offshore," it said late on Friday.

"Heavy rain may bring both a flash flooding and riverine flooding risk."

A woman with a pre-existing medical condition was airlifted to hospital in Tamworth late on Friday by the Westpac Rescue Helicopter after becoming isolated by flood water on a property at Narrabri.

The same chopper was called to a Northern Tablelands farm west of Glen Innes on Friday after a man trying to drive a tractor through flood water became stranded when the engine stalled.

He was dragged approximately 200 metres to dry land by onlookers before being treated by paramedics for exposure and hypothermia.

The bureau has forecast rain and storms on Saturday further south, including Sydney, where it predicts a thunderstorm will bring heavy falls causing flash flooding.

Residents in the city's west are expected to bear the brunt, with flooding tipped on the Hawkesbury and Nepean rivers.

The BoM said there will be "some brief reprieve" from the rain towards the middle of next week but flooding will continue regardless.

"Major flooding will continue across inland NSW and northern Victoria as floodwaters continue to impact travel, roads and infrastructure," it said.
Australian ultrarunner on pace to break daily marathon world record
Did you know that you have the genes to be a long distance runner?
All humans do, according to Prof David Bishop from Victoria University. He spoke to science reporter Donna Lu about the physiological effects of long distance running for a story on Australian ultramarathon runner Erchana Murray-Bartlett, who has undertaken the extraordinary challenge of running 155 consecutive marathons to cover the distance from Cape York to Melbourne.
According to Bishop:
If you go back to our early genetics, basically, everyone has the genes to be a distance runner. Back 50,000 years ago, our survival depended on us being able to walk and jog long distances to be able to get food, and catch animals.
It's a fascinating article, even if you, like me, intend to leave your marathon-running career as a genetic promise only.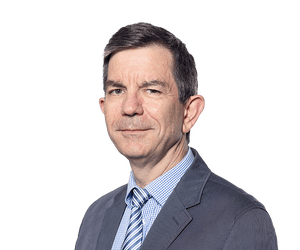 Peter Hannam
The week in energy stories
It's been another hectic week on the energy front, particularly in Victoria where the Andrews Labor government unveiled an ambitious plan to all but decarbonise the electricity sector by 2035 if it wins re-election next month.
My colleague Benita Kolovos and I looked into the plan and what might come next:
One person we spoke to told us the occasion was "spine-chilling" and "momentous", but also a recognition that the private sector cannot be relied on to deliver the urgent climate action we need to replace coal and gas in our power system – and decarbonise the rest of the economy too.
Other states are coming around to the same conclusion, with Queensland's state-run dominance of the electricity system arguably giving it a headstart.
But many questions remain for the areas facing the transition (or more positively, "transformation". One such area is Lithgow.
The challenges for these regions is ensuring there are new industries in place to pick up the inevitable slack. Finding common purpose, though, will add an extra layer of uncertainty and perhaps anxiety.
Having local, state and federal government policies aligned would also help.
Echuca levees under strain after heavy rainfalls overnight
Echuca received 18mm in the 24-hours to 9am today.
A levee near the library has been overtopped.
SES Victoria received 140 requests for help overnight
Three people were rescued after driving through floodwaters in Geelong and more than 85mm of rain was recorded in nearby She Oaks.
SES chief officer Tim Wiebusch told Seven's Sunrise program:
We can't emphasise enough – do not drive through flash flood waters. It could be the last decision you make.
The SES has received more than 8,300 calls for help since the weather emergency began and more than 750 flood-related rescue requests.
'Water coming in from everywhere': Kerang braces for flood peak
Echuca-Moama is not the only town in the Murray region bracing for incoming flood waters.
The small town of Kerang, about an hour north-west of Echuca on the Loddon River, has been cut off as the highway through the town was closed due to rising flood waters.
Charlie Gillingham is the mayor of Gannawarra Shire, which includes Kerang.
He told AAP the flood peak was expected to reach the town this weekend.
We've got water coming in from everywhere.
He said the Kerang levee was successfully holding water back but he expected it might not recede for a month or more.
Australian homeowners refinancing in record numbers
The cost of living crisis and interest rate rises continue to bite as $14bn worth of home loans were placed with a new lender in August alone.
This report from AAP:
Fourteen billion dollars worth of home loans were placed with a new lender in Australia in August alone, according to Australian Bureau of Statistics data.

That's an increase of 13% on July and 20% on August 2021. A record 27,667 mortgagors were involved compared to the 23,642 who swapped lenders in the same month a year ago.

Borrowers with a standard $500,000 mortgage are facing a cumulative $735 monthly hit to their family budget as a result of the six rate rises announced by the Reserve Bank of Australia since 3 May.

The increases – four at 0.50 per cent and two at 0.25 per cent – have taken the official cash rate to 2.60 per cent per annum.

That means forking out an additional $8,820 in repayments per year.

The rapid pace of the increases have led to considerable pressure for existing borrowers, says Graham Cooke, consumer research head at price comparison tracker Finder.

"They are scrambling to cut costs on their mortgage where they can," he said.

"Repayment spikes are just too much to manage for millions of households causing a rush to refinance."

Finder's consumer sentiment analyser reveals one in four borrowers have struggled to meet loan repayments in the past three months.

A survey conducted by online broker Savvy shows 77% of Australian mortgage holders have experienced some form of rate rise.

More than half have seen repayments jump up as much as 5% and almost one in five, by up to 10%.

As for corresponding pay increases, 34% of the more than 1,000 people surveyed said their wage packet hadn't changed since 2021.
Residents in NSW town of Moree told to evacuate
Let's go to NSW now, where residents in parts of the outback town of Moree have been told to evacuate. An evacuation centre has been set up at the Moree PCYC.
The NSW SES said that heavy rainfalls from the storms that hit Queensland, NSW and Victoria in the past 24 hours have caused river rises along the Gwydir and Mehi rivers, which may reach the heights of the March 2021 flood.
Residents in north Moree have been urged to evacuate due to rises in the Mehi River, which is forecast to reach major flooding levels of 9.3 metres this morning.
The upstream flooding from the Gwydir River, which reached major flooding levels at Gravesend, is expected to combine with the Mehi and cause a second higher flood peak early Sunday morning.
That second peak could reach levels similar to the March 2021 flood, emergency services said.
You can see all the NSW flood warnings at the SES website.
Did the wall that saved the Melbourne Cup racetrack contribute to flooding?
Sticking with floods for a moment, reporter Nino Bucci has examined the impact of the flood wall built around Fleimington Racecourse, which protected the track while houses nearby were flooded by the Maribyrnong River.
He writes:
As the people whose houses were swallowed by the Maribyrnong River dragged their ruined belongings into the street this week, until the piles of junk towered overhead, marquees were being erected downstream at Flemington racecourse.

The track, an emerald polished to a spectacular green, was saved by a 2.5-metre high flood wall, only days before the start of Australia's premier racing carnival.

But did this wall, built by the Victorian Racing Club in 2007, also contribute to the inundation of 245 properties? In stopping water from resting on part of the river's natural flood plain, did the wall make the Maribyrnong's worst flood in almost 50 years even more devastating?
You can read the full piece here.
Murray River at Echuca could reach 1993 flood levels today
The chief officer of the Victorian State Emergency Service, Tim Wiebusch, has warned that the flood peak could reach Echuca tomorrow or Sunday.
The Murray River at Echuca Wharf is currently sitting just below 94.7 metres AHD (That's the Australian Height Datum, so the height above sea level not the depth of the river).
That's about a centimetre below the height of the 1993 floods, which peaked at 94.77 metres AHD. Locals have spent the past week building levees and sandbagging to those 1993 levels. Wiebusch said the river is likely to meet and exceed that height this afternoon and continue to rise to 95 metres tomorrow or Monday.
Wiebusch told ABC News Breakfast a short time ago:
We've seen 195,000 sandbags put into place in and around Echuca and we are hopeful that that good work will protect a range of properties, particularly also with an additional levee wall that has been put into place for parts of Echuca.

But we are continuing to emphasise to people there is an evacuation warning out for that area and we are asking people to move to that higher ground, particularly as we start to reach this peak in the next 24 to 48 hours.
Wiebusch said people were starting to heed those evacuation warnings, but many were choosing to stay put and prepare their homes. But he warned heavy rain recorded in some areas overnight, which is expected to become more widespread over the next two days, could change the situation.
[In] the next 24 to 48 hours there – because as we've seen in the south of the state overnight, we've seen thunderstorms come through, we are starting to see that heavier rain. We've seen in some parts isolated totals of 30 to 60mm of rain in the south of the state, and that will spread to wider parts of our state today and tomorrow.
The Albanese government has warned of a worsening economic outlook and dampened expectations for its first budget, as towns in Victoria and New South Wales remain on flood watch.
Firstly, the federal government has confirmed it will not extend the low and middle income tax offset on Tuesday's budget, as new treasury forecasts predict that inflation will peak at just under 8% in the December quarter – and drag for longer than was previously forecast.
Treasurer Jim Chalmers dropped the bad news to media outlets overnight. You can read all the details from political editor Katharine Murphy here. She has also taken a closer look at Chalmers ahead of him delivering his first budget. You can read that profile here.
The Victorian town of Echuca, which sits on the Murray River, is still waiting for the river to reach its forecast peak. As of early Saturday morning, the Bureau of Meteorology predicted the Murray River at Echuca Wharf may today reach levels similar to the devastating 1993 flood, 94.77 metres AHD, with a peak of 95 metres – above the height of the makeshift levies – possibly tomorrow or Monday.
The Murray River was at 94.64 metres AHD at Echuca Wharf as of 3am. Our reporter Cait Kelly is in the border town. She will let us know how it's going.
There are six emergency warnings for floods in Victoria, mostly for communities along the Murray and Loddon rivers. In NSW there are emergency warnings across the state, including emergency warnings for Moama – the twin city to Echuca – as well as Moree in northern NSW and Narrandera in the Riverina.
Also the Cox Plate is running at Moonee Valley Racecourse, just north of Flemington, today.
Let's crack on. If we miss something, you can let me know on twitter @callapilla or via email, [email protected]