Key events
Bank of England split over rate rise
The decision to lift UK interest rates to 3.5% is NOT unanimous – with Bank of England policymakers split over the correct level of borrowing costs.
Six members of the monetary policy committee – governor Andrew Bailey, plus Ben Broadbent, Jon Cunliffe, Jonathan Haskel, chief economist Huw Pill and Dave Ramsden, voted in favour of a half-point rate hike.
But three members voted against.
Two members – Swati Dhingra and Silvana Tenreyro – preferred to maintain Bank Rate at 3%. Catherine L Mann preferred to increase Bank Rate by 0.75 percentage points, to 3.75%.
Bank of England Interest Rate decision
Newsflash: The Bank of England has raised UK interest rates to 3.5%, the highest since October 2008.
The Bank's Monetary Policy Committee decided to lift borrowing costs by half a percentage point from 3%, as economists had predicted, as it continues to battle inflation.
The Bank of England interest rate decision is just three minutes away…
Most Britons have a negative economic outlook for the country amid the rising cost of living, a new poll released by YouGov shows.
The survey of 1,670 adults in Great Britain, conducted on 8 and 9 December last week, suggests that the Prime Minister and Chancellor "still have a lot of work to do to convince the public that they have a grip on the economy and the rising cost of living", YouGov says.
Here's the details:
Over eight in ten (85%) Britons described the economy as being in a bad state currently

Eight in ten (78%) say the government is doing a poor job of managing the cost of living

Seven in ten (68%) expect the economy to get worse over the next 12 months

Three quarters (73%) are worried that in the next two to three years people will suffer directly from cuts in public services spending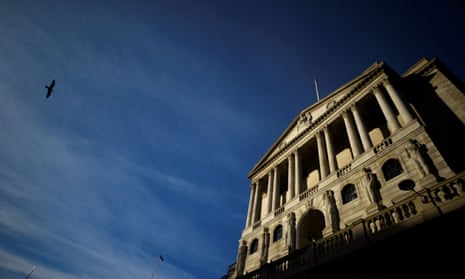 Today's interest rate decision will have followed a battle between the hawkish and dovish members of the Bank of England's monetary policy committee.
Matthew Ryan, Head of Market Strategy at global financial services firm Ebury, predicts a split vote:
"We are pencilling in another 50bp hike, although we suspect that the decision on the magnitude of the rate increase will be far from unanimous.

Assuming we see no surprise on rates, the reaction in sterling will, therefore, likely be determined by both the voting pattern among committee members and the bank's communications in its statement and meeting minutes.

"At the November meeting, the BoE pushed back against market pricing for interest rate hikes, noting that the peak in rates would be 'lower than priced into financial markets'. We suspect that it may do so once again this week, which could present some downside to GBP [the pound].

"In the event of a 50bp rate hike, and an increasingly divided committee, we think that sterling could sell-off, particularly should the statement or meeting minutes once again push back against current market pricing for UK interest rates.

That said, another 75bp hike cannot be ruled out entirely. This would be bullish for GBP, given current market pricing."
Tensions is mounting in the City, as the time ticks towards the Bank of England's interest rate decision at noon.
With 30 minutes to go, economists generally expect that UK interes rates will be lifted to 3.5% from 3%.
Barret Kupelian, senior economist at PwC, predicts the UK's high inflation rate will prompt the Bank to tighten policy again:
"At today's meeting, we expect the Monetary Policy Committee to increase the base interest rate by 50 basis points, consistent with consensus.

"Inflation remains about five times higher than the Bank's medium-term target of 2% which means that the Committee members remain under considerable pressure to meet their medium-term mandate.

"But for the first time in a long-time, a few data-points are indicating that we are in peak inflation territory and inflation should soon consistently be on a downward path, bar any additional surprises.

"Yesterday's CPI data release showed that the UK inflation subsided, mainly on the back of a strong US dollar. What was more encouraging was that core inflation, which excludes volatile items like food and energy, also stabilised.

"Second, on the labour market, there are also signs of cooling. Vacancies remain extremely high but appear to be on a consistently downward trend since the summer, and we are also seeing a trickling back to the workforce of some of the people who became economically inactive at the beginning of the pandemic.

"Finally, news from across the pond in the US is also encouraging, with the latest inflation reading pointing out that inflationary pressures are also subsiding in the US, which has been reflected in more recent comments by the Federal Reserve."
Currys warns on profits as cost of living crisis hits demand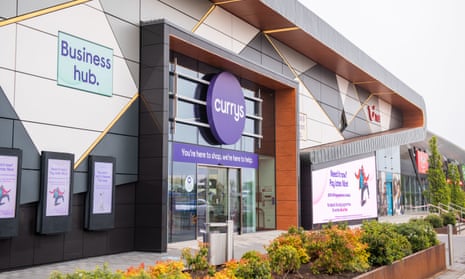 Electricals retailer Currys cut its annual profit outlook today, as Europe's cost of living crisis hit its sales.
Currys' like-for-like sales in the six months to 29 October were down 8% against the high level of sales seen over the last two years, although they were 7% higher than before the pandemic.
Currys now expects to make profits of between £100m and £125m this financial year, down from its previous forecast of £130m-£150m.
It made an adjusted pre-tax loss of £17m in the first half of the financial year, down from £45m a year earlier.
Currys chief executive officer Alex Baldock warned that the 'tough environment' is likely to continue.
Of course, our customers are feeling real cost of living pressure and our job is to help them get hold of the technology that's more essential to their lives than ever.

We're doing that, through our price promise, giving customers access to responsible credit, and offering more products that save them money through lower energy costs.

Our Go Greener range is flying off the shelves.
Lara Martinez, consumer electronics sector analyst at Third Bridge, says demand for consumer goods products has weakened:
"Our experts expect UK consumer electronics growth to be flat or no higher than 1-1.5% over the next two years. Sales of TVs, smart technology, radios, and other discretionary items will be heavily affected by the recession. The white goods category will remain flat."

"Customers don't automatically trade down to the cheapest option when selecting consumer electronics. Instead, they typically wait and search for better-value products. Currys must focus on offering competitive finance packages if it is to excite customers into making impulse purchases."
Bloomber: Hunt considers extending energy support for all UK companies
Chancellor of the Exchequer Jeremy Hunt is considering continuing to help all UK businesses pay their energy bills when the current government support package expires at the end of March, Bloomberg reports.
More blanket support could be provided, according to a person "familiar" with Hunt's thinking, rather than simply targeting it at the most needy firms.
Bloomberg says:
Hunt had previously said he would reduce the scope of the energy support for businesses from spring 2023 by focusing it on more vulnerable industries in order to save costs.

The existing six-month package is estimated to be costing the Treasury £29 billion ($36 billion).
Last week, the CBI urged the Treasury to decide which industries will receive energy support from next spring. Hundreds of companies were bracing for their bills to more than double, once the current support package expires at the end of March.
Markets down after hawkish Fed
The London stock market has lost ground this morning too, as the prospect of further increases in US interest rates hit shares.
The blue-chip FTSE 100 index is down 48 points or 0.65% at 7447 points, away from the six-month highs set at the start of December.
The smaller FTSE 250 index of medium-sized companies is down 0.6%.
European market are also in the red, with the pan-European Stoxx 600 down 1.2% after Wall Street closed lower.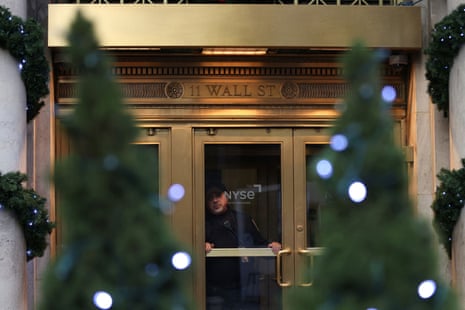 Investors have been disappointed by the hawkish words from America's top central banker, Jerome Powell, last night.
Powell said the Federal Reserve policy isn't "sufficiently restrictive" yet, despite lifting rates by another 50 basis points.
Menzies: We're well prepared for Heathrow strike
Menzies say they are 'extremely disappointed' that ground handling staff at Heathrow will strike this weekend (as Unite announced this morning).
Miguel Gomez Sjunnesson, EVP Europe, Menzies Aviation says:
"We are extremely disappointed that Unite has rejected the pay increase despite GMB accepting the offer.

Our offer of a 10.5% salary increase is extremely competitive and reflects feedback from our employees. It is a great shame that as a result of Unite rejecting the offer, strike action will now fall on one of the busiest weekends of the year as people travel to meet family and friends for Christmas.

We are well prepared for industrial action and have been working closely with key partners to put in place robust contingency plans. We remain committed to ensuring that our employees receive their increase as soon as possible and hope to be able to resolve this matter soon."
Adults shiver as winter pressures rise
A quarter of adults in Great Britain weren't able to consistently keep warm in their own living room over the last two weeks.
A new survey of the impact of winter pressures, from the Office for National Statistics, also found that over half of households cut back on energy use, such as heating.
The survey also found that 82% of people have been putting on more clothing or blankets to keep warm, while 31% have used hot water bottles or microwave warmers, while 27% have gone to bed earlier.
Here's the details:
Around a quarter of adults (23%) were occasionally, hardly ever, or never able to keep comfortably warm in their living room in the past two weeks.

Over 6 in 10 (63%) adults reported using less gas and electricity because of increases in the cost of living, with more than 9 in 10 (96%) of these adults using the heating less.

Around 1 in 3 (34%) of all adults reported that cutting back on heating their home has negatively affected their health or well-being.

Around 1 in 6 (16%) adults were somewhat, or very, worried their food would run out before they had money to buy more, and 6% said their household had run out of food and could not afford to buy more.

Around 1 in 5 (19%) adults reported eating smaller portions because of the rising cost of living, while 17% said they were eating food past its use by date.

1 in 5 (20%) reported they were waiting for a hospital appointment, test, or to start receiving medical treatment through the NHS; of those who said waiting for NHS treatment has negatively affected their life, around 6 in 10 (59%) reported that the wait has affected their well-being, while around 1 in 3 (36%) said it has made their condition worse.

Barriers to getting a GP appointment in the past month included: being offered only a telephone consultation when they wanted a face-to-face appointment (41%), waiting too long for a GP appointment (36%), and not being able to get a GP appointment (22%).
UK companies are anticipating a slowdown at the start of next year.
More than a quarter (29%) of businesses surveyed by the Office for National Statistics this month expect their turnover to decrease in January 2023, while 10% expect their turnover to increase.
Two-thirds of accommodation and food service activities industry expected turnover to decrease (which seems plausible, as business tails off after the Christmas rush).
42% of businesses were hit by a rise in the cost of the goods or services they bought in November, while 30% expect to raise their own prices in January.