Key events
27 min: Davies holds well against several defenders. He lays it over for Hutchinson, who rushes his shot and places it well wide.
25 min: De Bruyne leads the break down the middle this time. Laryea makes slight contact with Hazard, who appears to consider the option of falling but decides against it. Good for him.
But then he drops on minor contact from Johnston. I'm a referee, so I don't criticize referees, but come on, man.
23 min: The other bad news: Presses can be beaten. A direct ball goes to Hazard, who makes a nifty turn that leaves Johnston in the dust. Miller makes a vital block to concede a corner that comes to nothing … besides a counterattack that makes Courtois race out of the box to cover.
22 min: The Canadian press (on the field, not in the pressbox, where the Canadian Press does a fine job) is a sight to behold. The bad news is that the referee is now calling fouls for breathing on Belgian players.
20 min: Buchanan is becoming a liability because of his propensity for fouling. Maybe a drawback of having played rough-and-tumble college soccer?
19 min: Belgium breaks the press! Here comes De Bruyne! Tielemans is wide open to his right!
And De Bruyne meekly dribbles into the Canadian forest.
18 min: Belgium finally gets a minute of possession. It's in their own half, but at least it's a period of breaking the pressure. For now – the press forces a ball all the way back to Courtois.
16 min: Roberto Martinez needs to change something, fast. As (ahem) predicted here, the "veteran" Belgian defenders are having a lot of trouble fending off the Canadian speedsters.
15 min: "Attempts at goal": Belgium 1 (first minute, harmless), Canada 7.
Costa Rica had zero.
13 min: Cross! Not cleared! Shot blocked! Another shot! Offside call!
This is all happening in the Belgian box.
Belgium dominated play for … the first possession of the game. It has been all Canada since then.
The call, on the other hand, wasn't controversial …
Canada might have an argument with the referee here. That took forever to set up, and Davies had far too long to think about it. Courtois saves it rather easily. The rebound goes back to Davies but at an awkward angle.
That review didn't take long, and manager Roberto Martinez looks like he's about to swallow his own face.
Yellow to Carrasco as well.
VAR shows Carrasco had his arm out, and the shot hit his arm. Oh dear …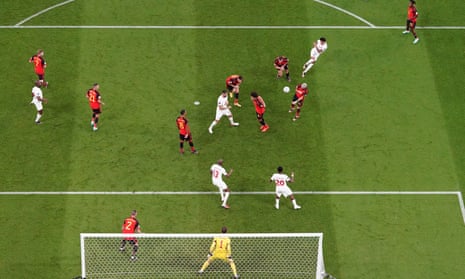 8 min: The corner lands to Buchanan, whose side half-volley deflects upward and is snared by Courtois.
Is there a handball? The ref is looking!
7 min: It's a promising Canadian cross from Buchanan that earns a corner kick.
Canada has completed 45 of the first 69 passes of this game, the stats say.
5 min: So to sum up so far – one shot each way (Canada's shot was blocked). And one impetuous foul by Tajon Buchanan. Ah, youth.
2 min: Canada bounces back with a good spell of possession in the attacking third. This is a frenetic start.
1 min: Turnover, Belgian shot from long-range, easily saved.
Referee Janny Sikazwe of Zambia blows the whistle. He has plenty of experience but is also known for blowing the whistle too early in an international game. ""I think God told me to end the match," he said. (Thanks, CTV, for noting this.)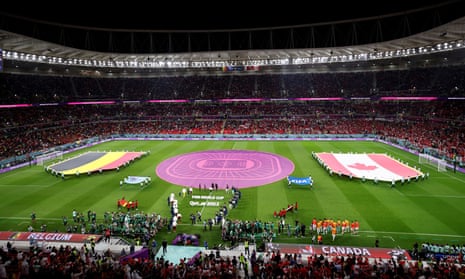 OK, one more …
Richard Hirst writes: "On the assumption you are Canadian, good luck, I'm rooting for you. After all, (most of) The Band, Joni Mitchell, Neil Young and Paul Peschisolido (yes, I'm a Fulham supporter) – not a bad line up."
I'm not Canadian. At least, not yet. But I'm a huge Rush fan. And I love Kids in the Hall. And health care. And Sarah McLachlan. And I had a great time covering the Olympics in Whistler … OK, that's it, I'm moving.
Wait … it's cold?
Final preliminaries …
Peter Oh says this game is a perfect "brunch menu": "I don't have a horse in this race but I like Belgian waffles and maple syrup. Hot coffee is brewing and the sun is out on a crisp, cold morning in Northern California. Life could be worse!"
Ted Storer on CONCACAF: "You know this better than most. CONCACAF always seems to have a team at the World Cup Finals who are just happy to have qualified (El Salvador – 1982, Jamaica -1998, Honduras – every time, Trinidad and Tobago – 2002, Panama – 2018, etc). I am really hoping that Costa Rica is that team for 2022 – having finished fourth in the regional qualifications and defeating New Zealand on a single goal in the Confederation Play-ins. Really, really, really hoping it is not the US – or Mexico – or Canada."
And one for the stat files: Atiba Hutchinson is rather old.
The Canadian anthem was greeted with much enthusiasm. Clearly a lot of Canadian fans there. And the players, along with Herdman, sang loudly. Not on key by any stretch of the imagination, but they gave it a try.
This team is apparently pretty good, even without Lukaku.
The Red Devils also have three players who are definitely at the back – Jan Vertonghen, Toby Alderweireld and Leander Dendoncker – while others are kinda sorta defenders.
Kevin De Bruyne and Eden Hazard, generational talents in almost any country, are in the attack with Fenerbahce's Michy Batshuayi.
One note: These guys aren't young. Players over 30: Courtois (30), Vertonghen (35), Alderweireld (33), Witsel (31), Hazard (31), De Bruyne (31). Good luck dealing with 22-year-olds Davies and David.
Miller, Vitória and Johnston are the back line in what you could call a 3-4-3 or 5-2-3 or 5-4-3-2-1 or whatever.
Davies plays farther back on the field for Bayern but plays in the attack for Canada along with David and Hoilett.
Hutchinson, the 39-year-old captain, anchors the midfield with Eustáquio.
Cyle Larin, who led CONCACAF qualifying with six goals, is on the bench.
The Canadian conductor …
John Herdman's teams routinely beat the odds.
He led New Zealand's women to their first World Cup points. (Name-dropping: I was there. I used to do interesting things.)
He led Canada's women to two Olympic bronze medals, one of which could easily have been silver or gold.
He led Canada's men to a resounding march through CONCACAF qualifying.
In this case, he's helped a bit by an upswing in Canadian talent, prodded a bit by people who are starting to take soccer development seriously and intelligently. The Long Term Player Development model stresses development over winning, including a mildly controversial principle of not keeping league standings for players under 12.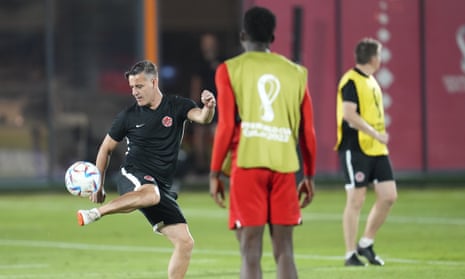 Are the Canadians more "American" than the USA?
This roster looks like a US roster of the 1990s and 2000s …
Players who played in college (Kamal Miller, Alistair Johnston, Tajon Buchanan, Cyle Larin, Richie Laryea … plus a couple who played in Canadian colleges)

Players who spent most of their childhoods elsewhere but were eligible for Canada (Stephen Eustáquio, Steven Vitória)

Players who came to Canada as refugees (Alphonso Davies, Milan Borjan)
Then add several players who came up through MLS academies, including the prodigy Davies, who moved from Vancouver to Bayern Munich in 2018.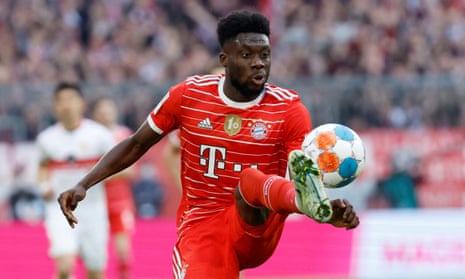 Canada's record: Poor
They've only qualified once before, losing all three games in 1986.
In CONCACAF qualifying, they're typically thrashed by Central American opponents, rarely even making it to the final round.
This time around?
They won the final round.
And that's after losing two of their last three, having taken their feet off the gas pedals after a torrid run in which they drew away to the mighty Mexico and USA and beat those teams, along with almost everyone else, on home tundra.
Canada 2, Japan 1
Did that get your attention? Hope so.
That was the result last week when Canada faced Japan last week without two of its best players, Alphonso Davies and Stephen Eustáquio.
Yes, that's the same Japanese team that beat Germany 2-1 today.
It's not a fluke. Time to explain why …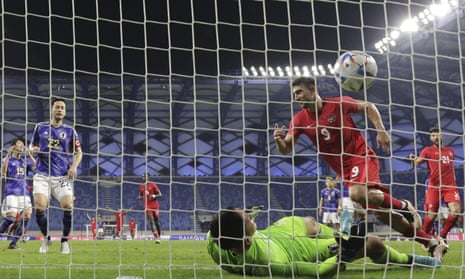 The USA drew Wales 1-1 and has shaky chances to advance.
Mexico needed a penalty save to hold Poland to a draw in a group torn asunder by Saudi Arabia's win over Argentina.
Costa Rica just gave up five goals to Spain. No, wait, six. Oops, seven. Is it over? Finally? OK, moving on.
So the hopes of North America rest with … Canada? Against Belgium?
Indeed they do. And a result here would not be the biggest shock of the Cup. And a Canadian presence in the round of 16 is certainly a strong possibility, especially after seeing Croatia and Morocco launch damp squibs in a scoreless draw today.
This could be fun. Follow along with me, won't you?