Key events
GOAL! Brazil 1-0 Serbia (Richarlison 63)
Richarlison continues his hot streak!
60 min: Sandro hits the post! Almost a goal out of nothing. The left-back Alex Sandro, who has been quiet as an attacking force, moves forward and cuts across a terrific shot from 25 yards that beats Milinkovic-Savic and bounces up to hit the post.
59 min Brazil drew their first game of the 2018 World Cup, 1-1 v Switzerland. Before that they had won every opening game since Clive Thomas blew his whistle in 1978.
58 min Tadic's cross is headed behind for a rare Serbia corner. He takes it himself, curling a wicked inswinger that is headed up in the air at the near post. The clearance is completed by another Brazilian player beyond the far post.
58 min "I think that Serbia in this game knows exactly how to play their cards against Brasil," says Ayana Solaka. "It seems to be that their game plan is preventing Brasil from scoring a goal, so they are more focused on defense than they are on offense. I have a feeling Brasil is lacking in cohesiveness as a team which is leading to a bunch of small mishaps. This is going to be a tough game! Hoping for a Brazilian win though."
Yes, I suspect Serbia's plan was to stay in the game as long as possible and try to steal a point, or three, in the last 10-20 minutes.
57 min: Double substitution for Serbia Ivan Ilic and Nemanja Radonjic replace Gudelj and Zivkovic.
55 min: Chance for Neymar! Vinicius receives the ball on the left edge of the area, looks up and slides a precise low cross towards Neymar. He takes it first-time with his left foot, 12 yards out, and clodhops it well wide of the near post. That was a brilliant ball from Vinicius
54 min Vinicius scorches past Milenkovic on the left, then cuts inside Veljkovic and flips a cross into the middle. Nothing comes of it but that was lovely wing play.
53 min Pavlovic makes a terrific last-ditch tackle on Raphinha in the area. Had he got that wrong it would have been a penalty and probably a second yellow card.
52 min "Coming from a bar in Brasília," writes Jack. "The crowd are really booing Neymar! Seems even jogo bonito doesn't trump support for Bolsonaro!"
51 min The corner ricochets off a couple of players at the near post and breaks for Richarlison, whose close-range snapshot is blocked.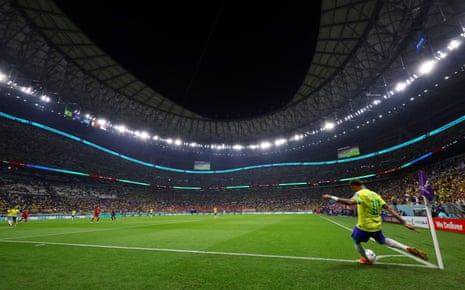 50 min The free-kick is 20 yards out, a fair way to the left of centre, so perfect for Neymar…
49 min Casemiro wins the ball on halfway and snaps a pass into Neymar. He makes straight for the area and is about to enter it when Gudelj takes him down. A clear yellow card, and a good opportunity for Brazil.
48 min Raphinha has had Brazil's two best chances. We haven't seen a replay of that recent opportunity but it looked like a pretty good save.
47 min "Never mind Richarlison, Raphinha, Martinelli and Jesus. How much could they use the sneaky guile of Firmino?" muses Matt Dony. "Not that I mind him having a month off…"
46 min: Chance for Raphinha! Brazil almost score after 35 seconds. The keeper Milinkovic-Savic played a dreadful pass towards Gudelj that was nicked by Raphinha, but he made up for his error by spreading himself to make an excellent point-blank save.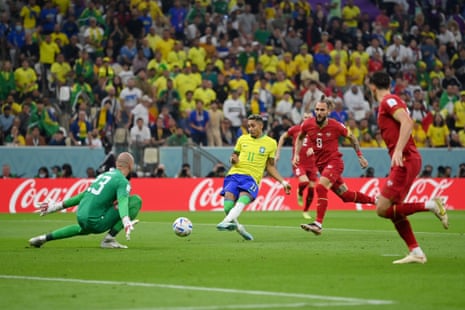 46 min Peep peep! Serbia get the second half under way. Neymar spends the first 18 seconds of the half doing his shoelaces up.
"How are Raphinha and Richarlison ahead of Martinelli and Jesus?" asks Andrew Hurley. "Raphinha was hardly earth shattering at Leeds, Richarlison can't start (mostly) for Spurs, and they're ahead of two stars of a team with the best start in a premier league in years.. watching these two and thinking of the level of the Arsenal pair this season…"
Martinelli doesn't really play on the right, does he? Richarlison ahead of Jesus is largely based on form for the national team. Richarlison has scored seven goals this year; Jesus has one in the last three years. That said, I know who I'd least like to defend against.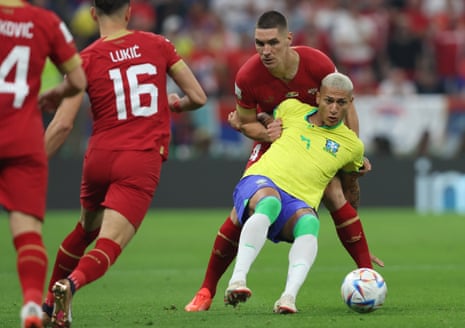 Half-time reading
The whataboutery World Cup took an unlikely twist today, when Carlos Queiroz channelled his inner David Brent.
"Having been a fan of Oxford United for the last 30 years I can assure you that constant fouling is a part of most of the English game as well," says Michael Chilcott. "Not sure about this 'South American football = fouling and cheating and am everyone else is pure' stuff."
I don't know where you've got that image of English football from.
Half time: Brazil 0-0 Serbia
Peep peep! Tite picked five attacking players, seven if you include the full-backs, eight if you count Casemiro's passing – but a resilient, well-organised Serbia restricted Brazil to only one clear chance for Raphinha.
See you in 10 minutes for the second half.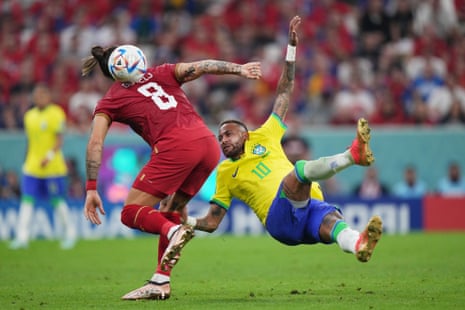 45 min There will be one minute of added time.
45 min I'd love to know how many touches Richarlison and Mitrovic have had between them. It's not in triple figures, that's for sure.
43 min "Is it just me," writes Chris Barry, "or does the Brazil coach Tite remind anyone else of Harry Grout from Porridge?"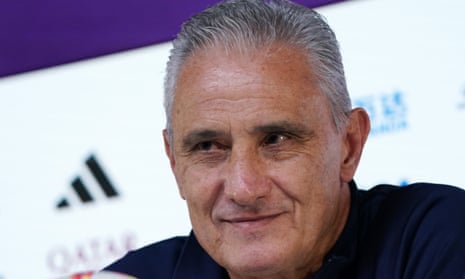 41 min Serbia almost pay the price for daring to attack. Brazil break, with someone (I DON'T KNOW OKAY) hammering a long pass downfield. Milenkovic tried to hook it over his shoulder, just inside the area, but kicked it against Vinicius Jr. He ran through on goal and was about to shoot when Milenkovic made a fine recovery tackle.
39 min Possession-watch: Brazil 60-40 Serbia. It feels closer to 70-30, but there you go. Either way, Serbia will be almost entirely chuffed with how the first half has gone.
37 min Tadic plays a return pass to the underlapping Zivkovic, whose very deep cross is headed wide by Mladenovic (I think). An eighth chance at best.
36 min "The days of the creative attacking Brazilian team are long gone," writes Jeff Sachs. "All that's left is the constant fouling … a hallmark of South American soccer today."
35 min: Chance for Raphinha! Brazil should be in front. Raphinha swaggers infield from the right, plays a gorgeous one-two with Paqueta but then sidefoots tamely at Milinkovic-Savic from about 15 yards.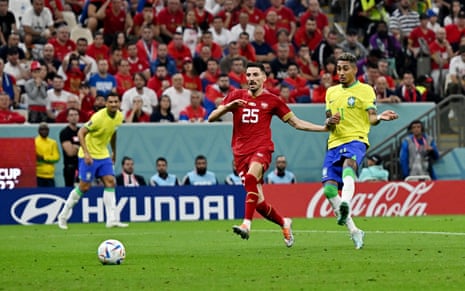 34 min Serbia's formation is theoretically 3-4-2-1, but at the moment it's more of a 5-4-0-1. Still, it's working.
31 min Raphinha takes a corner short to Paqueta, who returns it with a stylish backheel. Raphinha crosses low to the near post and Milinkovic-Savic grabs the ball in front of Thiago.
30 min Casemiro arrows a superb pass towards Raphinha on the right side of the area. He heads it across the area and Milenkovic heads behind. Casemiro's passing is a farce.
Football Weekly department
27 min: Terrific goalkeeping from Milinkovic-Savic! Thiago Silva, the old rogue, walks forward unchallenged and slices a forensic pass to put Vinicius through on goal, but Milinkovic-Savic is so quick off his line and dives bravely at Vinicius's feet.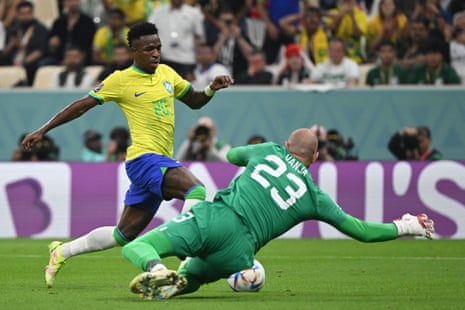 26 min "The most irritating aspect of the Brazilian national team for the last three decades or so is their constant tactical fouling," says Kári Tulinius. "For instance, it seems they take turns kicking whichever Serbian player has the ball near the halfway line, stopping attacks before they develop. It's effective, but deeply annoying, and why I've never warmed to them."
Yes, it's interesting that, in the last 30 years, Brazil have been the world's chief exporter of defensive midfielders. I don't think they even acknowledged their existence until the late 1980s.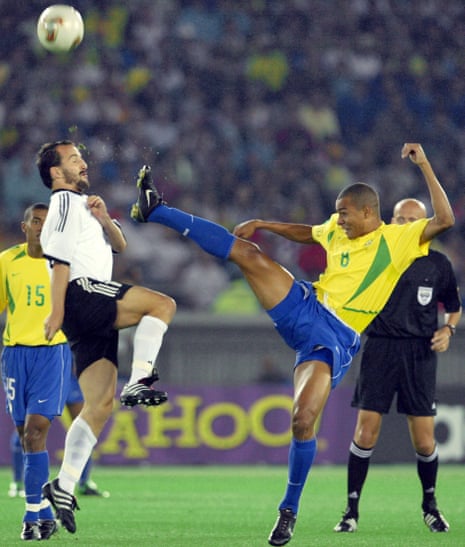 25 min That's a bit better from Serbia. Tadic moves down the right and angles a deep cross towards Mitrovic. Alisson comes from his line to claim with authority.
24 min Serbia look pretty comfortable defensively, but they haven't yet given Alexsandar Mitrovic anything to feast on. It's an intriguing game rather than an exciting one.
23 min "Hi Rob," says Kevin Dwyer. "As a young apprentice electrician in 1966 I was inspired, along with several on my fellow apprentices, by the England victory in the World Cup Final. Six of us decided to save up £4 per week out of our meagre wages to attend the 1970 World Cup. Two of us stuck with it despite the siren call of music, drink and women. As a 21-year-old I watched all of the England games plus the final in the Azteca stadium. I've seen the greats of that era in the flesh, and the laissez-faire attitude of the time saw us mingling with the players in their hotels.
"The years rolled on and the doctors told me that the last World Cup would almost certainly be my last one too. Here I am, still enjoying the Guardian's coverage of the game waiting for the updates to pop up in the timeline."
Well that's my favourite email of the World Cup so far.
21 min Casemiro hits a curler from distance that is comfortably saved by Milinkovic-Savic.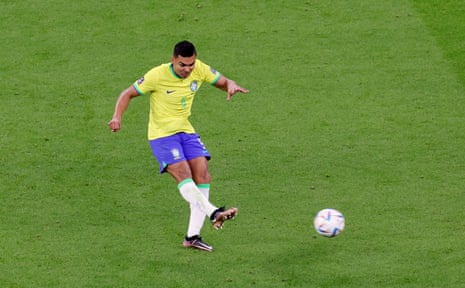 21 min Neymar hits a stinger from 30 yards that is blocked by Veljkovic. That was beautifully struck.