Key events
54 min: Two more good saves from Courtois! This is a decent game now. Brozovic whistles a low shot from 20 yards that is pushed away by Courtois, plunging to his right. Moments later he makes his third good save of the half, again diving low to his right to stop Modric's left-footed shot.
51 min After good hold-up play from Lukaku, who looks sharp and up for it, De Bruyne shoots over from 20 yards with his left foot.
50 min The corner is taken short and half cleared to Sosa, who blisters a half volley over the bar from distance.
50 min: Good save from Courtois! They were almost two goals away. Gvardiol rumbled forward and stabbed a pass to Kovacic just inside the area. He took a touch and spanked a rising drive that was pawed over the bar by Courtois. A good save, though one he'd expect to make.
50 min For all the doom, gloom and ageism, Belgium are one goal away from the last 16.
49 min De Bruyne stands up a deep cross that is headed straight at Livakovic by Lukaku. To be honest he did well just to win the header.
48 min De Bruyne makes just another space to put in a wicked cross from the right. Gvardiol leaps to shin it behind for a corner, an important interception with Lukaku waiting behind him.
46 min Peep peep! Belgium have made a half-time substitution: Romelu Lukaku replaces Dries Mertens.
"This is drek," says Joe Pearson. "On this evidence I don't want either of these teams to progress."
I don't really blame Croatia, as they only need a draw, although they'll regret their passivity if Big Rom scores a 114th-minute winner.
Half time: Croatia 0-0 Belgium
As things stand, Belgium are going of the World Cup with a whimper. They created only one clear chance, missed by Dries Mertens, in a bloodless first half. Still, it could have been worse: Anthony Taylor award Croatia a penalty for a foul by Yannick Carrasco, only to change his mind after a VAR intervention.
Half-time reading
I mean, it's probably preferable to groups of three, but it still reeks of avarice, fatigue and mismatches. One hundred and four games.
45+4 min Juranovic smashes a volley wide from the edge of the area, the last touch of the kind of half that gives 0-0s a bad name.
45+2 min "As the mind wanders during the first half, I got to thinking that when you see close-ups of Luka Modrić you get the sense that he's the most haggard-looking 16-year-old the world has ever seen," says Charles Antaki. "Luis Enrique has the same fleshless look, but seems a good 50 years older, and also somehow much fitter. Oh and now a shot on, or at least near, goal."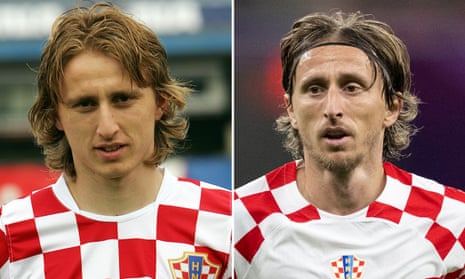 45 min Four minutes of added time.
45 min At the other end, Sosa has a pop from distance, and unwittingly homages his namesake.
44 min A lovely low cross from De Bruyne is well claimed by the diving Livakovic. That was crying out for someone like Romelu Lukaku at the near post, but Mertens was slightly on his heels.
43 min It's Croatia 0-0 Belgium, and that's the shots on target.
42 min Better from Belgium. Dendoncker beats a defender in the area, gets to the byline and cuts the ball back towards Mertens in the six-yard box. He can't quite there and the ball runs across the area to safety.
41 min Canada have pulled one back against Morocco. If they get five more, Belgium will go through.
41 min A reminder that the winner of this game will play Spain, Germany, Japan or Costa Rica. As things stand it would be Spain but that is entirely irrelevant so I'm not sure why I posted it.
40 min A precis of the excitement in the last 20 minutes: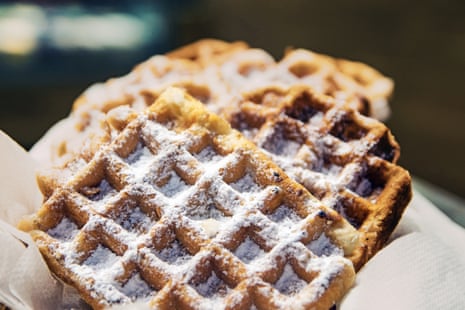 39 min "Poor Belgium really need a mate to tell them that flames on your clothes don't make you look cool," says Josse McMahon.
You say that, but Japan managed it.
37 min I wonder how fit Romelu Lukaku is. We might see him at half-time, because playing Leandro Trossard as a No9 hasn't worked so far.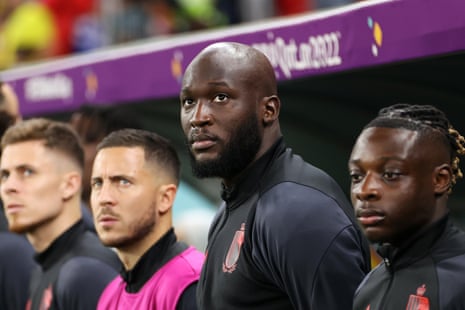 37 min "Whatever the outcome of this exciting encounter, I'm delighted that Dries Mertens (a former Napoli player who enjoyed cult status in Naples and a special relationship with the fans, earning the nickname Ciro) has been chosen ahead of the mighty Eden Hazard," says Colum Fordham. "At the age of 35, I think we can safely say it is Mertens' last iteration in this tournament and he deserves his chance. A fast, quick-witted player who became Napoli's top goalscorer (148), ahead of one Diego Armando Maradona (115)."
36 min Belgium are having a lot of the ball, but their passing has been so slow.
34 min "In fairness to Croatia," says Justin Kavanagh, "I'm sure all Liverpool fans will agree that it's not often Lovren is caught interfering with play."
33 min Sosa's deep cross is headed just over by the backpedalling Livaja, a decent effort in the circumstances. He did well to loop it back across goal but couldn't drop it under the bar.
31 min This is really dull. I blame Dejan Lovren for being a micrometre offside.
29 min "Has anyone done the math (as they say here in the US of A) on the number of caps on display here?" says Chris Willimer. "Modric has 157, Vertinghon on 144, Alderweireld 126, Perisic 118. De Bruyne has 97, even Lovren has 74. Is this the most decorated match ever?"
Good question. I might nick that for next week's Knowledge. I know that all seven Belgian players with 100 caps are in their squad, though Lukaku and Eden Hazard are on the bench.
27 min Modric's corner is headed away by Witsel. The game hasn't got going at all since Anthony Taylor reversed his penalty decision.
25 min As things stand Morocco will win the group, and probably avoid Spain in the second round. They could well have a 1986 rematch with Germany.
25 min "Rules are rules and all that, but in that move, essentially what happened was one player fouled another in the area," says Ant Ashworth. "Penalty. He gained no advantage from being that offside position, really. All this is sucking much of the joy out of football."
Yes, there is a concern that VAR has made us even more pedantic. I think I preferred it when you had to touch the ball, or invading the goalkeeper's personal space, to be offside.
24 min Morocco are now 2-0 up against Canada. That means this game is a fight to the death. Belgium need a win, Croatia will go through with a draw.
23 min That VAR delay has taken the heat out of a game that was warming up nicely.
21 min Anyway, as you were. It was Lovren who was adjudged offside. Croatia might argue that Vertonghen won the header anyway, so Lovren didn't impact the play. I can see both sides!
It was also a spandex-tight offside, so I can understand why Croatia are hacked off.