Key events
15 min The goalscorer Dari stretches desperately to stop Livaja's cross reaching Kramaric in front of goal. Excellent defending. The two teams look right up for this.
13 min And here's the equaliser.
11 min I've never seen a free-kick routine quite like that. It's still only the second best training-ground free-kick of the tournament, mind you.
10 min Orsic cuts inside from the left and thrashes wide of the far post.
Achraf Dari has equalised straight away. Ziyech's inswinging free-kick was unwittingly looped towards his own goal by the head of Modric, and Dari reacted quickest to head past Livakovic from five yards. It's his first international goal.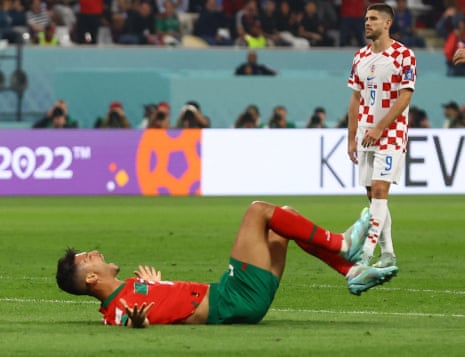 GOAL! Croatia 1-1 Morocco (Dari 9)
Now that's what I'm talking about.
The free-kick was 30 yards from goal in the inside-left channel. It was curved over the wall to Perisic, who ran away from goal to meet it and then flicked a superb header across the face of the area. Gvardiol charged onto the ball, 12 yards out, and powered a spectacular diving header past Bono.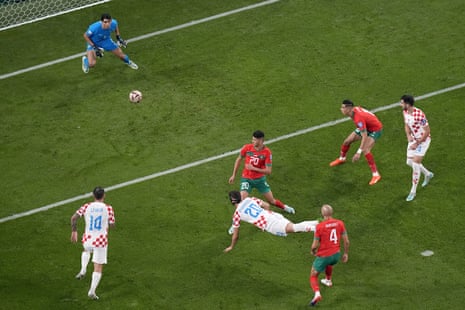 ONE OF THE GOALS OF THE TOURNAMENT! Croatia 1-0 Morocco (Gvardiol 7)
This is an unbelievably good free-kick from Croatia.
6 min "Rob, it's been a pleasure," says Aaron Roston. "This will almost certainly be my last World Cup as well, at least in this capacity, as I plan on attending the 2026 one. Since this is the consolation game, is this your consolation MBM? I think the biggest upside to this World Cup is the fact that the worker deaths, and half empty stadiums will put the kibosh on Saudi Arabia's bid."
I wish I shared your confidence on that! And yep, this is my last MBM of the tournament, unless, say, a horrible accident befalls the great Scott Murray in the next 24 hours.
5 min It's been a bright start, particularly from the Morocco fans, who are whistling every time Croatia get the ball.
3 min Bono almost scores one of the great own goals! He sliced a routine pass across the penalty area, and the ball ran just past the far post for a Croatia corner.
2 min "Like many Europeans, I don't know much about Moroccan football history, so I watched sections of the games they played in the 1986 World Cup," begins Kári Tulinius. "What surprised me is how they play in a remarkably modern style. Instead of the blood and thunder football I associate with the 80s, they played a patient possession game, less reminiscent of other teams of that era than of Spain in 2010. It's a shame that in the round of 16 they lost to a last-minute goal against West-Germany, because it would've been interesting how other teams would've been influenced by them. Instead decades passed before the rest of the world caught up with Morocco."
They played brilliantly in the win over Portugal, and from memory were pretty much the equals of West Germany. Who was the class act in midfield, Aziz Bouderbala?
1 min Peep peep! Croatia get the match under way.
Good news for UK viewers. This chap is right up there with the best; might even be the best.
Here come the players. I was going to say it'll be hard to get up for this game, but I think we all know Sofyan Amrabat will be winning 40/60 balls from the first whistle.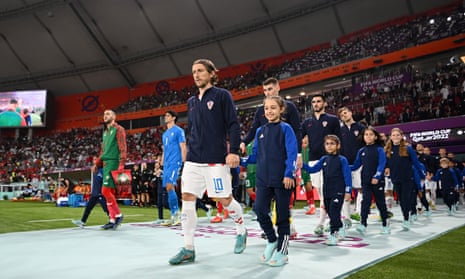 Here's a question for you, and no cheating. According to the very detailed WhoScored.com data, who has been the best player at the World Cup? He (I've said too much) has a tournament rating of 8.15, 0.01 ahead of old Lionel.
"Unless I'm hallucinating (perfectly possible), weren't you just on the OBO in Karachi?" writes Saurya Chakraborty. "Is it possible (and can we request for this) for you to do the whole OBO for Australia/South Africa, take up the Karachi OBO post-lunch and then do the final tomorrow? I'd love it if by the end you were seriously discussing the magic of Messi's mystery spin in Brisbane."
I can promise you I've typed worse at 4am during a 2009-10 tour of Bangladesh.
The BBC have Croatia playing a back three, with Orsic and Perisic as wing-backs. Do we care about tactics in a third-place playoff?
"Thank you for your coverage…" says Jeff Sachs. "Must never forget the worker deaths that made this competition possible."
I suspect, even if Lionel Messi scores 12 goals tomorrow, it'll still be the first thing many people remember about Qatar 2022. And while we're here, thanks to all of you who've emailed and tweeted our writers throughout the tournament.
"Though I've lived in the UK for many years now, I hail from Kannur, a small town in northern Kerala," writes Ramesh Nair. "It was lovely to see Kerala's love for football mentioned in the Guardian, though I would not lump it in with the rest of India. Be it politics, sport, development indices, food habits (we eat a lot of beef) or our unfortunate weakness for excessive amounts of hard-liquor, Kerala is very different to the rest of India. And that extends to its rich and long standing international football fan-culture as well, with perhaps the exception of West Bengal.
"It's a football crazy state (especially the northern half) and has long had massive fan associations for (primarily) Brazil and Argentina, but other teams as well, including more recently England! The biggest ever football related event in Kannur was Maradona visiting Kannur in autumn 2012. It remains one of the only two places that Maradona has visited in India and over 50,000 fans arrived to see him in Kannur that day. Kerala even observed a two-day official mourning period when Maradona died. He was and is a legend in these parts.
'Harry Maguire, your defense is terriyfing'
Rate it, rank it
"So, how do we rate this World Cup on the level of footballing spectacle?" wonders Ben Kybett. "Good, but not great? The climax of the group stage was thrilling, the quarter finals provided some great thrills and spills, and Morocco have been wonderful.
"Hopefully we'll have an exciting final between two tough, talented teams. But perhaps a few too many one-sided and/or drab knockout ties? No ding-dong high-scoring classics or heavyweight epics? A few early morning 0-0s in the group stages didn't help either. For me, last year's Euros, despite all the weirdness that it involved, is probably the best tournament in my lifetime. But then, I'm in my late 20s, so what do I know?"
Yeah, I'd say it's been somewhere between decent and good, on the field that is. There's an argument it's the best World Cup since 1998, but anything beyond that is a reach in my opinion. Its main virtues have been great drama, moments and particularly stories, but the actual football has been no better than middling and it hasn't had a great match or a great team.
All that said, it's quite hard to judge a World Cup until you have a bit of distance from it, six months or so. But I'm sure not everyone agrees, and nor should they.
As you'd expect, both managers have made a number changes – five for Croatia, three for Morocco. Luka Modric stays in the team for what will almost certainly (I said almost) be his last World Cup game. A few of the injured Morocco players are named among the subs, including the captain Romain Saiss. Their starting XI includes the uncapped teenager Bilal El Khannouss.
Croatia (possible 4-3-3) Livakovic; Stanisic, Sutalo, Gvardiol, Perisic; Majer, Modric, Kovacic; Orsic, Kramaric, Livaja.
Substitutes: Grbic, Ivusic, Barisic, Erlic, Lovren, Brozovic, Vlasic, Pasalic, Petkovic, Budimir, Sosa, Vida, Juranovic, Sucic, Jakic.
Morocco (possible 4-3-3) Bono; Hakimi, Dari, El Yamiq, Attiat-Allah; Sabiri, Amrabat, El Khannouss; Ziyech, En-Nesyri, Boufal.
Substitutes: Aguerd, Saiss, Ounahi, Hamdallah, Zaroury, Chair, El Kajoui, Aboukhlal, Amallah, Ezzalzouli, Cheddira, Tagnaouti, Benoun, Jabrane.
Referee Abdulrahman Al-Jassim (Qatar)
Croatia have happy memories of the third-place playoff. In 1998 they beat the Netherlands 2-1; more importantly, Davor Suker scored his sixth goal of the tournament, which gave him the Golden Boot ahead of Gabriel Batistuta and Christian Vieri. Look out also for an, ahem, unique celebration from Bolo Zenden.
Wait, come back
Hello and welcome to live coverage of the third-place playoff between Croatia and Morocco. To some, this is the most pointless game in world football; to others, it's an essential part of the rhythm of the World Cup's final week, a gentle little palate cleanser before the final.
On this occasion, it'll also be a celebration of the underdogs who have enriched Qatar 2022. Croatia and Morocco drew 0-0 in their opening game, managing only four shots on target between them; had you said, at the final whistle, that they would meet again in the bronze-medal match, you'd have been laughed out of the alehouse.
On reflection, Croatia's might have been the greater achievement. At times they have looked like a 2018 tribute act, minus a frontman, and it was a miracle of resilience that they lasted as long as they did. For a county of four million people to reach a final and a semi-final in successive World Cups is arguably – pound for pound, or rather person for person – the greatest achievement since Uruguay won it in 1950.
Morocco, by contrast, looked like they still had plenty in the tank (the fit players, anyway) in their stirring defeat to France on Wednesday. It's no exaggeration to say they have given us one of the great World Cup stories. This is a chance to celebrate them, and Croatia, and the greatest World Cup ever (sic), and anything else you fancy toasting on a Saturday afternoon.
Kick off 3pm GMT, 4pm in Zagreb and Rabat, 6pm in Ar-Rayyan.