Key events
17th over: England 104-5 (Livingstone 25, Moeen 4) Farooqi returns for his final over as Moeen and Livingstone both pick up a couple of singles. We're nearly there now.
16th over: England 100-5 (Moeen 2, Livingstone 23) Rashid Khan finishes his work, going for 1-17 off his four overs. England need 13 from 24.
WICKET! Brook c Zadran b Rashid 7 (England 97-5)
Brook tries to go big off Rashid Khan but can only find long-on.
15th over: England 95-4 (Brook 5, Livingstone 22) Back-to-back boundaries for Liam Livingstone: a misfield helps him when he drives through the off side; a cut behind point follows to ease the pressure off England.
WICKET! Malan c Nabi b Mujeeb 18 (England 81-4)
And just after I mention England's boundary drought, Liam Livingstone clips Mujeeb for four. After Livingstone gets off strike, Mohammad Nabi takes a screamer to get rid of Malan! The No.3, who's had a tough time out there today, gets decent contact on the ball but Nabi leaps to his right at cover to hold on.
14th over: England 81-4 (Livingstone 13, Brook 0)
13th over: England 76-3 (Livingstone 8, Malan 18) Nabi continues, darting them in; the boundaries have completely dried up. England need 37 from 42 balls.
12th over: England 71-3 (Livingstone 4, Malan 17) England remain quiet against Rashid Khan, who refuses to give any room for a big shot.
11th over: England 66-3 (Livingstone 1, Malan 15) Liam Livingstone comes in at No.5 for England. Nabi concedes just four from the over. This chase is getting tricky…
WICKET! Stokes b Nabi 2 (England 65-3)
Mohammad Nabi brings himself on to twirl some offies and he strikes by going straight through Stokes! The batter advances and it's an arm ball that hits the stumps via a deflection off the pads.
10th over: England 62-2 (Malan 13, Stokes 1) England aren't racing here; they've been forced into taking care against Rashid's tweak. Is there still a game on here? 51 needed from 60 balls.
9th over: England 59-2 (Malan 10, Stokes 1) A good over from Farid is slightly tarnished by a bouncer that flies over for five wides.
WICKET! Hales c Farooqi b Farid 19 (England 52-2)
Left-arm quick Farid is into the attack and removes Hales! The opener doesn't get a hold of the pull shot, and Farooqi runs in from the deep to take a much-needed grab for Afghanistan.
8th over: England 50-1 (Hales 18, Malan 8) Dropped! From the penultimate ball of the over, Hales goes for a cross-bat smash down the ground and Mohammad Nabi, running to his right at long-off, gets there – but can't hold on.
7th over: England 44-1 (Malan 4, Hales 16) Afghanistan's hope is here: Rashid Khan. Hales picks up a single from the leggie's first ball before Malan tries a reverse sweep – no contact with the bat though as the keeper collects. A cut follows from the left-hander behind point to bring a couple. Rashid nabs a couple of dots before Malan cuts once again, taking one this time.
6th over: England 40-1 (Hales 15, Malan 1) Mujeeb races through his over, conceding five from it.
WICKET! Buttler c Mujeeb b Farooqi 18 (England 35-1)
Fazalhaq continues and begins with a yorker that Hales can't squeeze away for more than a dot. After a wide, Hales is dropped at backward point by Qais Ahmad! And then the punishment: Hales makes room for a meaty swing for six over long-on. But Farooqi then strikes with his final ball of the over! The ball is full, swinging in and Buttler's clip flies high and into the hands of the man at deep midwicket.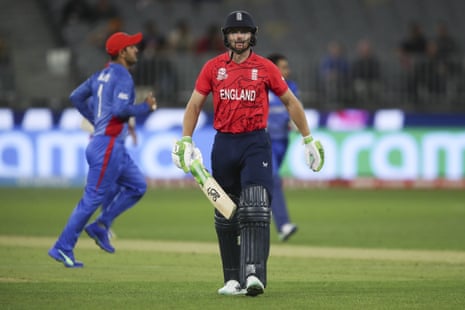 5th over: England 35-1 (Hales 11, Malan 0)
4th over: England 27-0 (Hales 4, Buttler 18) The mystery works of Mujeeb enter the game. Buttler and Hales exchange singles before the former rocks back to chip the ball over the off-side ring for a couple. The two batters continue to run hard, picking up two more next ball.
3rd over: England 21-0 (Buttler 13, Hales 3) Farooqi goes wide with his fourth ball of the over and Buttler cuts effortlessly for four more.
2nd over: England 14-0 (Hales 2, Buttler 9) Buttler at his best: Azmatullah is full with his third ball and the England captain, with a gentle push, picks up four through the covers. A good stop from Zazai at short fine leg stops Buttler from picking up four more later in the over.
1st over: England 5-0 (Hales 0, Buttler 4) Left-armer Fazalhaq Farooqi opens up for Afghanistan and Buttler clips his second ball off the pads for four. Farooqi then manages to get some decent movement away from the right-hander, with two slips waiting for an outside edge. Buttler is forced to remain patient.
He really was terrific today.
Yep, I reckon only a Rashid special can get Afghanistan back in this.
A very assured display from England in the field. Curran starred at the death, Wood's pace was terrifying, and Stokes finished with 2-19 from his four overs. Some cracking grabs out there, too.
Five-wicket haul for Sam Curran
Curran gets his fifth to wrap up the innings! Farooqi swings hard and the ball flies into the hands of Dawid Malan at gully. What a lovely moment that is for the all-rounder as he finishes with stunning figures of 5-10. Afghanistan have been bowled out for 112, collapsing spectacularly from 109-5.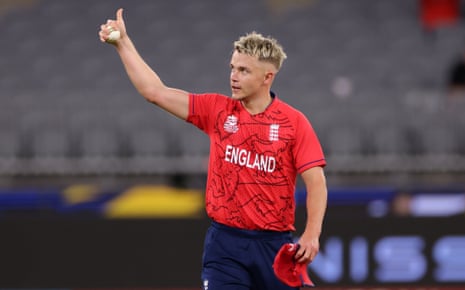 WICKET! Ghani c Livingstone b Curran 30 (Afghanistan 112-9)
No hat-trick for Curran but he takes a wicket with his next ball! Ghani slashes hard and finds Livingstone at deep point. The fun continues for the left-armer.
19th over: Afghanistan 112-8 (Ghani 30, Farid 2) Finally, a drop from England! Farid cuts and Hales, diving to his right at backward point, is unable to hold on. That was a really tough one.
WICKET! Mujeeb c&b Woakes 0 (Afghanistan 110-8)
Another one! Chris Woakes takes a one-handed return catch off his bowling to get rid of Mujeeb first ball!
WICKET! Rashid c Hales b Curran 0 (Afghanistan 109-7)
Two in two! Curran goes short again and Rashid Khan pulls to Hales at fine leg. England are rampant.
18th over: Afghanistan 109-7 (Ghani 29, Mujeeb 0)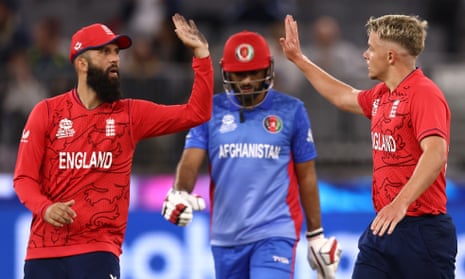 WICKET! Azmatullah c Stokes b Curran 8 (Afghanistan 109-6)
England go up for a review after Curran strikes the back pad of Ghani – but the ball is pitching outside leg stump. Curran can celebrate just moments later, though – he goes short and Azmatullah swats the ball to Stokes at deep midwicket.
17th over: Afghanistan 106-5 (Ghani 28, Azmatullah 7) Rashid a little too short with his penultimate ball and Ghani fetches four at the fine-leg boundary. Rashid finishes with a sharp googly – but it's a wicketless outing for him today.
16th over: Afghanistan 97-5 (Ghani 23, Azmatullah 5) Azamtullah is the new batter and he's off the mark straight away with a bunt down the ground for four. Wood's work for the night is done, and it's been a pleasure to watch.
WICKET! Nabi c Buttler b Wood 3 (Afghanistan 91-5)
Jos Buttler, that's ridiculous! Wood goes short and fast (obvs), Nabi gloves behind and Buttler flies with one hand to his left to take a screamer. England aren't dropping anything today.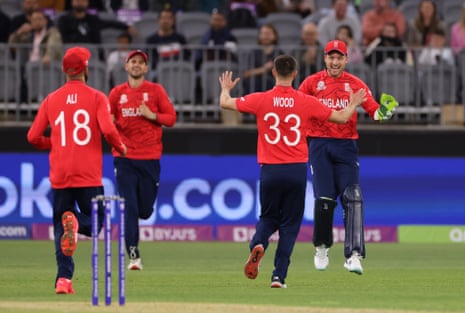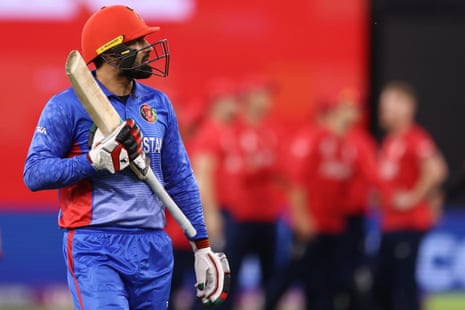 15th over: Afghanistan 89-4 (Nabi 1, Ghani 22) Stokes tests out Ghani with the short ball, and the batter obliges with a pull for four. The over finishes with another short one, and it looks like it'll be another boundary… but substitute fielder Chris Jordan pulls off an excellent stop at fine leg.
WICKET! Najibullah c Rashid b Stokes 13 (Afghanistan 82-4)
Another terrific bit of work in the field from England. Stokes pulls out the slower ball and Najibullah doesn't get the required contact – Rashid, running back from mid-on, does brilliantly to hold on.
14th over: Afghanistan 82-3 (Najbullah 13, Ghani 16) Wood returns to crank it up. The two batters have to make do with nabbing the odd single; Wood doesn't offer anything loose to throw the bat at.
13th over: Afghanistan 78-3 (Ghani 13, Najibullah 12) Najibullah Zadran is the new batter at the crease and he gets a hold of a tossed-up leg-break – he sends Rashid for a straight six. The left-hander then cuts hard at a googly, running back for a very tight two. He looks like he's gonna try and give everything a proper wallop.
12th over: Afghanistan 65-3 (Ghani 11, Najibullah 1) Top over from Curran. Afghanistan are struggling to build any sort of momentum here.
WICKET! Zadran c Moeen b Curran 32 (Afghanistan 62-3)
Zadran goes! He tries to advance down the track but hasn't read the Curran cutter – the ball lobs off the bat high into the night sky and Moeen Ali runs back from cover to hold on.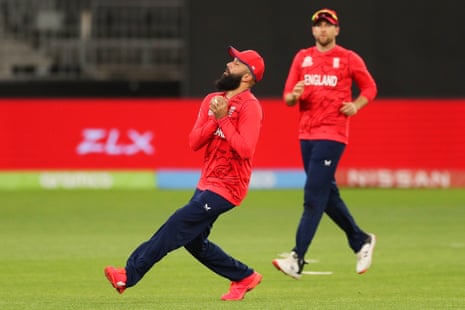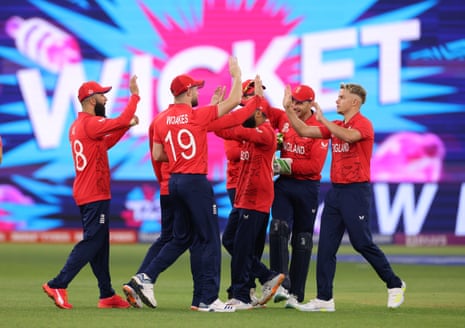 11th over: Afghanistan 62-2 (Zadran 32, Ghani 10) A wicked Rashid googly nearly does for Usman Ghani, but he just about hacks away for a single. A bit too short from Rashid a few moments later, with Ghani swatting away to deep midwicket for a couple. Afghanistan are swinging away for a bit hit – but Rashid doesn't suffer any real punishment.
10th over: Afghanistan 55-2 (Zadran 29, Ghani 6) A release for Afghanistan as Stokes goes wide and full outside off, with Zadran unfurling a gorgeous drive for four. Stokes goes full again with his next ball, which lets Zadran pick up a couple. We're halfway through the innings – Afghanistan really need to get moving in the next three or four overs.
9th over: Afghanistan 46-2 (Zadran 19, Ghani 8) Adil Rashid gets his twirl on and concedes just four runs from the over.
8th over: Afghanistan 42-2 (Zadran 18, Ghani 5) Sam Curran sprints in to show off his bag of left-arm tricks. After a neat start – just a single from his first four balls – he goes too straight, allowing Ghani to tickle the ball off the hips for four.
7th over: Afghanistan 37-2 (Zadran 17, Ghani 1) England are in control.
WICKET! Zazai c Livingstone b Stokes 7 (Afghanistan 35-2)
What a catch! This is class from Liam Livingstone.
Stokes goes short and wide, Zadran lets out the cut, but it's not middled as the ball flies high behind point – Livingstone sprints in from the deep and gets low to hold on.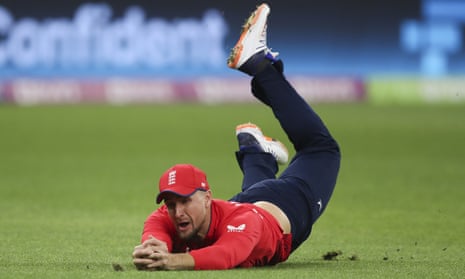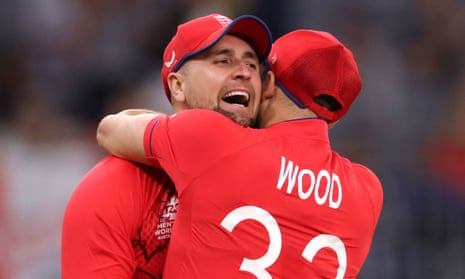 6th over: Afghanistan 35-1 (Zazai 7, Zadran 16) Woakes gets the outside edge of Zadran but the ball flies out of the reach of the diving Buttler, running away for four. That prompts the skipper to bring in a slip – only for one ball though after Zadran picks up a couple through the leg side.
5th over: Afghanistan 27-1 (Zazai 7, Zadran 10) Zadran uses the pace brilliantly, here: Wood goes short and the right-hander helps the ball over fine-leg for six. Wood, operating in the nineties (mph), bounces back with some thunderbolts past the bat, Zadran unable to lay anything on them.
4th over: Afghanistan 20-1 (Zazai 6, Zadran 4) Woakes gets four dots in a row before going short and wide, a gift for Zazai who cuts hard for four.
3rd over: Afghanistan 15-1 (Zazai 1, Zadran 4) Wood goes too full with his fourth ball, and Zadran leans in to drive through the covers for four. Otherwise, it's just dots from the over. Fast, electric and eternally watchable – Mark Wood has arrived at this World Cup.
WICKET! Gurbaz c Buttler b Wood 10 (Afghanistan 11-1)
Mark Wood strikes with his first ball of the tournament! It's rapid, the perfect length, and gets the edge of Gurbaz. Buttler does the rest. Gorgeous bowling.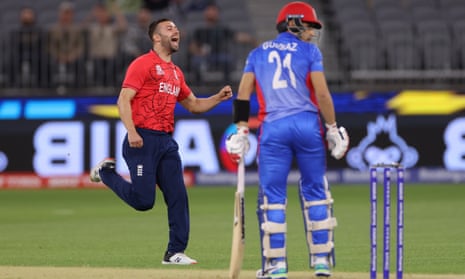 2nd over: Afghanistan 11-0 (Gurbaz 10, Zazai 1) Woakes runs in from the other end and grabs an edge off Gurbaz with his second ball – but the shot has control, the ball staying low on its way to third man as he grabs two. And then a stunning stroke: Gurbaz moves across the stumps, gets down and whips Woakes for six over the fine-leg boundary.
1st over: Afghanistan 2-0 (Gurbaz 1, Zazai 1) Stokes takes the new ball and begins with a dot before Zazai clips to the leg-side for a single. The right-hander Gurbaz blocks one before playing and missing outside off. Another play-and-miss follows as Gurbaz goes down the track for a big swing. A single closes out the over – tidy start from England.
We've heard the anthems. Ben Stokes has the ball. Let's go!
Right then, we're about 10 minutes away from getting this show on the road. Time for this tune from last year's tournament to get me in the mood:
The teams:
England: Jos Buttler, Alex Hales, Dawid Malan, Ben Stokes, Harry Brook, Moeen Ali, Liam Livingstone, Sam Curran, Chris Woakes, Adil Rashid, Mark Wood
Afghanistan: Hazratullah Zazai, Rahmanullah Gurbaz, Ibrahim Zadran, Najibullah Zadran, Usman Ghani, Mohammad Nabi, Azmatullah Omarzai, Rashid Khan, Fazalhaq Farooqi, Mujeeb Ur Rahman, Farid Malik
England win the toss and choose to bowl
"We just feel like we'd like a chase." Jos Buttler wins the toss and his men will start with the ball. Willey, Jordan, Salt and Mills miss out for England. They're going in with seven batters.
In Sydney, New Zealand have thumped hosts and defending champions Australia by 89 runs. What a result that is.
They were an over away from winning the whole thing in 2016. In 2021, things were looking good in the semi-final until Jimmy Neesham went big and Daryl Mitchell held his nerve. England have looked the part in this tournament since their 2015 white-ball rejig – but on both occasions they've fallen just short, missing that little something special at the backend to seal the deal. Third-time lucky?
The case for going all the way this year is a strong one. After a difficult summer, they made a historic trip over to Pakistan and finished with two dominant displays to take the series 4-3. With a fully-fit Jos Buttler back at the helm, they kicked off this tour of Australia with a 2-0 win earlier this month. There's a silly amount of power in that batting line-up, Mark Wood's bowling rockets and, while the Ben Stokes situation is slightly awkward, he brings that extra stardust. England fans, you're allowed to dream.
But this'll be a tricky first task. Afghanistan have Rashid Khan, arguably the best T20 cricketer on the planet. Then there are the wily tricks of Mujeeb Ur Rahman to contend with too. Whatever happens, this is gonna be good fun. I'll be back later with the toss. Drop into my DMs whenever you fancy.