Key events
Half-time entertainment. There's a World Cup coming up, and the team guides are beginning to drop. Don't shilly shally, it'll be here before you know it.
HALF TIME: Everton 0-1 Leicester City
Everton try to hit back immediately, McNeil winning a header ten yards out, Onana trying but failing to latch onto the dropping ball. But Leicester clear, and the whistle goes for the break. The scoreline doesn't flatter Leicester, who have been the better team … and what a goal. A few boos as Everton, toothless in the main, trudge off.
SENSATIONAL GOAL! Everton 0-1 Leicester City (Tielemans 45)
Dewsbury-Hall sends Barnes off down the left. Barnes pulls the ball back. Some pinball. Maddison knocks the ball back towards Tielemans, teeing him up for the spectacular. Just to the right of the D, he cushions the dropping ball on his thigh, before sending a looping volley into the top-left corner, Pickford absolutely no chance. What a wonder goal! Le Tissieresque!
44 min: This being Bonfire Night, a lot of fireworks have been set off tonight. One rocket finds its way onto the field of play, and the referee stops the game so the debris can be collected. Then, seconds after the restart …
43 min: A couple of crosses from the Everton left. Mykolenko to the diving Iwobi, who clanks his header into his own man Calvert-Lewin. Then again for Calvert-Lewin, who eyebrows weakly wide.
42 min: Tarkowski dummies a ball pinged down the Leicester left. He thinks it'll go all the way through to Pickford, but instead Daka latches onto it and has a belt from just inside the area. Pickford does well to parry.
41 min: Coleman wins a corner down the right. Onana rises highest but can't stop his header from 12 yards sailing harmlessly over the bar.
39 min: The resulting corner's worked long to Tielemans, who curls in from the right. Castagne can't keep his header down at the far post.
38 min: Maddison dances across the face of the Everton box, right to left, sitting Coleman down and threading a shot towards the bottom left. A little dink off Onana, and it's a corner. Inches wide of the post.
36 min: Iwobi nearly breaks through the middle of the Leicester defence. The ball pings towards Amartey, who instead of blootering clear, drops a shoulder and executes a cute little dragback to see off Calvert-Lewin's press, then passes away from trouble. "Oh ho ho, Bobby Moore!" chirps Jamie Carragher on Sky co-commentary. Yep, it was as cool and smooth as that.
34 min: Iwobi steals the ball off Soumare, caught sleeping again. He hands off to Calvert-Lewin, who strides down the inside-left channel before reaching the edge of the box and taking a shot that's blocked by Amartey. For all Leicester's dominance, Everton have created a couple of highly decent opportunities on the break.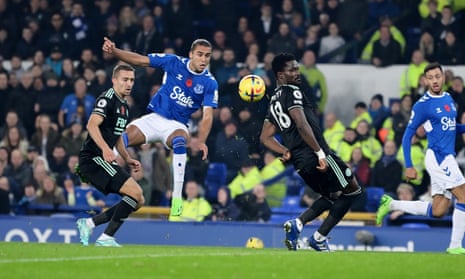 32 min: Barnes takes a shot that Pickford gathers without fuss. Leicester are well on top at the moment, and the Goodison faithful are getting a little irritated.
31 min: Maddison and Tielemans open Everton up down the right with a quick one-two. Maddison enters the box and shoots. The ball's deflected miles into the air. Pickford claims, with a little help from Coady, who sticks an arm around Daka's shoulder to stop the striker making an aerial challenge for the dropping ball. A more cynical player may have dropped to the floor, seeking a penalty, though it would have been the softest of spot kicks. But you've seen them given for less, and Coady was taking a gamble there.
29 min: Nothing comes of the corner. A couple of fireworks go off in the crowd. Despite the lack of goals, this match is a banger all right. Great fun.
28 min: Maddison, Dewsbury-Hall and Barnes are causing all kinds of bother. The former sets up the latter pair to take digs from the edge of the box. Both efforts are blocked. Maddison comes again, dancing down the inside-right channel and shooting, the ball deflected wide for a corner.
27 min: Maddison loops the free kick towards the far stick instead, looking for Daka. Pickford comes off his line and does enough to get the ball away from danger.
26 min: That muscle rub seems to have done Gueye the world of good, because he sticks out a strong leg to block Maddison illegally. A free kick within range for Maddison, just to the left of centre.
24 min: Gray, formerly of Leicester, goes over to take the corner from the left, and cops some pantomime boos from his old fans. He sends the ball into a crowded mixer, where Ward becomes the latest beneficiary of one of those barely-fouls that so often get flapping goalkeepers out of bother.
23 min: Iwobi takes the ball off Calvert-Lewin and races down the inside-right channel to win a corner. From the set piece, Tarkowski rises highest at the far stick and sends a powerful header towards the bottom left. Ward extends to paw around the post.
22 min: Maddison strides in from the right and lays off to Dewsbury-Hall, who shuttles further left for Barnes. The winger opens his body up and blooters a wild first-time effort miles over the bar. Meanwhile Operation Goodison Exercise comes to an efficient end.
20 min: "Stand by for Operation Goodison Exercise." Nothing much other than the PA going on right now.
18 min: Barnes races past Coady down the left. Coady falls. Barnes prepares to tear clear, but there was a little contact and the referee gets Coady out of trouble by awarding a free kick.
16 min: Gueye is down with a muscle problem. Some form of cream or poultice is administered. He looks pained, but eventually gets back up and will play on.
14 min: Make that seven. Daka busies himself on the edge of the Everton box and lays off to Maddison. It looks like Maddison will complete a one-two, Daka peeling off into the area down the inside-right channel, but instead threads a surprise shot towards the bottom left. Inches wide. I think Pickford had it covered, but wouldn't put too much money on it being an absolute fact. So close.
12 min: Gray cuts in from the right but can't keep his shot down. Over the bar it sails. We could so easily have had six goals already. No hyperbole.
10 min: Maddison creams a pass down the inside-right channel that Daka scampers after. For a second, it looks as though he'll either round the out-rushing Pickford on the right, and score, or be clattered by the keeper, earning a penalty. But Pickford puts the brakes on just in time, avoiding contact, and the slightly startled Daka clanks the ball out for a goal kick.
9 min: Iwobi turns into space down the right and very nearly releases Calvert-Lewin through the middle with a low diagonal pass. Calvert-Lewin can't quite bring the ball under his control and it sails through to Ward.
8 min: Maddison and Daka combine down the right to release Castagne along the flank. Castagne fires low towards the near post, where Maddison, who had kept going, sidefoots wide right. The opening to this match has been preposterously open. More, please!
7 min: Dewsbury-Hall spins Coleman down the left with absurd ease. He's got Maddison and Daka in the middle, both screaming to be teed up, but the eventual cross is no good.
6 min: Soumare dawdles on the ball just outside his own box. Gueye snaffles and feeds Calvert-Lewin, who moves the ball right to Iwobi, clear in the box! He has to score, but drags his low shot across the face of goal and out for a throw. Somewhere in the multiverse, it's already 2-1 to Leicester.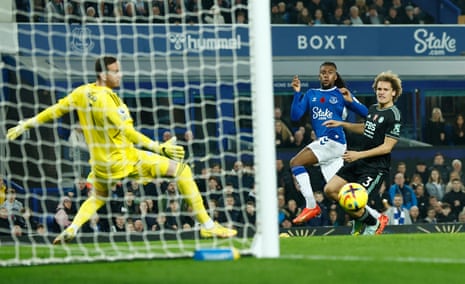 4 min: Maddison and Dewsbury-Hall combine again, shuttling the ball up the middle of the park and feeding Daka, who attempts to thread a shot across Pickford and into the bottom right. He doesn't really catch it, and it's an easy claim for the keeper. Some early warning signs for Everton, though.
2 min: That's found the Leicester fans in good voice, while most of Goodison descends into a nervous crackle. It may well be that Leicester have decided attack is the best form of defence.
Leicester get the ball rolling. They'll be kicking towards the Gwladys Street End in this first half … and nearly take the lead within 18 seconds! Dewsbury-Hall drives down the left, and finds Maddison just inside the box. Maddison immediately flicks on for Daka, free six yards out, but unable to extend his leg far enough to poke home. What a start that would have been!
The teams are out! Everton in royal blue, Leicester in second-choice black. The comforting sound of Z-Cars. Poppy wreaths are ceremoniously laid in the centre circle in remembrance of the fallen. Applause, the Last Post, and a period of silence and reflection. We'll be off in a couple of minutes.
Brendan Rodgers is up … and after reporting that Caglar Soyuncu has a hamstring problem, and offering congratulations to Dennis Praet, back home with his wife, who gave birth last night, thoughts turn to the game. "When you come here you have to be competitive. The last few years we've done that, been physical and played some really good football, and taken our chances. We need to play our game, press as often as we can, and give our movement patterns going to create opportunities."
Frank Lampard, whose programme notes today are headlined "How Could You Not Fall For This Place?", explains his emotional outpouring to Sky Sports. "I think I've said that a fair bit. It's more the break in the season, we won't be here again until Boxing Day, and we've had a lot of support, some amazing welcomes. The fans are really behind the club and the team, and myself, and it means a lot. When we get together we can do really serious things. That's why we've been strong at Goodison, and it's important we go forward with that."
The 3pm results are in!
Nottingham Forest needed an injury-time goal to salvage a point at home to Brentford, while Wolverhampton Wanderers were beaten 3-2 at home by Brighton. Meanwhile Leeds pipped Bournemouth 4-3 in a thriller, while Manchester City left it extremely late to see off Fulham, Erling Haaland slotting an injury-time penalty not so much past Bernd Leno as through him. A window of opportunity for Arsenal slams unceremoniously shut. The Premier League table now looks like it does below, and it's not good reading for clubs from ATVLand (aka the midlands, aka home of Star Soccer).
Everton make one change to the XI selected to start the goalless draw at Fulham last weekend. Dwight McNeil takes the place of Anthony Gordon, who drops to the bench.
Leicester make two changes to the side named for the 1-0 home loss to Manchester City. Patson Daka replaces Jamie Vardy, who drops to the bench, while Boubakary Soumare comes in for Caglar Soyuncu, the Turkey defender missing from the squad altogether.
Everton: Pickford, Coleman, Coady, Tarkowski, Mykolenko, Onana, Gueye, Iwobi, McNeil, Calvert-Lewin, Gray.
Subs: Patterson, Holgate, Keane, Gordon, Begovic, Doucoure, Maupay, Davies, Garner.
Leicester City: Ward, Castagne, Amartey, Faes, Justin, Soumare, Maddison, Tielemans, Dewsbury-Hall, Barnes, Daka.
Subs: Vardy, Albrighton, Iheanacho, Perez, Vestergaard, Mendy, Ndidi, Iversen, Thomas.
Referee: David Coote (Nottinghamshire).
On 28 December 1986, Everton welcomed Leicester City to Goodison Park and set about whipping them 5-1. Adrian Heath, Paul Wilkinson and Kevin Sheedy all found the net, Steve Moran grabbed a consolation for the visitors, Everton went on to win the league, and Leicester were relegated.
Different times, not only because on this same arbitrarily selected day in history, Charlton Athletic beat Manchester City 6-0. Thing is, if you told anyone at the end of this season that, over the following 35 years, nine-time champions Everton would win just a solitary FA Cup, while the Foxes (at that point with just one League Cup on their roll of honour) would go on to win two more League Cups, their first FA Cup, and a maiden English title, you'd have been patted vigorously on the head and told to wait outside the pub for the grown-ups to finish their pints.
All of which is an unnecessarily long-winded way of saying: welcome to a fixture between one of the most underachieving clubs of modern times, and one of the biggest overachievers. No answers on a postcard, no prizes. But things are slowly beginning to turn around, as Frank Lampard's side slowly emerge from the near-fatal wreckage of last season, Everton heading in the right direction for the first time in a wee while. Leicester meanwhile are in the bottom three, struggling in the old-school style, a wringer they haven't been put through for several years. Will the Lampardian revolution continue apace? Can Leicester clamber out of the relegation places? Kick-off is at 5.30pm GMT. It's on!