Key events
36 min Kudus belts a long-range shot that hits Gimenez and goes behind for a corner. Nothing comes of it. Ghana would love a goal before half-time but the main thing is that they don't concede a third, because their heads are all over the place. They need half-time desperately.
36 min "Just a note on Suarez 2010 (in case you haven't had enough already)," says Dan McKeown. "Let's not forget that the reason Suarez was in his box at the time, was that Ghana had earned a free-kick in a very promising position with a dive so egregious that no one with a half-competent guide dog would have given it."
I had forgotten that, possibly because I was flootered at the time. Looks like you're right though.
34 min: Uruguay substitution Rodrigo Bentancur is going off injured. Matias Vecino replaces him.
Suarez was involved again, of course he was. Pellistri cut infield from the right and lifted a pass to Nunez on the edge of the area. He headed it across to Suarez, who lobbed it cleverly over Seidu towards the unmarked De Arrascaeta. He waited for the ball to drop, twisted his body and slammed a volley under Ati-Zigi. Brilliant goal.
GOAL! Ghana 0-2 Uruguay (De Arrascaeta 32)
Giorgian de Arrascaeta gets his second – and this one is a belter!
30 min Suarez is down after a challenge from Seidu. He'll be fine.
29 min "This tournament is pure, unadulterated narrative," says Ben Kybett. "At this rate, Argentina will beat England in the final with a hand-of-God goal scored by Messi and mysteriously overlooked by VAR."
28 min The plot thickens: South Korea have equalised against Portugal. But as things stand, Uruguay are going through.
28 min Ghana are rocking at the moment. Suarez, suddenly rampant, has another shot that is well blocked by a defender.
A cross from the right was missed by two Ghana defenders and reached Suarez beyond the far post. He cut inside and hit a rasping drive that was partially stopped to his left by Ati-Zigi; it bounced behind him and de Arrascaeta headed it gleefully into the net from a yard.
GOAL! Ghana 0-1 Uruguay (De Arrascaeta 26)
Luis Suarez makes a goal for Giorgian de Arrascaeta!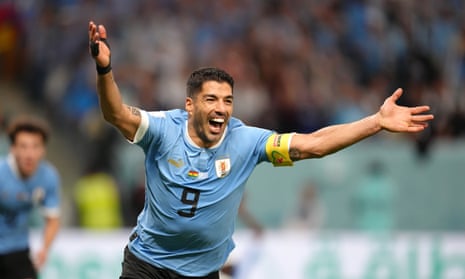 25 min A note on the penalty – VAR showed that Andre Ayew wasn't offside. I thought he was off but not interfering with play..
24 min "That was one of the worst penalties I've ever seen," says Matt Burtz. "As he was approaching the ball I literally thought 'he's going to miss this'. There was no conviction whatsoever."
It reminded me of this, albeit without the funky camerawork.
24 min Popcorn, please!
23 min: Off the line by Salisu! It's all happening now. Nunez charges through on goal and lifts the ball stylishly over Ati-Zigi, but Salisu gets back to boot the ball behind for a corner.
22 min Sad to say, it was a poor penalty from Andre Ayew. He walked up slowly and dragged a pretty tame shot towards the bottom-right corner. Rochet guessed right and kept it out with a strong left hand.
ROCHET SAVES AYEW'S PENALTY!!!
21 min This is incredible.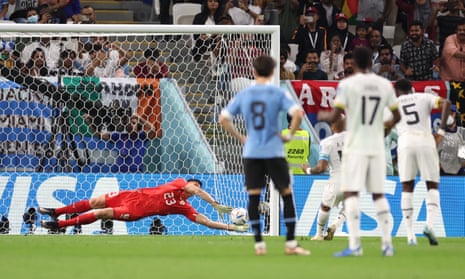 20 min It's all kicking off! Darwin Nunez has been booked for excessive feistiness. Andre Ayew will take the penalty.
19 min Rochet is fuming, Suarez is fuming. The Ghana players are protecting the penalty spot so that it can't be scuffed up.
18 min: PENALTY TO GHANA!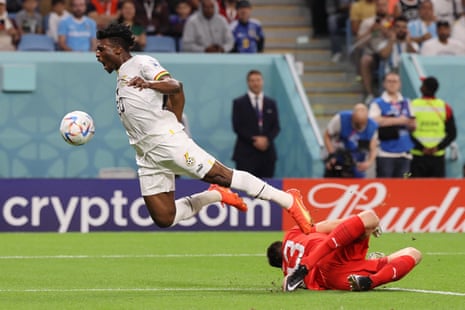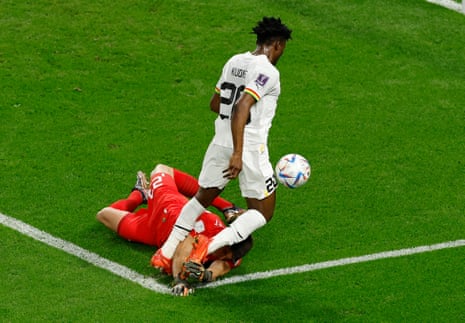 18 min Andre Ayew was presumably not interfering with play, so now they are looking at Rochet's challenge on Kudus. I think it's a foul, though it's hard to be 100 per cent sure.
17 min The referee is going to the monitor, and Luis Suarez is flapping his gums angrily.
VAR check for a Ghana penalty! I think this will be given.
16 min: Good save by Rochet! Jordan Ayew cuts inside on the edge of the area and hits a low drive that is well saved by Rochet, diving low to his left. Kudus lifts the rebound over the diving Rochet and seems to be fouled – but then the flag goes up for offside against Andre Ayew. We might have another VAR special here.
13 min Suarez heads the ball on towards Nunez, who charges away from Seidu and towards the penalty area. Salisu comes across, Nunez leaves the ball behind and is challenged by the recovering Seidu. For a moment it looked like he was through on goal.
13 min De Arrascaeta gets round the back on the right but his cross is too close to Ati-Zigi.
10 min The game hasn't really got going. Give it time, there's no chance this ends without an incident.
9 min Varela plays a good ball down the right to Pellistri, who holds off Rahman and cuts the ball back to the edge of the area. There's nobody there.
9 min Good news for Ghana and Uruguay: Portugal have taken the lead against South Korea.
8 min "Surely," says Shiladitya Pandit, "screaming 'negrito' at Patrice Evra, flipping off Fulham fans, and munching people from three different nationalities in three different countries trumps getting a red card for a handball."
Well, yes.
6 min Suarez has been quiet so far, and none of the Ghana players have tried to maim him. He has first run down the left and is booed all the way by the Ghana fans.
5 min "Let's face it, we'd have expected an English player to take a red in the Suarez situation in 2010, just as we expect the last defender to foul the forward rather than let them through on goal in the dying stages of a cup tie," says Nick Smith. "Suarez's actions afterwards were just glee at getting through."
Will nobody think of the children?
4 min De Arrascaeta robs Partey and Uruguay break quickly. Eventually Nunez dives just outside the area and the referee waves play on.
2 min Gimenez is caught late by Kudus, a poor tackle for which he should really have been booked.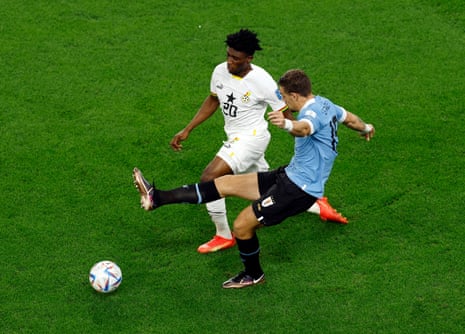 1 min Peep peep! Luis Suarez gets the match under way. Uruguay are kicking from right to left as we watch.
Luis Suarez shakes his hands with all the Ghana players, smiling like a friendly puppy. Now he's blowing kisses to someone in the crowd. He's up to something.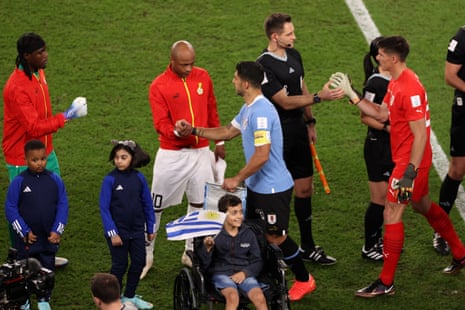 "My YouTube feed recently suggested a clip of Spain v Uruguay from Italia '90," says Stephen Moonie. "During the match, one of Spain's defenders did a 'Suarez', blocking a Uruguayan header which was clearly going in. Ruben Sosa blasted his penalty over the bar, the game ended 0-0, and Spain won the group. What goes around, eh?"
It wasn't even a red-card offence back then, so Francisco Villaroya stayed on the field.
Luis Suarez, who has spent the last 24 hours making himself at home in Ghana's subconscious, leads Uruguay onto the field. There's a cracking atmosphere in the stadium.
"What chance we see a late-game Roy-Keane-on-Haaland style leg-breaker hard-but-fair challenge on Luis Suarez today, Rob?" writes Justin Kavanagh. "You know and I know that's what everyone in Ghana and most of the rest of us nobody in football wants to see."
"Guess that's the World Cup for you," says Joe Pearson. "Goals given by the Hand of God, taken away by the Hands of the Devil."
Heh. I think Suarez called it the hand of god at the time as well.
The other game in this group is South Korea v Portugal, which only becomes relevant to this match if South Korea win. Barry Glendenning is all over it.
Football Daily nuts are we
The story so far
Ghana have been all sorts of fun. They lost 3-2 to Portugal in a thriller, then beat South Korea by the same score.
Uruguay started with a 0-0 draw and were a bit unfortunate to lose 2-0 to Portugal. Scoring a goal today would be a big start.
Ghana A win against Uruguay will put Ghana through. A draw will be enough unless South Korea beat Portugal, in which case Ghana must hope South Korea pull off only a one goal victory, otherwise the Asian side will pip them on goal difference.
Uruguay must win, and hope that South Korea do not win against Portugal. If both Uruguay and South Korea win, then their relative goal differences will decide who qualifies. Uruguay start with a goal difference one worse than South Korea, so would have to beat Ghana by more than South Korea beat Portugal.
(With thanks to Martin Belam)
Of course he does. He replaces Edinson Cavani in one of three changes from the defeat to Portugal. Giorgian de Arrasceta and Facundo Pellistri are in for Diego Godin and Matis Vecino, which probably means a switch to a back four. And with Godin out of the side, Suarez will take over as Uruguay captain. Of course he will.
Two changes for Ghana, both at full-back. Alidu Seidu and Baba Rahman replace Tariq Lamptey and Gideon Mensah.
Ghana (possible 4-2-3-1) Ati-Zigi; Seidu, Amartey, Salisu, Rahman; Partey, Abdul Samed; Kudus, J Ayew, A Ayew; Williams.
Substitutes: Ibrahim, Nurudeen, Lamptey, Odoi, Owusu, Issahaku, Kyereh, Bukari, Afriyie, Mensah, Aidoo, Sulemana, Djiku, Sowah, Semenyo.
Uruguay (possible 4-4-2) Rochet; Varela, Gimenez, Coates, Oliveira; Pellistri, Valverde, Bentancur, De Arrascaeta; Suarez, Nunez.
Substitutes: Muslera, Sosa, Godin, Vecino, De La Cruz, Torreira, Vina, Gomez, Torres, Cavani, Caceres, Canobbio. Ugarte, Rodriguez
Referee Daniel Siebert (Germany)
Great rivalries are supposed to develop over time. Ghana v Uruguay is different. They've only ever played each other once, in the quarter-final of the 2010 World Cup, but it was a uniquely astonishing game that created an instant rivalry.
I'm sure you know what happened: Ghana were about to score a 120th-minute winner, and became the first African team to reach the semi-finals of the World Cup, when Luis Suarez pushed Dominic Adiyiah's header off the line with both hands. He was sent off, Asamoah Gyan missed the penalty, Uruguay won the subsequent shootout and Suarez danced on Ghana's grave.
Twelve years on, here they are again. Only one team can go through to the last 16 (there's a small chance they'll both go out, but we'll come to that), which means another fight to the death.
Suarez, the greatest World Cup villain since Diego Maradona, seems to be cruising for a bruising; he appeared at a press conference yesterday and pointedly declined to apologise for the handball. He probably has a point – I suspect 99 per cent of footballers would do the same thing in his position. The biting, on the other hand; that's his own little foible.
If Ghana win today, they will close the book on Suarez's World Cup career. He, and Uruguay, are unlikely to go quietly.
Kick off, and it surely will 3pm GMT, 6pm in Al Rayyan, 3pm in Accra, midday in Montevideo.