Harry claims Meghan's popularity 'upset' other members of royal family
Prince Harry claims there was resentment in the royal family at the popularity of Meghan during the couple's official tour of Australia and New Zealand, during which they had announced that the Duchess of Sussex was pregnant.
In a pointed moment in the fourth episode of the Netflix Harry & Meghan documentary, Harry says: "The issue is when someone who is marrying in, who should be a supporting act, is then stealing the limelight, or doing the job better than the person who was born to do this, that upsets people. It shifts the balance."
Over a montage featuring Kate, now the Princess of Wales and the now King Charles III, Harry continues: "You've been led to believe that the only way your charities can succeed, and the only way that your reputation can be grown or improved, is if you are on the front pages of those newspapers. But the media are the one to choose who to put on the front page."
Meghan's friend Lucy Fraser says that she thinks the Australia tour was a turning point because they were so popular with the public. "The internals at the palace" did not like it, she says during an interview.
Key events
Meghan is now talking about how she was convinced to try and write a letter to her father to trigger a rapprochement, but there were complications in getting it sent. Meghan says she couldn't just send it directly from the palace. When she gets confirmation it has been received, she says, it is obvious to her that it has been signed for by someone who wasn't her father, and she knows his handwriting.
The letter then became public. "It was horrendous," she says. She says that the aily Mail said "we have the full and complete five page letter"
The letter ended up the subject of litigation. She is complaining that the Mail published it in a redacted format that took out key details.
Harry then says why would the Mail be "stupid" to publish the letter between daughter and father, and he says the answer is simple, that the paper knew the palace would encourage them not to sue.
NOTE TO SELF: Remember to avoid the Guardian getting sued by writing this stuff out from the documentary.
Episode five opens with some cute footage of Archie trying to navigate a cornfield maze. Meghan says that she felt alone a lot as a child, and wanted a big family.
"So when I was pregnant with Archie," she says, "I was just so excited that we were going to create for him that thing that I had always wanted."
She said she did everything to make them proud and "really be a part" of the royal family. "And then the bubble burst."
"It was already clear to the media," says Harry, "that the palace wasn't going to protect her."
Meghan says this was a turning point and that they started having harder conversations about "what has to happen for us to continue to make this work".
And that is the end of part four. I am going to grab a coffee and then start part five. Do drop me a line at [email protected].
There is now a clip of an ITV documentary that had been greenlit by the palace about the trip to Africa, and Meghan says she thought it was just going to be a glossy brochure of the tour, and then she is being asked about her mental health in an interview that she says she din't even expect to be used in the documentary.
The quotes went viral and spawned the hashtag #WeLoveYouMeghan, the couple say.
There is an archive clip of Diana talking about depression and being at the end of her tether.
Harry says "from an institution perspective" there was something wrong with Meghan revealing her struggles, rather than something wrong with the system. Harry says the media coverage was out of kilter with the reaction of the public.
The documentary now features Harry, Meghan and four-month-old Archie doing their first royal tour as a family in South Africa.
Aside from the legal situations with newspapers that I mentioned earlier, the allegations that there were negative briefings from inside the palace to favoured royal reporters about Meghan & Harry carries with it another bind for the press. As one supporter of the couple on Twitter put it succinctly:
Harry & Meghan have put royal reporters in the position of either having to admit that the palace was briefing against the couple OR that most of the press exclusives were completely fabricated.
Neither is a comfortable position to be in.
Lorren Khumalo, Archie's former nanny, is being interviewed now, saying Harry and Meghan were "really hands on parents."
Meghan says she didn't just take care of Archie, "she took care of me."
Harry described one of the first things he saw on social media after the birth being the tweet by BBC Radio 5 Live Danny Baker which depicted a black and white photo of a well-dressed couple next to a suited chimpanzee with the caption: "Royal baby leaves hospital."
Baker departed the BBC over the tweet, which he had subsequently deleted.
"Their dignity and their right to be treated equally and have their humanity respected and acknowledge was secondary to a white patriarchal media establishment," says historian Afua Hirsch.
Meghan's mum says it was almost like "this is not your child, this is the institution's child".
After a high-profile baby shower in New York organised, Meghan says, by her friends at their own expense, sparked a backlash, we have reached the part where the Queen offered Harry and Meghan to move to Frogmore Cottage and have their first child.
The fake town crier who shouts the news as a hobby while wearing fancy dress has appeared right on cue to annoy me.
Footballer Ian Wright is shown celebrating, saying there is a black prince and it has changed the game.
Archive footage of the presentation of young royals is being shown, and the documentary is talking about how Meghan and Harry took a different approach, and that the palace was not sympathetic to her concerns about being shifted around to appear at the traditional hospital doors.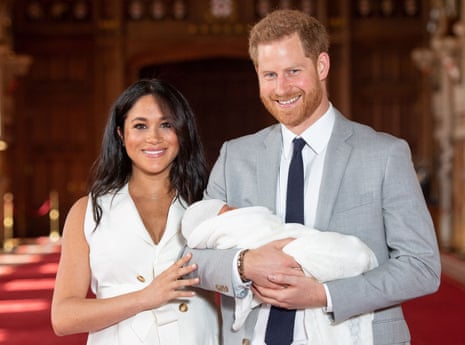 The media is then shown complaining that, as Harry put it, they hadn't "served our child up on a platter".
Meghan's friends are now talking about how they got together to try and "turn the narrative around".
Harry accuses William of breaking promise not to operate press office like their father had
Harry describes disagreeing with his father about taking on the media. Harry says he has 30 years' experience of how it works. We get to the "It's a dirty game" moment, when Harry says the communications offices at the palace work against each other.
Harry says that both he and William saw what happened with his dad's office – presumably about his mother – and said that the two of them had agreed never to operate like that.
The documentary goes on to the moment when William and Harry split households.
"I would far rather get destroyed in the press than play along with this game, or this business of trading. To see my brother's office copy the very same thing the two of us promised we would never ever do, that was heartbreaking," Harry says.