Key events
46 min Is this one match too far for this Croatia? Kamada picks up a loose ball, dips inside, and lashes a shot that' flies not too far over the bar.
46 min We go again, no changes – unlike previously, Japan don't need to, while Croatia don't have enough in reserve to start messing at this stage.
Half-time email: "I second your recommendation of Wind-Up Bird Chronicle," says Joseph Trivers. "My favourite, and I think his best, novel. It really is peak Murakami. I also like Killing Comendatore. In both novels, the marriage of classical music and jazz with the narrative works very well and adds a layer of meaning. OK, 1Q84 makes excellent use of its references to music, but I don't think it is as strong a novel as the other two. (I fully admit that I might be overestimating Killing Commendatore as my in-laws live in the area where the novel takes place and I was a bit nostalgic whilst reading.) But just don't stop at the novels – the short stories are exquisite as well – the collections The Elephant Vanishes, After the Quake, and Men Without Women in particular."
Wind-Up Bird was the first novel of his I read and I was on holiday at the time – as with music, the impact of a book is contingent us much on us as it – but still. And, even though I speak no Japanese, I can tell that the translation is brilliant and better than in some of his other work.
Before you reach for the half-time oranges, please consider supporting Guardian journalism like this, for three reasons:
We are independent – no one tells us what we can and can't publish (and that includes Fifa)
We rely on readers funding us to keep us independent
We give you the full picture – the excitement on the pitch and the shame, corruption and injustice off it
Support the Guardian from as little as £1 – it only takes a minute. Thank you.
Half-time: Japan 1-0 Croatia
Japan have played really well, moving the ball quickly, running aggressively and playing with greater imagination than Croatia. The second half should be a belter.
45+3 min Croatia go short too, but the ball that comes in is floaty and Lovren can't get make a decent connection.
45+2 min Modric sticks another ball into the box and Petkovic's spin and cross yields a corner off Yoshida. It'll be this, then the whistle…
45 min There'll be two added minutes, and co-commentators, taking the mick out of how long was added earlier is to the detriment of the game and also to fans who pay to attend. We see too little football in every 90 minutes, and there should be pressure to keep playing more, not snarky comments.
44 min There's a VAR check for offside, but it's clear!
GOAL! Japan 1-0 Croatia (Maeda 43)
Japan have earned this! I've been really impressed with their short corners – it's not often we see any that are any good – but what happens here is it goes to Doan, he goes one more to Morita, and when the ball comes back, he curls in a delectable cross to the far post, where Yoshida's challenge squirts it square and Maeda forces home from close range!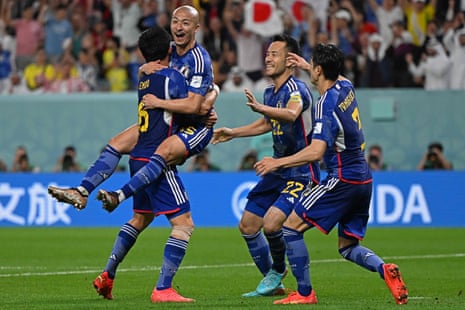 42 min Here come Japan again, Ito stepping inside and crossing from the left, Juranovic taking the law into his own hands and thunking a header behind as Livakovic comes to collects. The corner yields another…
40 min Croatia win a free-kick when Yoshida fouls Petkovic, hurting himself in the process. The ball in, though, is poor, and Japan counter at pace, recycling when they don't find an immediately telling ball, then Ito backheels and Kamada collects, a fine first touch and clever chop earning him a shooting opportunity down the left of the box … but his floaty curler drifts over the bar. Japan are much sharper and more cohesive in attack.
38 min "The only Murakami I've read is Kafka on the Shore," says Joe Pearson. "Intriguing, for sure, but it did not entice me to further pursue his oeuvre. I'm probably just a philistine. Shrug."
I quite enjoyed it, but it's a long way off Wind-Up Bird, I'd say. Norwegian Wood and What I Talk About When I Talk About Running are also good.
37 min Nice spin from Kamada, whose ball out wide is intercepted by Brozovic's slide. Then "Modric gives it away again," not words anyone supposed to ever speak, but Jermaine Jenas says them and he's right.
36 min Doan looks really dangerous. Nominally, he's playing on the right-wing, but actually, he's buzzing about there and in central areas and Croatia haven't got to grips with him.
34 min Morita lofts long and Doan controls well at an awkward height knocking off. Japan can't find the right pass immediately, but they keep the ball well and one pacey pass, fed into Doan facilitates a one-touch turn around the corner into Maeda, who collects on the half-turn … but whose control means the ball doesn't come with him.
33 min We've not seen much attacking from Japan these last 10 minutes, but they won't mind that, because the more Croatia attack, the more the open themselves out to being countered on.
31 min It's occurred to me that I've been talking about Japan for a good 90 minutes now, and haven't recommended Haruki Murakami's Wind-Up Bird Chronicle. So allow me to address that now: it's an unbelievably good book, which I know is no revelation, but if you've not read it, you definitely should. He has other good ones too, but this is the best – by far, in mine.
30 min "Croatia's kit is pretty smart"," reckons Charles Antaki, "but it's a shame they've given up on the big squares they had in 2018 – that was an aesthetic classic. In the same vein, I thought the Poland kit this year was absolutely beautiful: simple, clean and not contaminated with bizarre ad hoc decorations (like, for example, the ludicrous flames on the Belgian sleeves, not to mention the meaningless blue-stripey epaulets on the English shirts)."
I love all Croatia kits because of the uniqueness of the flag it represents. I enjoyed the white Ghana kit too – the red was dreadful – and think South Korea have captured a luscious shade of red.
28 min Croatia create, Modric lofting a trademark outside-of-the-boot ball for Perisic, on the left of the box; his volleyed cross it just too strong, but pressure is maintained and the attack sustained, Barisic crossing well, Perisic flicking on, and Kramaric only just unable to apply the far-post poke that would've put his team in front.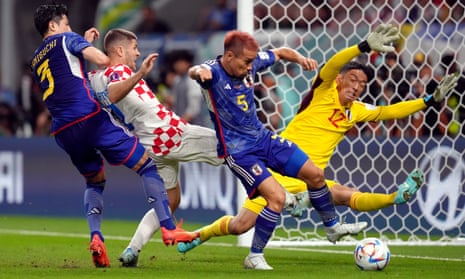 28 min "We played a version of Green Pig," says Joe Pearson, "but you put your thumb to your forehead with your fingers fanned out. No one says anything. The last person to notice has to 'sniff it up'. I know, I'm sorry."
26 min Here come Croatia, a hopeful ball from Gvardiol missed by Yoshida and releasing Petkovic! He trundles into the box, on its left, and has Perisic shrieking for a cut-back and Kramaric squealing for a square-pass … so he hangs onto it until a defenders comes close, before trying a nutmeg ball towards the latter, with predictable results.
24 min A foul on Gvardiol gives Croatia a free-kick 40 yards from goal and he goes forward. Modric curls the free-kick into the middle of the box – I'm not sure what he's aiming for there – but it's not properly cleared, and from the edge, Gvardiol – with a decent angle and a bit of time – finds an angle of elevation that looked impossible given the speed on the ball and his body-shape.
22 min "My children regularly leave me black and blue with a variation called 'Mini Punch' whenever a Mini is seen," brags Ben Campbell. "And it's not the punches which are mini…"
They have a tremendous grasp of irony, so must be very advanced. Top, top parenting.
20 min Yup, Japan have Croatia on absolute toast – mmm, absolute toast – in wide areas, Ito skinning Barisic again and crossing low … but Livakovic is able dive onto the ball, unchallenged, at his near post.
19 min This time, Doan intimates a shot from 35 yards, then dinks into the box and Croatia clear. This game's tempo is like that of the finest Not Kosher.
18 min Japan play into Doan, who sees Gvardiol coming so gets body between man and ball, wearing the inevitable flattening. Free-kick Japan…
17 min Kamada finds Nagatomo down the left, and he comes inside then curls in another gorgeous cross that Maeda looks like he's up for first … but isn't, Gvardiol doing just enough to stop him heading for goal. Japan look really dangerous going forward – more so than Croatia so far.
16 min Croatia knock it about, Lovren lofting a ball down the inside-right channel, Modric – how's he got the energy to get down there? – controlling, on the run, with the chest-shoulder junction. He's penalised for handball, which looks pretty harsh to me.
14 min "Nutmeg Rush of course!" says Kieran Monaghan. "It combined the skill of football with violence. No goals, no teams just your footwork against a pack of ravenous school chums that wanted you to taste their leather. The aim of the game was to avoid the ball going through your legs and should such an event occur, proceed with handing out a beating to the guilt party. It was strange as there was no official time limit or severity relating to any 'rushing', the tough lads would accept maybe a punch each from the nerds and at times there could be a real solemn moment prior to them taking a whack, more of an obligation to dish out one punch, in the arm mostly. Others, well, the less said the better. I remember a lad missed the ski trip as he'd been protecting himself from being kneed in the tailbone repeatedly and broke two fingers. A game of fine margins, indeed."