Key events
73 min: Loftus-Cheek dribbles down the right before cutting infield. He curls in low for Pulisic, who tries to curl one into the bottom right from ten yards. Ortega denies him spectacularly. Then the flag goes up for offside. Take nothing away from the save, because Ortega didn't know that.
71 min: No instant injection of energy as Mount miscontrols the ball out of play.
69 min: Chelsea make a quadruple change. Broja, Ziyech, Zakaria and Chalobah make way for Sterling, Mount, Gallagher and Azpilicueta. Sterling gets a very warm reception upon his return to his old stomping ground.
67 min: Grealish dribbles in the George Best style, left to right, leaving Chalobah, Cucurella and Koulibaly in his wake. He enters the box and shoots, but Cucurella and Koulibaly haven't given up, and get back up to block. Fine football all round.
66 min: City take the sting out of the game with some sterile possession in the midfield. That's smart game management after Chelsea threatened to hit back.
64 min: Nothing comes of the resulting corner, and once again poor young Hall has his head in his hands. So close to scoring two goals, but it wasn't to be. Once the pain and irritation subsides, he'll realise he's played extremely well this evening. Also, neither chance ended in an egregious miss. He forced Ortega into action on both occasions.
63 min: Chelsea are this close to getting back into it. Ziyech, tight on the byline to the right of goal, spins along the tightrope to send Gomez off to the shops. Stunning skill! He pulls back for Hall, who from, 12 yards aims for the bottom left only to be denied by Ortega, who palms around the post. Tight in the corner, and that would have been in.
62 min: Chelsea have had more possession since the restart! It's 52 to 48. But here we are.
61 min: Chelsea are seriously rattled. Palmer aims a shot towards the bottom left. It's blocked. The ball's gifted back to Grealish, who can't do anything meaningful with it this time. That celebration will have to wait.
60 min: That was one hell of a crossfield pass by Alvarez. It feels almost as though he should get a share of the assist as well. He's some player.
GOAL! Manchester City 2-0 Chelsea (Alvarez 58)
Mahrez causes Chelsea all sorts of bother again! Alvarez, out on the left touchline, creams a diagonal pass towards Mahrez, who dribbles into the box from the right. Mahrez makes room to send a curling shot across Mendy, hoping to find the bottom left. Mendy parries, but Alvarez hasn't waited on the wing to admire his crossfield pass, and races in to tap home. What a goal! Mahrez has done a number on Chelsea in double-quick time!
56 min: Chelsea try to respond immediately. Chalobah sends Ziyech into space down the right. His looping, inswinging cross nearly flies over Ortega and into the top left, but the keeper claws out for a corner. And from that set piece, the ball breaks back to Ziyech, who aims a rising diagonal shot towards the top left, but it's always too wide and high.
54 min: Looking again, that free kick wasn't quite in the top bin. Had Koulibaly bothered to jump – and he didn't, at all – the wall might have stopped that.
GOAL! Manchester City 1-0 Chelsea (Mahrez 53)
Mahrez earned the free kick, and with it the right to take it. He whips it into the top right, and City lead!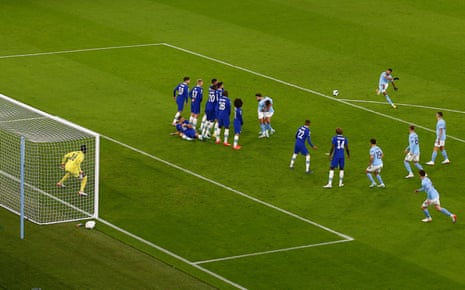 52 min: Chelsea only half-clear the corner. Mahrez comes tearing in from the right and is scythed down by Chalobah, who can't complain as he goes into the book. Free kick just to the right of the D.
51 min: Grealish dribbles in hard from the left. He opens his body and looks for the bottom right. Mendy sees it late but turns it around the post. City take the corner quickly, and Grealish has another dig from the edge of the box. The ball bagatelles its way through a crowded box. Mendy stops it squeaking into the bottom left. Another corner.
50 min: City make a double change. Rodri and Gundogan make way for Bernardo Silva and the returning Kalvin Phillips. A big cheer in the Etihad, and round Gareth Southgate's way too, I'll be bound.
48 min: Kovacic gifts possession to Alvarez, 30 yards from his own goal. Alvarez advances on the box and slips a pass to Mahrez on his right. Mahrez cuts into the box but has the ball stolen back by Cucurella, coming in from behind. Mahrez goes over, and the crowd want a penalty, but the City players don't bother claiming for one.
46 min: Rodri tap-dances his way through the centre circle and very nearly releases Alvarez down the middle. But the pass is overhit. Rodri's skill got the crowd going again for the second half, though.
Chelsea get the second half underway. No changes.
More half-time entertainment … and you'd need a heart of stone not to be rooting for Jack Grealish to score tonight. Not when you've watched this genuinely uplifting video from 3 min 45 secs on. (Chelsea fans are granted exemptions, that's only fair.)
Half-time entertainment … and the action never stops.
HALF TIME: Manchester City 0-0 Chelsea
No goals, but that was a lot of fun. City did most of the attacking, and played some very pretty stuff, but on the occasions Chelsea beat their press, they also carried a threat. Second half should be a lot of fun. Go nowhere!
45 min +1: Grealish drives down the left, suddenly stops, and buys a cheap free kick from Loftus-Cheek. It's basically a corner, and nothing comes of it.
45 min: Hall has arguably been Chelsea's best player in this first half. That would have capped it off all right. There will be one added minute.
44 min: Chelsea should be leading. A sweeping pitch-length move, Ziyech and Pulisic shuttling the ball right to left. Hall strides into the box! He's only got Ortega to beat. He drops a shoulder to see off Lewis, lunging across in desperation, then attempts to pass the ball into the bottom left. Ortega guesses correctly and sticks out a leg to block.
43 min: Kovacic is this close to releasing Broja down the middle, but the accuracy isn't quite there. He puts his head in his hands.
42 min: The resulting intricate corner ends with Mahrez floating a cross in from the right. An easy claim for Mendy.
41 min: Grealish and Gundogan exchange passes down the inside left. Grealish drops a shoulder and sends a power curler towards the bottom right. Mendy extends fully to tip around the post.
39 min: City's press continues to cause Chelsea trouble. Alvarez very nearly closes down Mendy again.
37 min: Pulisic and Broja combine crisply down the inside-left channel. Broja steams into the box and gets past Laporte, but can't squeeze the ball past the sliding Dias. Dias gets up and clears. Did the ball hit Dias on the arm? VAR almost certainly wouldn't have been interested, so no drama here.
35 min: Hall drives down the middle and is unceremoniously dragged back by Palmer, who is fortunate to receive nothing more than a ticking off.
34 min: Ziyech nearly gets in down the right again, chasing after a raking diagonal pass from the impressively lively Hall. But just as it looks like he'll control and stride into the box, Laporte arrives just in time to execute a perfect slide tackle.
33 min: Ziyech tears clear down the right. The flag goes up for offside. Immediately. No VAR, you see. It's not too late to take the plug out of the wall and pop the whole thing back in the box.