Key events
56 mins: Elliott leads Liverpool up the pitch, he lays it off to Gomez, who heads down the right wing but his cross is straight at Ortega.
54 mins: Still looks like City are the more composed on the ball. They move it quickly across the pitch to Palmer inside the area; he takes a touch but his shot is wild.
52 mins: De Bruyne swings in a corner from the right but it is easily cleared to Salah, who goes one v one with Lewis. Thankfully for City, the right-back gets the better of the Liverpool forward on the halfway to stop him breaking away.
50 mins: This is all very exciting. Isn't it good to have domestic football back?
GOAL! Manchester City 2-2 Liverpool (Salah, 48)
That did not take long. Nunez gets in down the left, outpacing Laporte before slipping the ball across to Salah to tap home.
GOAL! Manchester City 2-1 Liverpool (Mahrez, 47)
Rodri lifts the ball to Mahrez on the edge of the box, he takes a wonderful first touch and curls the ball into the corner with his left foot.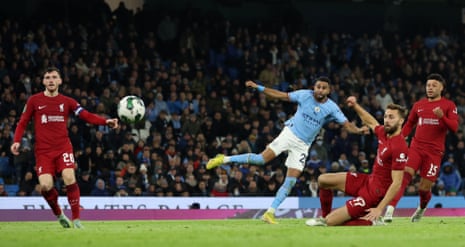 Here we go again!
So is Oxlade-Chamberlain, with Carvalho going off.
Fabinho is coming on for Bajcetic.
"If you're in the market for obscure football related baubles to hang on your tree," says Kári Tulinius, "then let me point you to the decorative ornaments of Þróttur Vogum, which even though it's probably the third best known team named Þróttur in Iceland, did once have Hermann Hreiðarson as its manager, and David James as an assistant manager for a short spell. You'll have to email them to see if they have any left, but here's a picture: https://throtturvogum.is/fallegar-throttara-jolakulur-til-solu-takmarkad-magn/"
I'll take 10.
"The way Haaland can finish in the air with his feet is Zlatanesque," says Joe Pearson.
Maybe they are both martial arts experts.
Justin Kavanagh repeats what we all know: "That Haaland is clinical, but he's no Wout Weghorst."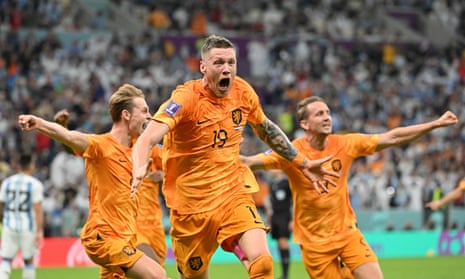 Half time: Manchester City 1-1 Liverpool
City should have scored at least one more but then let Liverpool back in thanks to a defensive lapse. De Bruyne has been excellent for City, which will worry Liverpool and everyone else in England.
45 mins: Two minutes added on.
44 mins: Haaland receives a pass from De Bruyne, he takes a touch and runs at Phillips. The Liverpool defender holds his nerve and performs a perfect challenge in the area to dispossess Haaland.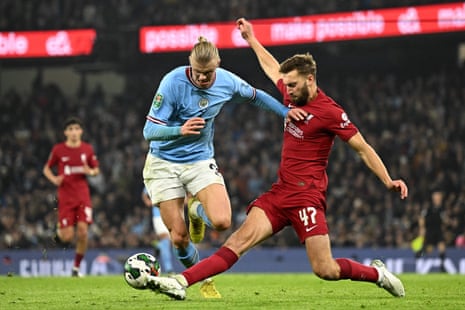 42 mins: Nunez beats the offside trap to reach a Gomez pass, he allows the ball to bounces and drive a shot across goal but it goes wide.
40 mins: De Bruyne swings in a cross from the left but it is just too far ahead of Mahrez. De Bruyne's crossing has been superb tonight.
38 mins: De Bruyne swings in a glorious curling cross from the right; there are three blue shirts waiting for it but Ake is the one to get his head on the ball, although his effort lacks power and Kelleher palms away.
Milner, after a tough 38 minutes, is replaced by Phillips. I suspect Gomez will move to right-back.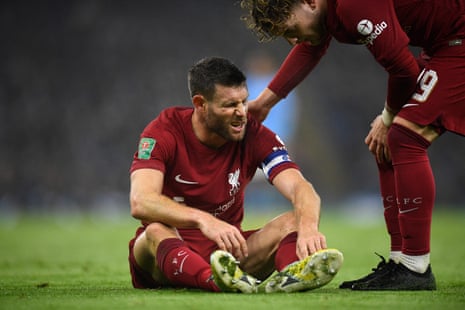 36 mins: De Bruyne latches onto a Mahrez flick on, he gets into the box and pulls the ball back to Gundogan who shoots straight at Kelleher's legs.
Bajcetic goes into the book for pulling back Palmer.
34 mins: Colin Stevens emails: "Surprised that City still have tickets available for sale for the Chelsea game in two weeks. That's according to the pitchside adverts. You'd expect such a big game as that to be sold out by now."
The third round of the FA Cup is not the draw it used to be. The tickets are quite expense at a time when people cannot afford extras.
32 mins: City do seem to be targeting Milner at right-back. Palmer has shown him a few tricks and De Bruyne always look keen to help out his younger teammate by providing an overlap.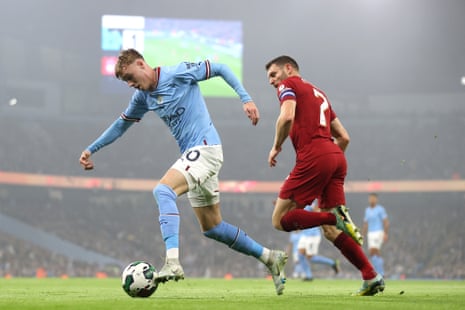 30 mins: City have continued to dominate possession since the equaliser but without the gusto they started the match with.
Palmer gets down the left and taps the ball to De Bruyne but his cross is, again, straight at Kelleher.
28 mins: Mahrez drills a corner to Palmer on the edge of the box to shoot first time but it hits a mass of Liverpool shirts and goes out for a throw-in.
Palmer then wins a free-kick on the left touchline thanks to a Milner foul. De Bruyne whips it straight into Kelleher's arms.
26 mins: Salah chases a pass over the defence, going shoulder to shoulder with Ake but the Egyptian pulls his opponent back to end the attack.
24 mins: Palmer sends a cross along the six-yard line but Haaland does not anticipate where it will land, meaning he fails to make contact to score a second.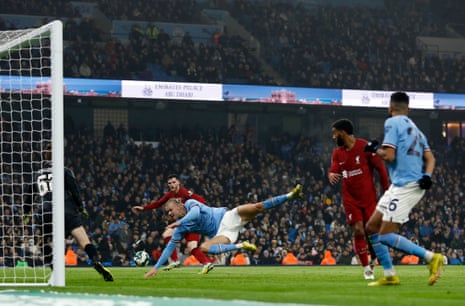 22 mins: City allowed Milner and Carvalho to have acres of space there as they switched off mentally. They need to up things once again.
GOAL! Manchester City 1-1 Liverpool (Carvalho, 20)
I did not see that coming. Matip brings the ball forward before slipping it to Milner in the box, allowing him to cross to Carvalho to sweep home from 12 yards.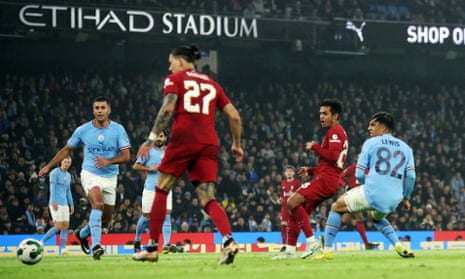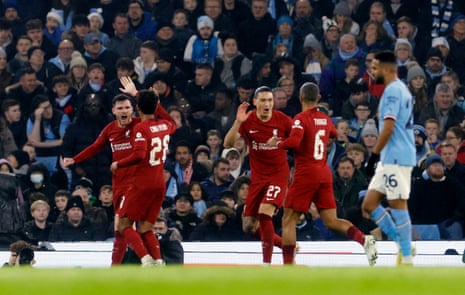 18 mins: Liverpool seem eager to pass the ball round at the back but they keep getting caught in possession. They do not look recharged by the break, that's for sure.
16 mins: Elliott gets into space on the right, allowing him to cross for Nunez to sweep at shot at goal. The Uruguayan's effort hits the post but the offside flag is up regardless.
"If any cross to Haaland is accurate it seems almost impossible to stop without fouling," emails Mary Waltz. "He is bigger stronger, quicker, jumps higher then almost any defender."
14 mins: Haaland and De Bruyne certainly look on it tonight. Both have a point to prove. Haaland because he's had a few weeks off and De Bruyne due to Belgium's poor World Cup.
12 minutes: Haaland just knows where the ball is going to end up when De Bruyne is in possession. Gomez drifted off, allowing the striker the inch of space he required to score.
Palmer drives into the box and pulls the ball back from the byline but Gomez is in the right place to block the cross. City are utterly dominant. Milner is struggling at right-back.
GOAL! Manchester City 1-0 Liverpool (Haaland, 10)
De Bruyne crosses from the left for Haaland to volley home from eight yards. A classic of the genre.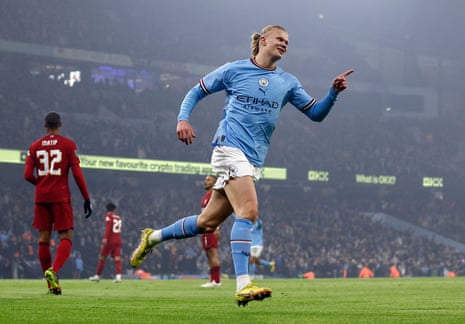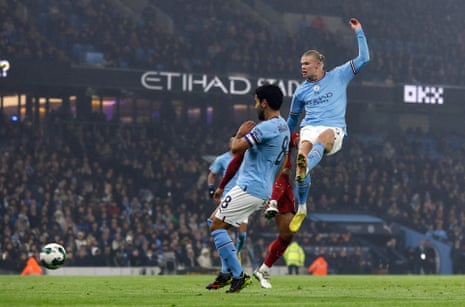 8 mins: City have started the better, they look more intense and slicker but Liverpool look decent on the break.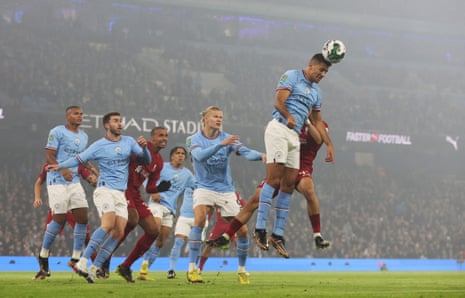 6 mins: Haaland breaks down the right into space, takes the ball into the box and lays it on a plate for Palmer, who cannot sort his feet out when six yards out and sends it a mile wide. What a dreadful finish.
4 mins: City seem to have spent the past few days planning to press Liverpool all over the pitch. This could be a test of everyone's fitness after so long without a competitive game.
De Bruyne's cross is deflected behind by Carvalho. Corner to City …
2 mins: Haaland should score within the opening 17 seconds. Gundogan splits the centre-backs allowing Haaland to go through, Kelleher comes to the edge of the box, forcing the Norwegian to chip him but he sends it well over the empty net.
Liverpool go immediately down the other end; Nunez makes it into the box but Laporte gets across to block.
Peep! Peep! Peep! Here we go!
Scott Blair emails: "I've not been able to track down their online shop yet, but I'll be surprised if FC Santa Claus don't have some sort of tree-suitable merch.
"FC Santa Claus is a football club from Rovaniemi, Finland that currently plays in the Vitonen, the sixth tier of the Finnish football league system. The club has played as high as the third tier Kakkonen, where they have played a total of 14 seasons. They were nearly promoted to the second-tier Ykkönen but lost their promotion playoff match to HIFK in 2010. The club plays at the Saarenkylän Stadion."
Sort your merch out, Santa.
There is a jazzy light show at the Etihad. It's been raining all day in Manchester, so it should zip around (if it hadn't rained, they would just water the pitch).
Joe Pearson has some bad news for himself: "I hope I am as fit as Milner when I'm 36! Oh wait, I'm already 65. Crap!"
I am 35 and I face an uphill battle to be at Milner's level in 12 months. I have no idea why. *pours pint*
I am sat next to my Christmas tree which includes Borussia Dortmund, 1860 Munich and Athletic Bilbao baubles. I've been searching for similarly niche ones to add to the collection but they are tricky to find.
Pep Guardiola. How was break? "Good."
"We don't have many other options. The players that are playing is because they have to.
"We had three days with mainly the players that are going to play today.
"Every game he [Rico] can play is good for him. We have a lot of confidence in him. Playing against one of the best opponents possible is good for him."
I wasn't supposed to be on this MBM but my in-laws have arrived two days early for Christmas, so I kindly agreed to move my shift to stay busy this evening. I am a giver.
Liverpool want to lay down a marker tonight, as implied by Klopp earlier. After a subpar first half to the season, they will be desperate to show they are at City's level.
"I see Liverpool have a couple of young'uns in tonight," emails Martin Jachnik. "Bajetic and Milner, well the latter is forever young."
Milner: one of the great men.
Jurgen Klopp on what he's been doing in the break: "Training, regaining the things that make us strong on the pitch."
On team selection: "That's all good, we play mainly with the players who had the break apart from Bobby Firmino, who was injured two days ago in training."
"All the others [who went to the World Cup] could have played."
On Salah: "He's been exceptional. From the first second he's been there."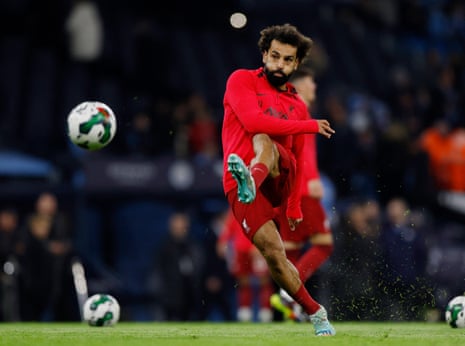 It is time for some respect. It is the time of year for forgiveness or some nonsense.
City start with six players who were at the World Cup but all of their England internationals are on the bench. Liverpool start with Bajcetic in midfield. He could be set for an interesting evening up against Rodri, De Bruyne and Gundogan.
Manchester City: Ortega Moreno; Lewis, Akanji, Laporte, Ake; Rodrigo, De Bruyne, Gundogan; Mahrez, Haaland, Palmer
Substitutes: Carson, Walker, Stones, Cancelo, Grealish, Gomez, Bernardo, Foden, Robertson
Liverpool: Kelleher; Milner, Gomez, Matip, Robertson; Elliott, Bajcetic, Thiago; Salah, Nunez, Carvalho.
Substitutes: Adrian, Fabinho, Keita, Henderson, Oxlade-Chamberlain, Tsimikas, Ramsay, Phillips, Doak
The biggest rivalry in English football over recent years is back in Carabao Cup form. Neither team has played 90 minutes in anger since November, so might not welcome being thrust back into action against one of the best teams in Europe.
It will be wonderful to see Erling Haaland back on the pitch after avoiding a trip to Qatar and he will immediately need to be at his best with a point to prove against Liverpool following a couple of quiet performances in matches with Jurgen Klopp's side.
Pep Guardiola has indicated his eagerness to win the Champions League, so this competition might not be at the top of his priority list but he certainly will not want to go out at home against a rival.
The buildup to the match has focused on the two clubs trying to patch up their relationship after a few years of throwing stuff at players and vehicles. A Carabao Cup tie might be the calming influence everyone needs to avoid a bit of aggro.
Let's hope it's a cracking game.
Kick-off: 8pm GMT