Key events
56 min: Burnley continue to look lively. United aren't particularly comfortable with their press. Wan-Bissaka is nearly stripped of possession near his own box. But he survives, and United launch a counter, from which …
GOAL! Blackburn 1-2 Forest (Lingard 53)
A free kick for Forest just outside the Blackburn box in a central position. Lingard drives low. The ball bagatelles its way through a crowded area and whistles into the bottom right. A lucky one, all right, though Forest deserve the lead on balance of play.
53 min: McTominay plays a dreadful blind pass across the face of his own box, gifting Benson the opportunity to shoot. Benson drags harmlessly wide left. He had options as well. McTominay breathes a sigh of relief.
Not a lot happening at the Valley either. It's still goalless between Charlton and Brighton. March fires a shot just wide after a probing run, but that's pretty much that.
51 min: United nearly score a gorgeous team goal. Fernandes on the left wing. He strokes a diagonal ball towards Rashford, to the right of the D. Rashford cushions inside for McTominay, who opens his body and attempts to steer one into the top right. He does find the top right, but only of the Stretford End.
There's not been a whole lot going on at Parkhead, where it's still 2-1 to Celtic. Livingston will take heart from a Montano shot that only just went the wrong side of the right-hand post.
47 min: Benson skitters down the right and suddenly turns on the jets in an attempt to get past Malacia. The United left-back makes a last-ditch toe-poke tackle as Benson enters the box. That had to be timed to perfection, or it'd have been a surefire penalty. Good football all round.
Burnley get the second half underway at Old Trafford. They're off again at Ewood as well.
Second-half football is now underway at the Valley and Parkhead. No quickfire goals after the restart in either match.
Now is as good a time as any to remind you that, should any of the Carabao Cup ties end in a draw, we'll be going straight to penalty kicks. No extra time. Drama possibly ahoy. "This is the first time I've watched New Model Burnley and it's a dizzying change," writes Kári Tulinius. "I'm struggling to think of a club that's changed an entrenched style so radically from one season to the next."
Carabao Cup
Blackburn Rovers 1-1 Nottingham Forest

Charlton Athletic 0-0 Brighton & Hove Albion

Manchester United 1-0 Burnley
Scottish Premiership
HALF TIME: Blackburn 1-1 Forest
Forest have been the dominant side. But they've also been spurning chances, and here we are.
HALF TIME: Manchester United 1-0 Burnley
Burnley are giving United a good game, but the hosts have been that little bit sharper up front. Both teams will be reasonably happy in their own way.
GOAL! Blackburn 1-1 Forest (S Wharton 44)
As if losing wasn't bad enough, here's some more bad news for Burnley. Their arch rivals have equalised at Ewood. Scott Wharton, who had conceded the penalty that gave Forest the lead, makes good on the stroke of half-time.
HALF TIME: Celtic 2-1 Livingston
As things stand, Celtic will be moving nine points clear at the top of the Scottish Premiership.
41 min: … then claims the resulting corner.
40 min: United go up the other end and, having survived a couple of close calls, nearly double their lead. McTominay drives down the right and slips into the middle for Martial, who has his back to goal on the edge of the box. He turns and aims for the top left. Peacock-Farrell extends fully to turn around the post …
38 min: Another Dubravka error! He takes his eye off a backpass and allows the ball to trundle under his foot and towards the open goal. He gets back to hook clear, just in time as well, because Barnes was sliding in, attempting to block-tackle the ball into the net.
36 min: Dubravka nearly gifts Burnley an equaliser! A weak punch as he tries to clear a cross swung into the mixer. The ball ricochets off Rashford and loops back over the keeper's head and towards the unguarded net. Casemiro rescues the situation by hooking off the line.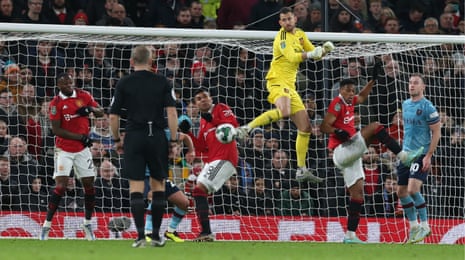 HALF TIME: Charlton 0-0 Brighton
Not quite so exciting.
GOAL! Celtic 2-1 Livingston (Devlin 45+2)
… Celtic's right-back having registered an assist, his opposite number for Livingston finds the net to reduce the visitors' arrears!
GOAL! Celtic 2-0 Livingston (Furuhashi 45)
Ralston comes in from the right and releases Furuhashi with a forensic pass. Celtic double their lead! But …
33 min: … so having said that, Burnley launch a fine counter attack. Barnes slips Benson into space down the right. He drops a shoulder to see off Lindelof with ease, but from the right-hand corner of the six-yard box, can only ripple the side netting. Benson turned Lindelof inside out like an old sock there.
31 min: Fernandes flashes a speculative shot straight at Peacock-Farrell. The goal hasn't exactly rattled Burnley, but they're not looking quite as composed on the ball as they had been up to the opener.
29 min: Cork and Cullen skittle McTominay in a no-nonsense pincer movement. The home fans demand some sort of punishment. But it looks worse than it is, and the referee does nothing more than award United a free kick.
GOAL! Manchester United 1-0 Burnley (Eriksen 27)
Wan-Bissaka has had a fair bit of defensive work to do, but now he's got a wonderful assist to his name! Fernandes sends a raking diagonal pass towards him on the right. It looks too powerful, like it'll fly out for a goal kick. But Wan-Bissaka stretches out a telescopic leg, hooking off the byline and across the face of goal, where Eriksen is able to slam home. Simple but easy on the eye, and United lead!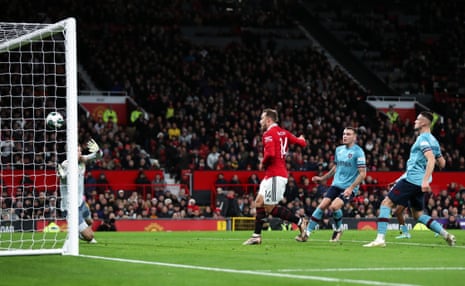 25 min: Ralston, Abada and Jota have all tested Livingston keeper Konovalov at Parkhead. But it's still just 1-0 to Celtic.
23 min: Burnley continue to spray the ball around sweetly. Gudmundsson, Brownhill and Maatsen are seeing a fair bit of action. The visitors are concentrating nearly all of their attacks down their left. Wan-Bissaka has plenty of work to do tonight.
21 min: Maatsen and Gudmundsson combine cutely down the left. The ball's rolled infield for Brownhill, who tries to round Casemiro in order to enter the box. Had he managed it, he'd have had a shooting opportunity. But Casemiro isn't easy to get around, is he?
19 min: Garnacho is clipped over as he makes his way down the left. United take the free kick super quickly, and Eriksen isn't far away from releasing Rashford down the middle, but Gudmundsson comes across to snuff out the danger.
17 min: … so Burnley have shipped a couple of good chances to Garnacho, but otherwise they're looking fairly comfortable. The Championship leaders stroking it around nicely.
15 min: Garnacho is going to be a superstar, this much looks likely. He's sent scampering down the left and the surge of anticipation around Old Trafford is palpable. He slightly miscontrols as he reaches the edge of the Burnley box, allowing Roberts to shepherd the ball out for a goal kick, but still. What an electric run. They like their wingers round Old Trafford way, and they could have unearthed another.
GOAL! Blackburn 0-1 Forest (Johnson 13 pen)
An early penalty for World Cup returnee Brennan Johnson puts the four-time winners Forest ahead at Ewood.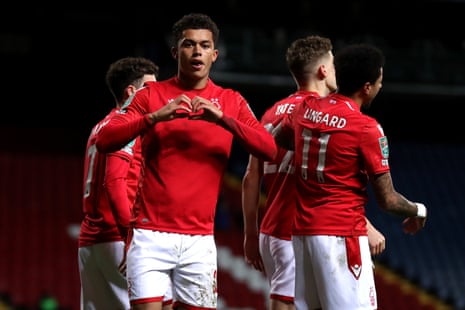 12 min: Of course this MBM is more of a Clockwatch now, which inevitably means slightly reduced coverage of the United-Burnley game. Pretty sure nobody will moan about that, though. Rashford takes on Maatsen in a footrace down the United right and comes off very much second best.
GOAL! Celtic 1-0 Livingston (Obileye og 23)
Abada crosses. Obileye steers the ball into his own net. Mick McCann, we rustled that one up just for you.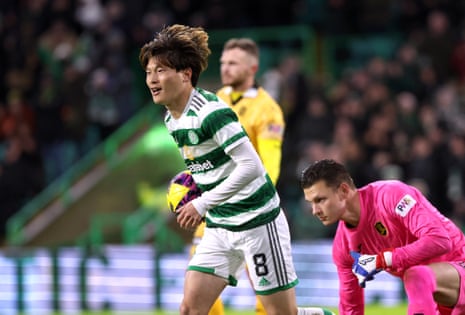 9 min: A one-on-one chance for Garnacho at Old Trafford … but Peacock-Farrell stands firm. Garnacho nearly picking up where he left off at Fulham just before the break.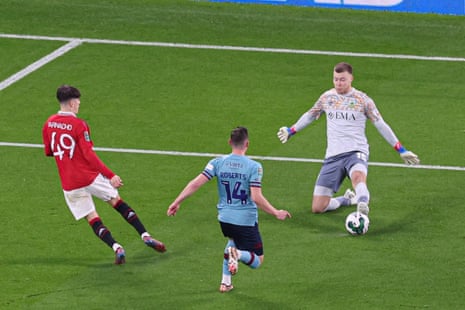 7 min: "Why is there no live reporting from tonight's Celtic game, like there was for Rangers last night?" asks Mick McCann. A fair point. We'll try to keep tabs on it, because we love you. The Bhoys are all over Livingston at the minute, but it's still goalless at Parkhead.
6 min: Burnley have started confidently. A reminder that they've already played two games since the post-World Cup restart, while United are going into tonight's match cold. Could that prove some sort of leveller?
4 min: The game at Ewood Park has also kicked off, incidentally. No goals in any of the three fourth-round ties yet. Though there was nearly a surprise one at Old Trafford, with Gudmundsson crossing from the right, and Barnes flashing a header not too far wide of the right-hand post. The flag had gone up for offside, though it looked pretty tight. Probably just as well for all concerned that the ball didn't go in, then, because there's no VAR in the League Cup until the semi-final stage.
2 min: There's a reduced capacity at Old Trafford tonight as a result of the ambulance workers strike. Solidarity.
United get the ball rolling. Burnley are attacking the Stretford End during this first half.
The teams are out at Old Trafford! Manchester United are in their famous red shirts, forcing Burnley out of their trademark claret and into second-choice sky blue. Cityesque blue, dare we say. Their manager, who won four Premier League titles, a couple of FA Cups, and four League Cups with United's crosstown rivals, will no doubt approve. Like those sub-Byrds janglers sing: this is the one. We'll be off in a minute!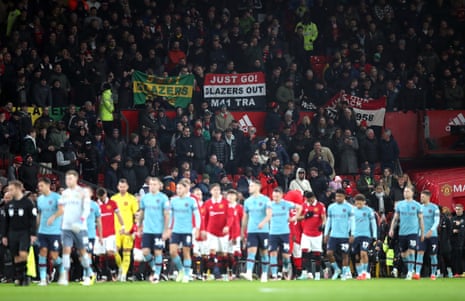 One of the other two last-16 matches has kicked off. Charlton versus Brighton at the Valley is underway. The Blackburn-Forest match at Ewood Park has been delayed by 15 minutes, however, as a result of "traffic issues". A hole in someone's shoe perhaps.
Vincent Kompany talks to BT Sport … "I came here with Man City. I'm here with Burnley now in a different role and capacity. I'm sure I'll hear some reminders here and there, but the main thing for me is the team performance. We like pressing. If we don't have the ball, we are really happy to run after it."
… and so does Erik ten Hag. "The break was good but we were working also. It was nice. We put energy and a good spirit in the team. We are happy with that. Most of our internationals have returned and we have integrated them in the team. They came back with a lot of energy. They are all committed. It is the first game and we want to win. We have to win."
Manchester United name five of their returning World Cup players in tonight's starting XI. Bruno Fernandes, Christian Eriksen, Casemiro, Marcus Rashford and Tyrell Malacia all get back down to domestic duties. Fernandes takes the captain's armband with Harry Maguire ill and not in the squad at all.
Burnley recall Bailey Peacock-Farrell and Ashley Barnes. The Championship leaders have won both of their league games since the big restart, 3-0 at QPR, 3-1 at home against Middlesbrough. Connor Roberts was sent off in the latter game, but his red card has been rescinded and he starts tonight.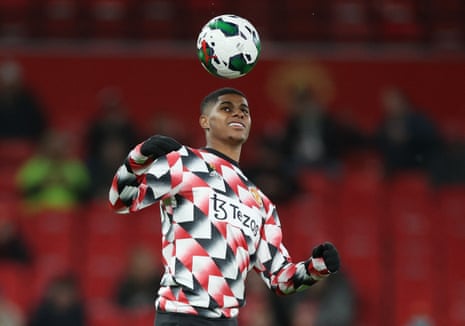 Manchester United: Dubravka, Lindelof, Fernandes, Martial, Rashford, Malacia, Eriksen, Casemiro, Wan-Bissaka, McTominay, Garnacho.
Subs: De Gea, Bennett, Shaw, Williams, Fred, Van de Beek, Antony, Elanga, Pellistri.
Burnley: Peacock-Farrell, Roberts, Harwood-Bellis, Beyer, Maatsen, Cullen, Cork, Brownhill, Gudmundsson, Benson, Barnes.
Subs: Muric, Taylor, McNally, Egan-Riley, Twine, Rodriguez, Bastien, Churlinov, Lewis.
Referee: Graham Scott (Berks & Bucks).
Blackburn Rovers: Pears, Travis, Phillips, S Wharton, Mola, Garrett, A Wharton, Hedges, Szmodics, Markanday, Hirst.
Subs: Kaminski, Pickering, Hyam, Edun, Dolan, Rankin-Costello, Buckley, Brereton Diaz, Dack.
Nottingham Forest: Henderson, Worrall, Mangala, Williams, Awoniyi, Lingard, Toffolo, Johnson, Yates, Freuler, Boly.
Subs: Smith, McKenna, Cook, Mbe Soh, Lodi, Colback, O'Brien, Dennis, Surridge.
Charlton Athletic: Maynard-Brewer, Inniss, Lavelle, Ness, Chin, Dobson, Fraser, Sessegnon, Rak-Sakyi, Leaburn, Payne.
Subs: MacGillivray, Mitchell, Morgan, Forster-Caskey, Blackett-Taylor, Campbell, Kirk, Stockley, Aneke.
Brighton & Hove Albion: Steele, Lamptey, Dunk, Colwill, March, Gross, Lallana, Enciso, Undav, Caicedo, Gilmour.
Subs: McGill, Trossard, Sarmiento, Mitoma, Ferguson, Van Hecke, Estupinan, Veltman, Moran.
Manchester United are looking to win their first major trophy since the 2017 League Cup. Burnley are looking to win their first major trophy since they became champions of England in 1960. Both will be one step closer to their goal should they win this big Granadaland showdown tonight. It kicks off at 8pm GMT. It's on …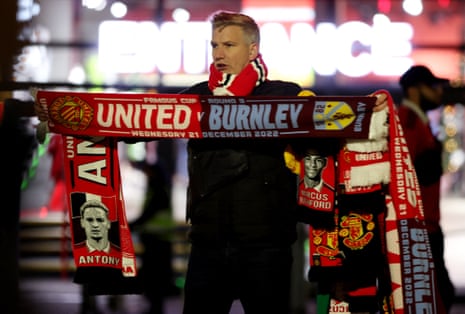 … as indeed are a couple of other last-16 ties, and while we'll mainly be concentrating on the action at Old Trafford, we'll keep an eye on the latest score in those games too. They both kick off at 7.45pm GMT.