Key events
61 mins: Two chances come and go for Ronaldo! First, he gets on to Shaw's cross, but can't steer his header on target. Moments later, he's played in by Rashford but slaps his shot into the side netting with Fernandes begging for the ball to be cut back.
60 mins: Maguire muscles Bowen off the ball on the edge of the area, and Ten Hag opts to make a change with the visitors in the ascendancy. The peripheral Anthony Elanga is replaced by Scott McTominay, who will shore up the midfield.
57 mins: Dalot again gets his head to a cross first – impressive work, but both times he's been in the area that should be marshalled by Maguire. At the other end, Casemiro's cross is blocked by Zouma, leading to cat-calls for handball from the home fans.
55 mins: Dalot races infield to head away a dangerous deep cross from Kehrer. Moyes sacrifices Scamacca, hauling him off in place of Antonio.
52 mins: It's been a scrappy start to the second half. David Moyes, perhaps fortunate to still have 11 players at his disposal, appears to be readying Michail Antonio to come on.
49 mins: Scamacca gets a sight of goal from Benrahama's cut-back, but Martinez blocks his shot. Going after the high ball, Scamacca's boot connects with the centre-back's head. Free kick, but no second booking for the Italian – he's been given the benefit of the doubt by Chris Kavanagh, a decision that looks generous to me.
47 mins: Maguire, who is stationed on the right side of defence today, moves across to deal with Scamacca and snuff out an early West Ham attack.
The second half begins, and West Ham have changed their keeper. Lukasz Fabianski, who landed awkwardly after making a clearance in the first half, is replaced by Alphonse Areola.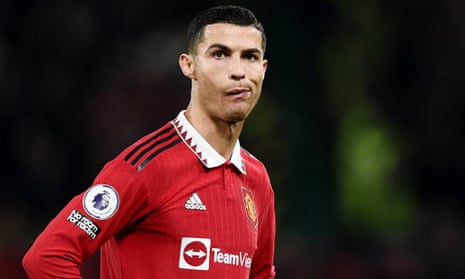 The players are heading back out for the second half. In other news, it's dark outside and I've just seen my first Christmas ad of the year. Wake me up in Feb, please.
A half-time question: with Marcus Rashford back in form, should he start England's World Cup opener with Iran? With Bukayo Saka potentially injured and Raheem Sterling out of form, a path is opening up – and Gareth Southgate is at Old Trafford today.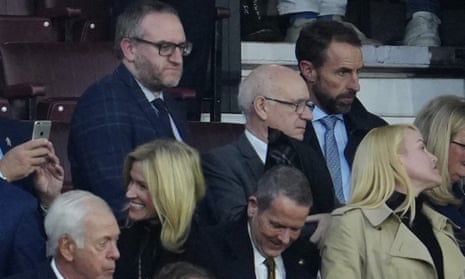 "Remember when footballers had time to star in Christmas pantos?" asks Justin Kavanagh. "Today, I suppose Ronaldo would inevitably be cast as Peter Pan or, given his frequent demeanour toward his teammates, Puss in Boots. Speaking of felines, a certain West Ham defender would surely be given the lead in Dick Whittington and His Cat."
Pertinent half-time reading
Half time: Manchester United 1-0 West Ham
Manchester United lead at the break through Marcus Rashford's bullet header, and probably just about deserve to be in front. West Ham have had their moments but unlike Ian Holloway's Blackpool, have lacked a cutting edge. Back soon.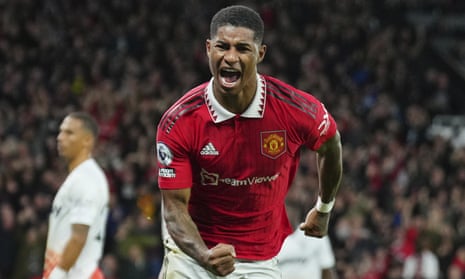 44 mins: Manchester United continue on the aerial route, with Fernandes' cross towards Ronaldo just overhit. There'll be one minute of added time.
41 mins: West Ham almost strike back immediately, Bowen's cross-shot looping over De Gea and intercepted by Martinez with Scamacca lurking at the far post.
There seemed to be little danger as Dalot took a throw-in on the right, but the ball is worked via Fernandes to Eriksen, who whipped a cross towards the back post. Rashford looked isolated in the middle but climbed high above Kehrer and thudded his header beyond Fabianski. Emphatic.
GOAL! Manchester United 1-0 West Ham (Rashford 39′)
The deadlock is broken by Marcus Rashford, who scores his 100th United goal with an absolutely colossal header!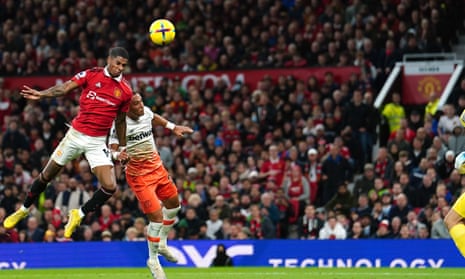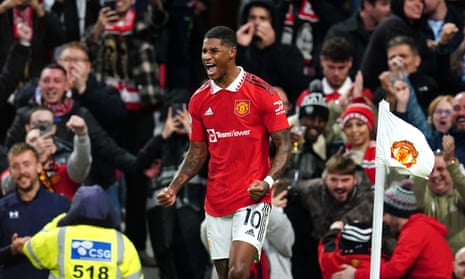 36 mins: The cross is passed back to Shaw, whose cross is flicked off Ronaldo's forehead by Zouma and lands at the feet of Elanga. His wild effort ends up by the corner flag, where Rashford wins a cheap free kick from Scamacca, who is booked. Eriksen's delivery is poor, dealt with at the near post.
35 mins: Rashford plays in Luke Shaw, in marauding territory down the left – his cut-back is well blocked by Rice, and Manchester United win another corner …
33 mins: Martinez is posing problems with raking long balls upfield – this one forces Fabianski to head clear on the edge of his area under pressure from Eriksen, although the Dane is subsequently flagged offside.
31 mins: Ronaldo finds space but his prod forward in the general direction of Bruno Fernandes is easily intercepted. The first murmurs of frustration are heard from around Old Trafford.
30 mins: At the moment it's West Ham who look the more likely to score, with Manchester United's early intent petering out slightly. I should qualify that by adding: West Ham don't actually look that likely to score either.
"Wouldn't it be fairer to the true meaning of the word 'United' if we used it to mean West Ham?" asks James Lacoss. "Maybe Manchester United can be Ronaldo+10 …"
27 mins: West Ham come again, with Thilo Kehrer taking advantage of some defensive hesitancy and slaloming skilfully into the area. He lays the ball off to Bowen, whose shot is saved – but the flag goes up, anyway.
25 mins: De Gea has to race off his line to clear the danger, with Benrahma again the furthest player forward in tangerine shorts …
23 mins: Benrahma gets another chance to run at Martínez one-on-one, the centre-back doing enough to bundle the ball behind from a corner, which is cleared before Benrahma is flagged offside.
21 mins: Another West Ham attack comes to an end as Declan Rice's hopeful pass is cut out, and Flynn Downes fouls Casemiro to stop a Manchester United break.
19 mins: Zouma heads it clear with Fabianski flailing and West Ham break away, Benrahma prodding the ball into Rice's path down the left touchline. The ball is ruled to have gone out of play, however. Replays quickly confirm that it had not.
17 mins: Saïd Benrahma produces a tasty bit of trickery to evade two markers, but he's lacking support upfield. At the other end, Ronaldo's cross is turned behind for a corner.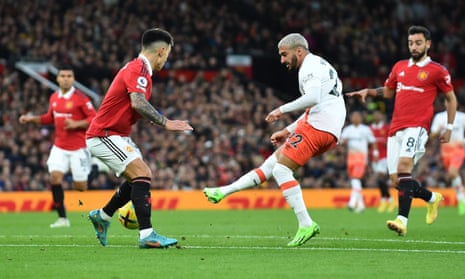 15 mins: Manchester United turn up the pressure, with Rashford skipping into the area and seeing his shot deflected just over the bar. Moments later, Rashford rises to meet Elanga's cross, but his header is straight at Fabianski.
14 mins: Wallop! Casemiro shrugs Benrahma off the ball and finds Ronaldo, who larrups a 25-yard swerving shot in trademark style. Fabianski is right behind it, though.
12 mins: Manchester United's full-backs are pushing up very high, with Rashford (on the left) and Elanga drifting in from either flank. Eriksen is looking to find space in behind, with Benrahma on hand to nod an attempted through ball back to Fabianski.
10 mins: The game has settled down a touch, with West Ham happy to sit back as their hosts stroke the ball around midfield.
8 mins: This West Ham kit is a bit strange – it looks like a Blackpool away kit. Memories of the 2010-11 season flooding back.
6 mins: Eriksen lifts the ball beyond the visiting defence and Elanga, onside but under pressure, drags his shot wide of the far post. A lively start from both sides, with plenty of attacking intent.
4 mins: A first sight of goal for United* as Casemiro finds Dalot on the right. His low cross lands at Rashford's feet, but his awkward effort drifts wide.
*During this MBM I may, on occasion, refer to Manchester United as United. West Ham United fans, please accept my apologies in advance.
Arsenal 5-0 Nottingham Forest: Here is Simon Mail's match report from the Emirates.
2 mins: Ronaldo wins a free kick but West Ham pinch the ball back and break away. Benrahma gets beyond Maguire but opts to shoot instead of playing in Jarrod Bowen on the right, and his shot is charged down by Martínez.
West Ham, in their white-and-peach away kit, quickly win a throw-in deep in Manchester United territory, but nothing comes of it.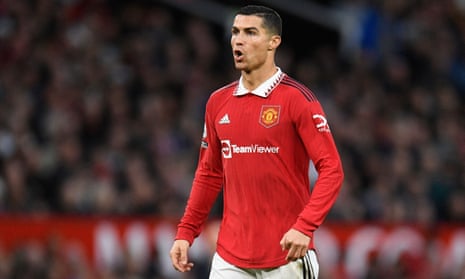 Both sets of teams are out on the pitch, the Old Trafford crowd in fine voice. Let's do this …
By the way, this is Manchester United's final home game in the league until 27 December, when they host Forest. Meanwhile, Qatar v Ecuador kicks off in exactly three weeks' time. There are many, far more serious issues with this World Cup, but dropping it into the middle of the domestic season is still far from ideal.
Full time: Arsenal 5-0 Nottingham Forest
A fine day at the office for Arsenal, although Bukayo Saka going off injured will be a concern for Mikel Arteta. His replacement, Reiss Nelson, scored twice with Gabriel Martinelli, Thomas Partey and Martin Ødegaard also on target. Arsenal are back on top, Forest stay bottom.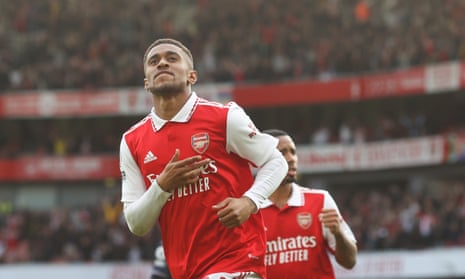 A strange quirk in our automated stats feed – Fred's full name is Frederico Rodrigues de Paula Santos, but it's fair to say he's never been known as Frederico Fred. Except for today, in this blog, from this moment forward.
GOAL! Arsenal 5-0 Nottingham Forest It's a fifth for the league leaders, with Martin Ødegaard adding to Forest's misery. This game is, somewhat curiously, not being shown live in the UK.
Here's David Moyes: "We've won 10 of the last 15 games – not a bad run, but we didn't start well so we're playing catch-up. Some games we've deserved more, others we've had good fortune – but players are getting back into form."
West Ham are currently 13th, but a win today would lift them above Liverpool and into the top half. Last season, they finished only two points behind Manchester United.
With Arsenal v Forest not on telly, Sky are giving this one the big pre-game build-up, with players and managers heading out to their pitchside podium for a pre-game chat. Here's the West Ham captain, Declan Rice:
So, Harry Maguire and Cristiano Ronaldo both start for the hosts today. Erik ten Hag tells Sky Sports that Maguire, who will be captain, "is ready to play" after injury with Victor Lindelöf unwell. As for Ronaldo, ten Hag says: "we played a very good game on Thursday, he did well, and that's why we chose him."
Antony is not in the match day squad, but it's not punishment for showing off. "He's injured, not too bad, I hope it will just be a couple of days," his manager confirms. Asked about the recent coverage of Ronaldo and Antony, he says: "a lot of issues, never a dull moment! [But] we are making progress, going in the right direction, and there is a good spirit overall."
Ronaldo offered a hug and handshake to Louis Saha before the game, but gave the cold shoulder to fellow former teammate and pundit, Gary Neville. Ouch!
Manchester United (4-2-3-1): De Gea; Dalot, Maguire, Martínez, Shaw; Casemiro, Eriksen; Elanga, Bruno Fernandes, Rashford; Ronaldo.
Subs: Malacia, Fred, Sancho, Pellistri, Dubravka, van de Beek, McTominay, Garnacho, Bishop.
West Ham (4-2-3-1): Fabianski; Kehrer, Dawson, Zouma, Cresswell; Soucek, Rice; Bowen, Downes, Benrahma; Scamacca.
Subs: Areola, Johnson, Coufal, Fornals, Antonio, Lanzini, Areola, Ogbonna, Coventry, Emerson.
GOAL! Arsenal 4-0 Nottingham Forest And now it's four, Thomas Partey getting on the scoresheet. It's turning into a long afternoon for the visitors, the optimism gained from victory over Liverpool disappearing fast.
Premier League latest: Arsenal 3-0 Nottingham Forest
In Sunday's earlier kick-off, Arsenal are on course to regain top spot in the table – they lead the bottom club, Nottingham Forest, 3-0 early in the second half. The bad news for Arsenal, and possibly England too, is that Bukayo Saka went off in the first half with what looked like a knee injury.
Saka set up Gabriel Martinelli to open the scoring after five minutes, but was replaced by Reiss Nelson 20 minutes later. Nelson has taken his opportunity with both hands, scoring twice after the restart to put the hosts in total control.
There are plenty of places David Moyes would rather spend a Sunday afternoon than Old Trafford. In 17 visits here, he has picked up just one win – throw in the eight home defeats suffered in his solitary season as Manchester United manager, and you can understand why he might have preferred a brisk walk and pub lunch today.
Worse news for Moyes: the trips are getting ever more frequent. This is West Ham's sixth visit to Old Trafford since the post-lockdown resumption in 2020. On the bright side, every game has been a tight tussle. The Hammers won 1-0 in last season's League Cup while the other four meetings ended in a 1-1 draw and three 1-0 defeats, one an extra-time loss in the FA Cup.
We can probably expect another close encounter today, with both teams recovering well from iffy starts to the season. West Ham have one defeat in their last 11 games, while the derby defeat was Manchester United's only loss in eight. Admittedly, both those records are boosted by some Europa stat-padding, with neither side's retooled forward lines quite clicking into gear yet.
Moyes may also have a sympathetic word or two for Erik ten Hag, who is making tangible progress in what looked an impossible job: turning his rabble of disgruntled superstars into a well-drilled collective. All while fielding questions on Cristiano Ronaldo's state of mind and Antony's soccer skills workshop against Sheriff Tiraspol. Who'd be a manager, eh? Kick-off is at 4.15pm, GMT.