Midterms 2022: What we know so far
Only one word is fit to sum up the results from the Senate, House and governorship races that have come in thus far: surprise. The 8 November midterm elections were expected to be rough for Joe Biden's allies, potentially costing them control of one or both chambers of Congress. Instead, Democrats are showing surprising strength, holding on to Senate seats and beating back Republican challengers in several crucial House races. Full results are not in yet, and when the dust settles, the GOP may well have eked out the majorities they were expected to have. But it's plain tonight has not gone as expected for many Republicans across the country – and may end up defying the historical trend of voters using the midterm elections to punish the party in the White House:
Key events
Michigan voters favor abortion rightts
Michigan voters enshrined protections for abortion rights, the AP projects.
Voters approved a ballot measure affirming the right to make personal reproductive decisions without interference, and negating a 1931 ban on abortions.
"Today, the people of Michigan voted to restore the reproductive rights they've had for 50 years," said Darci McConnell, a spokesperson for Reproductive Freedom for All, which put forth the ballot measure. The measure marks a "historic victory for abortion access in our state and in our country — and Michigan has paved the way for future efforts to restore the rights and protections of Roe v. Wade nationwide," McConnell said.
California resoundingly votes no on sports betting, Guardian tech reporter Kari Paul reports.
Voters in California voted overwhelmingly to reject two gambling initiatives on Tuesday, marking a decisive end to the most expensive ballot proposition battle in US history.
The two propositions would have expanded gambling access in the state in different ways: Proposition 27 aimed to legalize online and mobile sports betting while Proposition 26 would have allowed casinos and the state's four horse tracks to offer sports betting in person.
The online sports betting initiative was put on the ballot by sports betting companies including DraftKings and FanDuel, while Proposition 26 was funded by a coalition for Native American tribes.
Nearly $600m was spent advocating for the propositions, more than double the record amount spent by gig economy firms such as Uber and Lyft in 2020 to classify their workers as contractors and block them from benefits and protections.
Californians overwhelmingly rejected both propositions, with 84% voting no on Prop 27 and 70% voting no on Prop 26.
State Democrats had opposed Proposition 27, but were neutral on Proposition 26. Democratic governor Gavin Newsom was neutral on both proposals. The California Republican party opposed both proposals.
Democratic representative Elissa Slotkin has won reelection in a hard-fought Michigan race against Republican Tom Barrett.
In 2018, Slotkin flipped a seat that was held by a Republican and won again in 2020 in a district that backed Donald Trump. She was seen as vulnerable once again this year, and the race was one of the top two most expensive races nationally, with both parties spending tens of millions on TV ads and mailers.
Slotkin, a moderate who previously worked as an intelligence and defense department official who worked for both Democratic and Republican presidential administrations, was supported by Republican senator and Trump critic Liz Cheney.
California voters have rejected a ballot measure that would have levied a wealth tax to fund the transition to electric vehicles.
The measure, Prop 30, failed after California governor Gavin Newsom heavily campaigned against it, siding with Republicans over his fellow Democrats, environmental groups, firefighters and labor unions. In misleading ads against Prop 30, Newsom claimed it was a corporate carve-out for Lyft, the ride-hailing company that has backed the measure and helped fund its campaign.
The environmental and public advocacy groups that developed the measure cried afoul. The measure had no provisions to specifically benefit rideshare companies, and Lyft only joined the effort to promote Prop 30 only after local groups developed the bulk of it.
Among the biggest donors to the "No on 30" campaign were wealthy Californians who had also propped the governor's campaign.
Newsom this year issued an executive order banning the sale of new gas-powered vehicles by 2035, and allocated $10bn to the effort to subsidize electric vehicle purchases and build out charging infrastructure, but environmental groups said the funding will quickly fall short.
Josh Green, a Democrat and Hawaii's lieutenant governor, has won the race to be the state's next governor, the AP projects.
Green defeated Duke Aiona, a Republican and former lieutenant governor, by what appeared to be a wide margin. Aiona had run for the office twice before.
At his election night party, Green told supporters, "Tonight is the first day of that new era where our leaders must start doing more to listen, to care and to work on issues that matter to all of us, that matter to you."
On the campaign trail, Green said he would address the housing shortage in the state by advocating for building 10,000 new units and cracking down on vacation rentals. He also pledged to fight for reproductive rights, noting his opponent's opposition to abortion protections.
Kevin McCarthy, the House Republican leader, addressed supporters after an hours-long delay.
The California congressman projected confidence that Republicans would take the House despite several dozen seats still undecided. "When you wake up tomorrow, we will be in the majority and Nancy Pelosi will be in the minority," he told supporters in Washington.
After a few key Democratic wins dashed expectations of an easy Republican sweep, McCarthy pointed to GOP wins in contested races in Texas and Virginia. Democrats have also kept seats in key Virginia districts, as well as contested seats in Kansas and Rhode Island.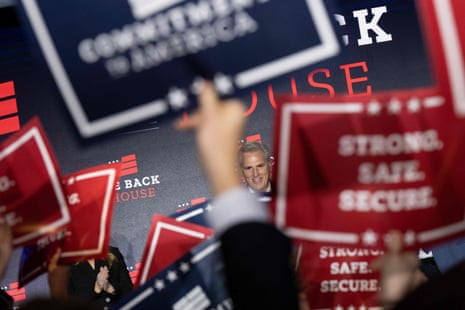 In Nevada, tight races might not be known for days, officials said. Dani Anguiano reports: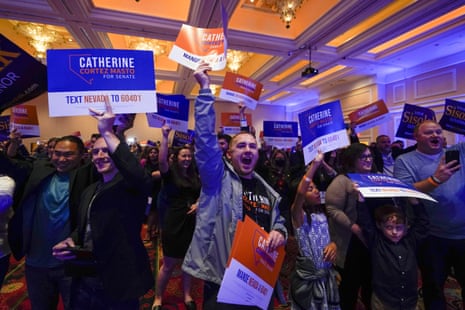 Nevada Democrats and Republicans have urged patience as residents await to hear the outcome of several razor-thin elections, including the Senate race, one of the tightest in the country.
Full results will not come in tonight, officials have said, and may not be known for several days. By 11:30pm PST, returns showed incumbent Catherine Cortez Masto ahead with about 51.2% of the votes to Republican Adam Laxalt's 46% with 47% of precincts reporting, a lead expected to shrink.
"I am confident in the campaign that we have built to win," Cortez Masto said. "I am so grateful to every Nevadan who knocked down doors, who made phone calls and stood up and fought for our state."
Laxalt, Nevada's former attorney general who unsuccessfully ran for governor in 2018, said "we are exactly where we want to be in this race.
"When we win this race, I'm gonna support our police and fight to make our streets safe again. I will not rest until we've secured our southern border," he said. "We're in for a long night and even a few days but we're confident we're gonna win this race and take back Nevada and take back America."
Sam Levine in Detroit reports:
We don't have all of the results yet, but election day did not appear to go particularly well for election deniers in competitive races.
In Pennsylvania, Doug Mastriano, who played a key role in Donald Trump's efforts to overturn the 2020 election, lost his re-election bid to Josh Shapiro, a Democrat who put defending democracy at the start of his campaign. Jocelyn Benson, Michigan's secretary of state who staunchly defended the 2020 election results also defeated Kristina Karamo, who rose to prominence after she spread false claims about fraud after ballots were counted in Detroit in 2020.
"Well, well, well, democracy has prevailed," Benson said as she took the stage at a Democratic victory party in downtown Detroit around midnight Wednesday. "Today Michigan voters showed the world that they will vote for truth over lies, facts over conspiracy theories, real results over empty promises."
Election deniers also lost races to be the top election official in New Mexico and Minnesota. Votes were still being counted in Nevada early Wednesday morning, where there is also a closely-watched secretary of state race.
Democrat Tony Evers has won reelection for governor in Wisconsin, the AP has projected.
CNN had previously called the race in a crucial battleground state. Evers defeated Trump-backed construction executive Tim Michels, and will be a key counterbalance against the state Republicans' efforts to take control of the election system. Michels had said he would try to decertify the 2020 presidential results in Wisconsin, despite there being no legal mechanism to do so.
Evers has been a key veto against Republican legislators' efforts to disrupt election systems. That veto power may not hold if Republicans win a supermajority in the legislature, but it's unclear if they will.
Evers campaign was boosted in its final days by a visit from Barack Obama.
"Some people call it boring, but as it turns out, Wisconsin, boring wins," he said in his victory speech.
The AP has called a few more House races in favor of Democrats.
In a fiercely contested race in New York, Democratic representative Joseph Morelle fended off a challenge from Republican former police chief La'Ron Singletary.
In Michigan, Hillary Scholten defeated former Trump administration housing official and far-right election denier John Gibbs. And in Ohio, Republican representative Steve Chabot lost his seat to Democrat Greg Landsman.
New Mexico's Democratic governor Michelle Lujan Grisham has won reelection, defeating Republican challenger Mark Ronchetti.
Lujan Grisham honed in on the issue of abortion access. "Tonight New Mexico said 'no' to a political crusade that wants to turn women into second-class citizens," she said in a victory speech.
A former member of Congress and state health secretary, she was favored to win. Ronchetti, a former television meteorologist who never held elected office, had sought to distance himself from his party's far-right policies, but fell short.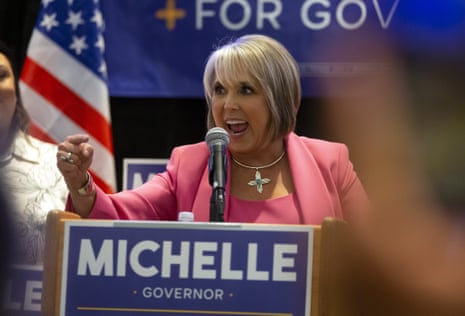 Organizers claimed victory after Michigan voters appeared well on their way to approving a constitutional amendment that would significantly expand voting access and make it much harder for anyone to try and overturn the results of an election.
The Guardian's Sam Levine in Detroit reports:
The measure, Proposal 2, establishes a fundamental right to vote in the Michigan constitution requires at least nine days of voting access and drop boxes, and allows voters to sign an affidavit if they lack photo ID, among other measures. And most significantly, it prevents officials from certifying an election based on anything other than the vote tally. That's a huge deal in Michigan, where boards of canvassers nearly refused to certify the vote in 2020 at the county and statewide level without solid evidence.
With 62% of the vote in early Wednesday, yes votes for the measure led 57.7% to 42.3%
The measure's passage marks the latest victory in a significantly growing grassroots voting rights movement in Michigan. In 2018, voters approved a constitutional amendment creating an independent redistricting commission and allowing for automatic and same-day registration.
"Michigan voters clearly support ensuring every voice is heard and every vote is counted in every election no matter what political party or candidate we support, where we live or what we look like," Micheal Davis, executive director for Promote the Vote, the coalition behind the amendment, said in a statement.
Nancy Pelosi has issued a statement hailing an unexpectedly good performance by Democrats, even as votes are still being counted:
While many races remain too close to call, it is clear that House Democratic members and candidates are strongly outperforming expectations across the country.

As states continue to tabulate the final results, every vote must be counted as cast.

Many thanks to our grassroots volunteers for enabling every voter to have their say in our Democracy.