Key events
This is a problem for Pakistan. Shaheen Shah Afridi, such a key man at the death, has limped off the field straight after taking that catch. I think his right knee may have got stuck in the turf.
WICKET! England 82-4 (Brook c b Shadab 20)
Oh my word. Brook dances down the track and slaps Shadab towards long off, where Shaheen Shah Afridi slides forward to take a terrific two-handed catch in front of his face.
Brook goes for a useful if increasingly nervous 22-ball 20.
STOKES IS NOT OUT!
12th over: England 82-3 (target 138; Stokes 18, Brook 18) It was a wonderful delivery, which roared off the seam and was extremely close to the edge – but there's nothing on Ultra-Edge and Stokes survives.
Naseem Shah is 19 years old, and he is bowling one of the great wicketless spells. England need 56 from 48 balls.
PAKISTAN REVIEW FOR CAUGHT BEHIND AGAINST STOKES!
Haris Rauf is back on the field. Naseem Shah returns to the attack and beats Brook with consecutive deliveries. The first exploded from the pitch; the second trampolined over Brook's wild yahoo.
Stokes walks down the pitch in an attempt to calm Brook down, and then Brook muscles a pull over midwicket for three. Haris Rauf does unbelievably well to save a run with a sprawling stop.
Naseem Shah is bowling a scintillating spell. Stokes plays and misses at three consecutive deliveries; by my count Naseem has beaten the bat 10 times in three overs.
Hang on, Babar has gone for the review with that last delivery…
11th over: England 79-3 (target 138; Stokes 18, Brook 15) Brook survives a run-out chance after backing up too far. Stokes drove Shadab to mid-off, where Nawaz's stopped the ball superbly but then threw off target. Brook would have been miles out. Just two runs from an excellent over. England need 59 from 54 balls. I don't have time to type the DLS par score every over, but if England slip behind it I'll let you know. Oh what the hell, the par score is 71.
"Following in Antarctica celebrating friend Keith's birthday.," says James Kynge. "If England win I'll be sure to let the penguins know."
Just as long as they don't stop play.
10th over: England 77-3 (target 138; Stokes 17, Brook 14) Stokes times a low full toss through extra cover for four, an outstanding stroke. This is sensible, low-risk cricket from Stokes and Brook. It was always likely to be a runchase full of moodswings, and for the moment England's world is relatively calm.
Saying which, Brook is sent back by Stokes and has to scramble to make his ground. We've had 10 overs which means there will be a result one way or another. England, who are 12 runs ahead on DLS, need 61 from 60 balls.
9th over: England 69-3 (target 138; Stokes 11, Brook 12) Stokes would normally focus on taking the game deep, but DLS makes that a little more complicated. In the 2019 final, England were probably behind on DLS from overs 19.3 to 49.4.
Stokes gets his first boundary in fortunate style, under-edging a reverse sweep down the leg side. Eight from the over. England are nine runs ahead on DLS; they need 69 from 66 balls.
8th over: England 61-3 (target 138; Stokes 5, Brook 10) The fourth paceman, Mohammad Wasim, is on for the first time. Stokes charges his first ball and cuts it for a single.
England are slightly ahead on DLS, though that will change if they lose another wicket. Every little helps, and Wasim bowls consecutive wides before Brook whips two to cow corner. He's started with admirable serenity for a young player who had such a difficult tournament.
The moment I type that, of course, he misses an attempted drive over extra cover from outside leg stump. The last ball kicks to hit him painfully on the right elbow, and there's a delay while he receives treatment. This is quite some pace attack that Pakistan have.
"I am sitting on a French island in the South Pacific (New Caledonia ) so no chance of coverage of cricket on French TV," says Terence Ayres. "Really glad you are there!"
I'd be really glad if I was there too.
7th over: England 54-3 (target 138; Stokes 3, Brook 7) It's time for the legspinner Shadab Khan. Adil Rashid got a lot out of this pitch, so he should be a threat. His second ball beats Brook, and there are five runs from a (relatively) quiet over.
In other news, Haris Rauf has left the field. Adam Gilchrist says he was followed by a couple of the backroom staff, so either he has a niggle or there's a really important horse race on in the next five minutes.
6th over: England 49-3 (target 138; Stokes 1, Brook 4) Drum and bass is having a bit of a revival, and I believe, and that fresh track you can hear is Harry Brook's heartbeat.
He defends his first ball calmly and then flicks stylishly through midwicket for four. Lovely shot.
DLS can't come into play until there have been at least 10 overs, but as things stand the par score after six overs is 45.
"Atherton, Smith and Bishop," says Laurence Boyd of the commentary team who have just handed over. "Just brilliant, desert island commentators for me."
I love them all, but I couldn't leave Nasser at home.
WICKET! England 44-3 (Buttler c Rizwan b Buttler 26)
Stokes drives the ball back to Haris Rauf, who collects and fakes as it to throw back at the batter. This is his home ground in the BBL, and he's behaving like he owns the place.
And that's why! He has picked up the biggest wicket of them all! Buttler felt instinctively for a very sharp delivery – he didn't need to play – and nicked it through to Rizwan. That's another Test-match dismissal in coloured clothing, and Buttler goes after a white-knuckle ride of 26 from 17. balls. It is well and truly on!
5th over: England 43-2 (target 138; Buttler 26, Stokes 0) Naseem Shah beats Buttler outside off stump three times in four balls; with the other going for four wides down the leg side. Told you Pakistan were merculiar.
Babar belatedly brings in a slip. Buttler has the nerve, the skill and the genitalia to walk across and scoop the next delivery off middle stump for six. That is an outrageous stroke.
Naseem beats Buttler twice more – that's five in the over – to end maybe the best of the tournament. How good is this? If Pakistan get Buttler, it's well and truly on.
4th over: England 32-2 (target 138; Buttler 20, Stokes 0) Jos Buttler and Ben Stokes are at the crease in a World Cup final again. Stokes offers no stroke to his first ball, a sizzler that only just misses off stump. Good judgement, I think.
He knew sweet bugger all about the next delivery, though, which snapped off the seam to beat him off the inside. Pakistan are on one.
"If it was Australia or India chasing down this total we'd think the game was basically over," says Bob O'Hara. "But this is England, who can always find a way. It makes me feel almost patriotic."
WICKET! England 32-2 (Salt c Iftikhar b Haris 10)
Haris Rauf strikes in his first over! Salt, who looked a bit jittery, slugs a pull straight to midwicket and goes for 10 from nine balls. This isn't over, not by a long chalk.
In other news, get your DLS tables here, 50p a copy.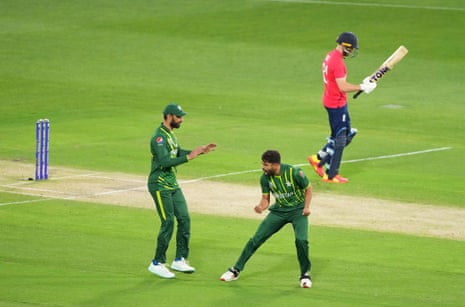 3rd over: England 28-1 (target 138; Buttler 20, Salt 6) Another glorious shot from Buttler, who times Afridi between midwicket and mid-on for his third boundary. He has 20 from 10 balls, Salt 6 fae 6.
"3-12 after all four overs in a T20 World Cup final against Pakistan," says Matt Dony of Sam Curran's performance. "'Fairy tale' barely seems to cover it. (Although, should we be treated to a proper old-skool England collapse, just imagine his righteous fury!)"
Two months ago he wasn't in England's best XI; now he'd probably get in a world XI.
SALT IS NOT OUT! The impact was umpire's call, so Salt survives. It was going on to hit the stumps, though.
I'm too old for this.
This looks really close. Salt missed a pull at a slower full toss that hit him on the back pad. Was he outside leg stump? If not, he's in trouble.
PAKISTAN REVIEW FOR LBW AGAINST SALT!
2nd over: England 21-1 (target 138; Buttler 15, Salt 5) Naseem Shah's first delivery swings a long way to beat Buttler, but he responds with consecutive cover drives for four. That's the most emphatic response.
Buttler edges well wide of slip for a single, then Salt inside-edges his first ball between his legs for four. This is pulsating stuff. The innings has barely started and they're already trading in the centre of the ring.
"For those looking and failing to find the TMS link, try GuerillaCricket instead," says David Schaub-Jones. "Not to everyone's taste but has kept me entertained from Hanoi to Medellin and many places in between."
I think our beloved Gary Naylor is on that; he certainly used to be.
1st over: England 7-1 (Buttler 6, Salt 0) That was the last ball of the over. Hales's fine tournament ends in disappointment, though he shouldn't reproach himself too much. It was a storming delivery.
WICKET! England 7-1 (Hales b Afridi 1)
Hahaha, he's done it again! Shaheen Shah Afridi ends his first over with the customary wicket. It was a sensational inswinger that beat Hales all ends up and deflected off the back pad onto the stumps.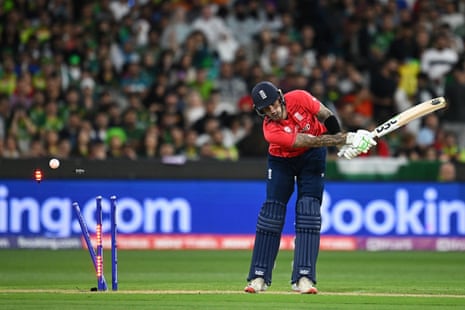 The players are back out. In a surprising development Shaheen Shah Afridi, who is so good at taking wickets in the first over, will bowl the first over.
They would certainly have taken that at the start, but let's not get giddy. If any team can defend 138, it's Pakistan.
20th over: Pakistan 137-8 (Afridi 5, Rauf 1) Afridi top-edges Jordan over the keeper's head for a desperately needed boundary. There's a bit of drizzle falling, though not enough for the players to go off.
Pakistan steal a bye to the keeper off the last delivery, which means England need 138 to win the World Cup. The last four overs went for just 19. England started nervously, but they were increasingly ruthless as the innings progressed. Adil Rashid (4-1-22-2, including a wicket maiden) and Sam Curran (4-0-12-3) were the stars.
WICKET! Pakistan 131-8 (Wasim c Livingstone b Jordan 4)
This is outstanding from England. Jordan beats Wasim twice and then has him caught holing out to deep midwicket. Livingstone ran in and dived forward to take a difficult catch with such little fuss that the commentator Ravi Shastri thought he had grounded it and was walking back to the boundary in disgust.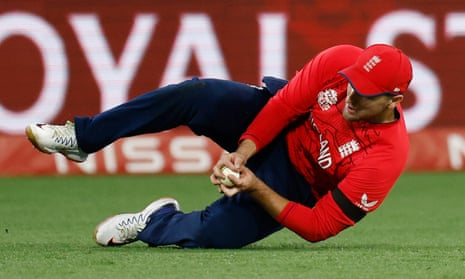 19th over: Pakistan 131-7 (Wasim 4, Afridi 1) A typically good spot from Tim de Lisle: no batter has hit more than two fours. Whether that's because of the pitch, the bowling, the ground dimensions or all three, I don't know.
Curran continues to befuddle the Pakistan batsmen. Wasim misses a hook at a typically slippery short ball, and Curran ends with extraordinary figures of 4-0-12-3. Somewhere in the afterlife, a former Northamptonshire allrounder is beaming with pride.
"Whaddid I say about Brook?!" writes Andy Brook, who was critical when Brook put down a tough chance on Wednesday. "Total dropper! With you on his batting though."
WICKET! Pakistan 129-7 (Nawaz c Livingstone b Curran 5)
Sam Curran is having a night out in Melbourrne. Nawaz flicks a full delivery straight to Livingstone at deep midwicket, and Curran has figures of 3.3-0-10-3.
18th over: Pakistan 127-6 (Nawaz 3 Wasim 3) Dropped him! Wasim slaps Jordan to backward point, where Brook puts down a tricky diving chance. Wasim steals a single – and then gets two more when Brook's throw evades Stokes backing up.
Harry Brook is going to be a star, but his performance in this tournament is slightly reminiscent of Ian Bell in the 2005 Ashes. That said, Bell was brilliant in the field so maybe I'm talking nonsense. It wouldn't be entirely without precedent.
"I don't think there is an overseas TMS link for this," says Tom Rebbitt. "It's not on the BBC website and BBC Sounds says it's only available in the UK. I'm in Munich on the way to Houston, praying this concludes before I take off!"
WICKET! Pakistan 123-6 (Shadab c Woakes b Jordan 20)
Superb bowling from Chris Jordan. He rammed a short ball into the surface, and Shadab could only clout it to mid-off. That's a vital wicket because Shadab is very dangerous at the death.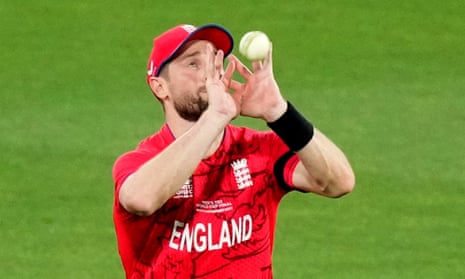 There's no doubt that England are on top now.
17th over: Pakistan 122-5 (Shadab 20, Nawaz 1) Curran's third over goes for just three, and he has unreal figures of 3-0-8-2. Before this World Cup, an old Wisden.com colleague – who is usually a superb judge – texted our WhatsApp group to opine that, "I wish Sammy C would just eff off." Fair to say he's been reminded of it a few times during the tournament.
WICKET! Pakistan 121-5 (Shan c Livingstone b Curran 38)
Sam Curran strikes again! Shan hoicked a slower ball towards deep midwicket, where Livingstone took a comfortable catch. He goes for a useful 28-ball 38, and now Curran is the leading wickettaker since the beginning of the Super 12s.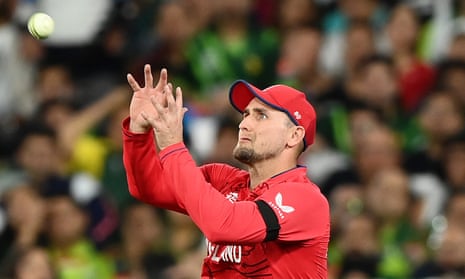 16th over: Pakistan 119-4 (Shan 36, Shadab 20) For the first time since the opening match against Afghanistan, Ben Stokes is going bowl a full four-over spell.
His last over goes for 13. Shadab hammers a cut towards extra cover, where the sprawling Salt can't save the boundary. Then he pulls towards deep square, where the diving Curran saves a run. Every little helps. Stokes finishes a mixed spell with figures of 4-0-32-1.
"I'm with Jack Sidders," says Sara Torvalds. "Not on a stag do in Vienna, admittedly, but I'd love the overseas TMS link as well, as I'm at home in Karis, Finland. Go England!"
15th over: Pakistan 106-4 (Shan 34, Shadab 9) Shadab slices Jordan high in the and not far short of Hales at third man.
Shan, who is batting fluently, clatters Jordan into the ground and over extra cover for four. He has 34 from 23 balls, Shadab 10 from 8.
Pakistan are heading for… if not a par score, then at least one that gives their bowlers a chance. That's all they ever asked for/
14.1 overs: Pakistan 98-4 (Shan 28, Shadab 8) Jordan's first ball thumps Shan on the side of the helmet, which leads to a break in play while he is checked for concussion. He's fine.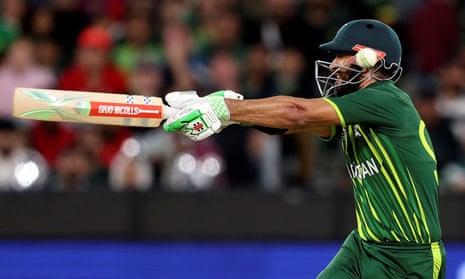 14th over: Pakistan 98-4 (Shan 28, Shadab 8) Shadab's a high-class legspinner himself, so he has less trouble picking Rashid. He muscles a boundary back over the bowler's head, and four singles make it eight from over.
Rashid ends a seriously good spell of 4-1-22-2 by ripping one past Shadab's outside edge.
"Does anyone have the overseas TMS link? " says Jack Sidders. "It is possible it was already shared but I'm on a stag do in Vienna and I'm struggling to read dense blocks of text at the moment."
Blimey, is it Australian time in Vienna as well?
13th over: Pakistan 90-4 (Shan 26, Shadab 2) Shan Masood turns Stokes to fine leg for two. Buttler was very nonchalant about receiving the throw, perhaps not realising how tight the second run was. That said, I think it would have needed a direct hit to run Shan out.
England have used up their fifth-bowler allocation now, though don't be surprised if Livingstone bowls Chris Woakes's fourth over, like he did against India.
"Watching from a sunny Naples hoping the weather will hold in the MCG, the home of Shane Warne, arguably the greatest leg-spinner of all time," writes Colum Fordham. "It looks like Adil Rashid is taking over his mantle with his guileful googlies and luscious leggies. He certainly bamboozled Babar. But the sheer unpredictability of Pakistan promise to make this a thriller. Merlot eh? Had a bit of the local Aglianico red yesterday evening but some strong tea seems to be doing the business."
WICKET! Pakistan 85-4 (Iftikhar c Buttler b Stokes 0)
Another one! The dangerous Iftikhar Ahmed has gone for a six-ball duck, nicking a sharp lifter from Stokes through to Buttler. That was a Test-match dismissal dressed in coloured clothing.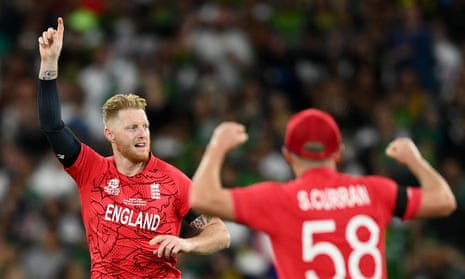 12th over: Pakistan 84-3 (Shan 23, Iftikhar 0) The new batter Iftikhar is beaten consecutive deliveries from Rashid, who is bowling marvellously. In fact, that's a wicket maiden. The ball is turning a lot, which will interest Shadab Khan in particular. Rashid has figures of 3-1-14-2.
WICKET! Pakistan 84-3 (Babar ct and b Rashid 32)
Sound the match-up klaxon: Babar has fallen to Rashid once again! It was an unusual dismissal. Babar didn't pick the googly, tried to cut it and could only screw the ball back down the ground. Rashid swooped to his right to take a good catch. That's a huge wicket.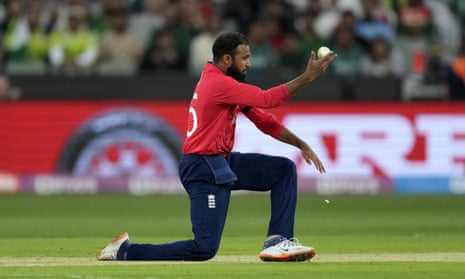 11th over: Pakistan 84-2 (Babar 32, Shan 23) Liam Livingstone comes on for Chris Jordan – and his first over disappears for 16! It was obvious from the start that Shan Masood was going to target him. After a couple of sighters, he smeared four back past the bowler and then launched a big six over long on.
"Having checked the weather radar for the 194th time today, I can probably stop worrying about complex mathematical equations and start worrying about things on the pitch," says Phil Withall. "There's an old sporting maxim about winning the moment and that seems to apply even more in T20, the shorter format offering less time for redemption. Fascinating couple of hours ahead. I still think England will win but I have been up for 16 hours and may well have been on the Merlot…"
10th over: Pakistan 68-2 (Babar 29, Shan 11) Rashid's second over is expertly milked for nine runs – two twos, four singles and a wide. Pakistan are manoeuvring the ball well, taking advantage of the huge outfield to put England's bowlers under pressure.
That's drinks. I think both teams will be reasonably happy with the score, if not necessarily with how they've played.
9th over: Pakistan 59-2 (Babar 27, Shan 5) Chris Jordan replaces Ben Stokes (2-0-14-0). Babar, who is starting to find that sweet, sweet spot in the middle of his bat, flicks a short ball off the hip for four.
The usual ones and twos make it a good over for Pakistan – nine from it. Babar has 27 from 23 balls, Shan 5 from 6.
8th over: Pakistan 50-2 (Babar 22, Shan 1) Shan is beaten first up by a nice googly. He gets off the mark with a swept single, which allows Rashid two balls at Babar. Sound the match-up klaxon! I wouldn't say Babar is Rashid's bunny, but he has struggled against him at times.
Babar works both deliveries into the leg side for two, played with Fairy Liquid hands so that the ball takes longer to get to the fielder.
"Following the text from a bumpy bus outside Nairobi," writes Tom Wein. "My American colleagues were baffled by my protests that this trip clashed with the match. My Indian colleagues, who I normally count on to explain cricket with me, were strangely unwilling to help. Thanks for the coverage!"