Key events
Laurence Robertson (Con) asks if Truss agrees that local people should get more control over housing.
Truss says she agrees. She will remove top down targets.
Justin Madders (Lab) asks why the chancellor lost his job when she kept hers.
Truss says: "I have been very clear …"
That provokes laughter.
" … that I am sorry and I have made mistakes."
Liz Truss starts with the usual spiel about her engagements – saying she has had meetings, and more planned.
From the Telegraph's Ben Riley-Smith
From my colleague Pippa Crerar
From ITV's Carl Dinnen
Truss to face question from Sajid Javid at PMQs days after No 10 briefed against him brutally
PMQs is starting soon. And here is the list of MPs down to ask a question.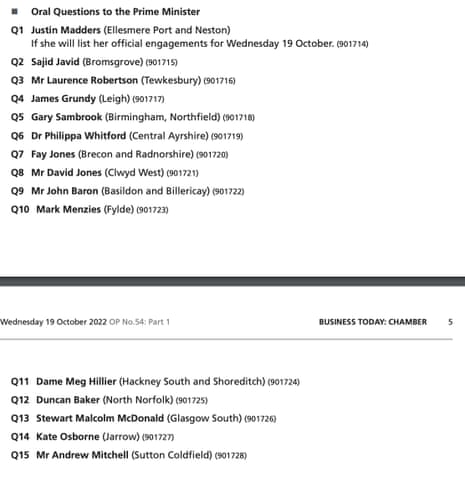 Sajid Javid, the former chancellor who is second on the list, may cause problems for Truss. At the weekend Caroline Wheeler and Harry Yorke in the Sunday Times said Truss considered appointing Javid to replace Kwasi Kwarteng as chancellor. But a No 10 source dismissed the story in brutal terms. Wheeler and Yorke reported:
Last night, a No 10 source denied that Javid had ever been considered for the role now filled by Hunt. "The prime minister laughed out loud at the suggestion," they said. "She has sat in the cabinet with Javid for ten years and she knows who is good and who is shit."
Here are two stories from the other papers today that may come up at PMQs.
Chancellor Jeremy Hunt is preparing to raid the profits of banks and energy companies in an attempt to fill a £40bn fiscal hole through a mix of tax rises and public spending cuts.

Hunt's Budget on October 31 is due to include big tax rises, with allies of the chancellor saying they expect him to target the earnings of lenders and oil and gas companies. He has spoken of "eye-wateringly difficult" decisions.
Jeremy Hunt is poised to delay Boris Johnson's flagship social care reform and has been warned that his spending cuts may have to be tougher even than George Osborne's era of austerity.

The cap on the sum people pay for care in old age is set to be put back by a year or more in the first of a series of "eye-watering" cuts the new chancellor is considering to balance the books.

Treasury officials suggested scrapping the reform entirely or kicking it into the long grass, but Hunt is said to believe that a one-year delay is politically feasible as he tries to save the public finances by ripping up Liz Truss's plans.
Cat Neilan from Tortoise has more on what Sir Graham Brady may be up to. (See 10.26am.)