Tory members think Sunak one of worst-performing members of cabinet, survey suggests
There is more bad news for Rishi Sunak at the ConservativeHome website this morning. It carries out a regular survey of Conservative party members, asking how they think cabinet ministers are performing, and it shows that Sunak is now rated as one of the worst-performing ministers in his cabinet. He has gone from fifth in the table, on a net approval rating of 49.9, to sixth from bottom, on a net approval rating of 9.
Three of the ministers who are doing worse are not even full members of the cabinet, and so the only proper cabinet ministers doing worse are Grant Shapps, the business secretary, and Jeremy Hunt, the chancellor.
Hunt's performance must be linked to a related finding from the survey, published yesterday: a plurality of Conservative party members do not support the government's economic policy.
Sunak, of course, was chosen by MPs. He lost to Liz Truss when Conservative party members chose a leader in the summer, and he became leader in October because he ended up as the only candidate with enough nominations from MPs who wanted to stand.
As Paul Goodman explains in his write-up for the website, the survey also shows the average performance score for the cabinet is at a record low. "The panel has clearly felt that the government, in its various manifestations, has not been performing well for some time," he says.
Key events
Starmer says Sunak should get out more. He talks about aspiration. What has happened to home ownership.
Sunak says house building is going up. And when the Tories came to power, house building was at a record low.
Starmer says Sunak is being pushed around by lobbyists. He says that money (effective subsidies for private schools) could be better spend. Starmer says he has made his choice; Sunak must make his.
Sunak says he is about aspiration.
Starmer quotes from the Gove article again. Winchester has had £6m in taxpayers' money. He says that money would be better spent on under-performing schools.
Sunak says schools are getting better under Gove's reform. And when Starmer attacks his schooling, he is attacks aspiration, and the decisiosn made by his parents, he says. He says that is why Starmer is not fit to lead.
Keir Starmer says Winchester colleage has a rowing club, a rifle club, an extensive art collection, and it charges more than £45,000 in fees. Why did the government give them what Michael Gove calls "egregious state support".
Sunak says the government is increasing spending on schools. But during Covid Starmer wanted to keep schools closed. He says he listens to parents; Starmer listens to his union paymasters.
Sir Paul Beresford asks Sunak if he agrees that China is a threat, not just a challenge.
Sunak says the government recently stopped China buying the Newport wafer fab, or investing in Sizewell C.
Tommy Sheppard (SNP) asks if Rishi Sunak still shares the view in the Calman commission that nothing can stop Scotland becoming independent if it wants to.
Sunak says we had that conversation in 2014. He says both governments should focus on what people want.
Rishi Sunak starts by congratulating England on their victory last night, and commends Wales "for inspiring millions". And he wishes people a happy St Andrew's Day.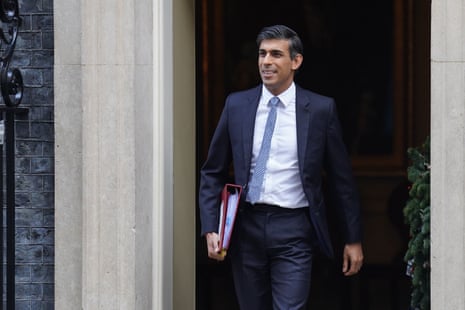 PMQs is about to start.
Here is the list of MPs down to ask a question.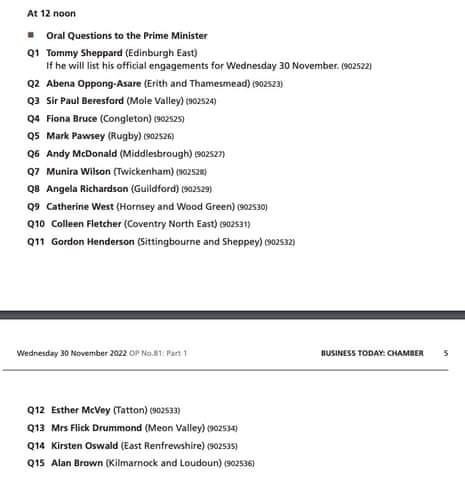 One problem that Rishi Sunak faces is that the parliamentary Conservative party has become increasingly fragmented. In the Financial Times today, Sebastian Payne identifies four rebellious Tory tribes: the "heartland defenders" (blue wall Tories, many of whom are backing the amendment to end mandatory house building targets, like Damian Green); the "Trussites" (self-explanatory, typified by Simon Clarke, who wants more housebuilding and onshore wind); the "Johnsonites" (again self-explanatory – Sir Jake Berry is cited as the most prominent example, because he has made various interventions unhelpful to Sunak); and the "don't cares" (Tories who have decided to stand down).
Payne suggests the final group could be the most dangerous. He says:
The challenge for Sunak is that the MPs in this tribe risk being unbiddable: some have no reason to back his government. One Tory MP who is retiring said: "We don't care anymore and can do what we like."
Ambulance response times will be "incredibly stretched" when thousands of 999 call handlers, paramedics and other staff go on strike, an NHS leader has said.
Saffron Cordery, the interim chief executive of NHS Providers, which represents hospitals and other NHS trusts, said trust leaders would be plans in place to deal with the impact of the Unison ambulance strike. (See 9.37am.) She told the Today programme:
In terms of the ambulance strike, we know the challenges already of not having enough paramedics, call handlers available, because we've seen the challenges to ambulance handover times that we have at the moment, in terms of not being able to transfer patients from ambulances into A&E departments and the challenges that brings when they can't get back out on the road.

Additional challenges on top of that, I think, will make response times incredibly stretched. But ambulance trust leaders will be putting in place as many measures as possible to mitigate the risks of those actions.
There will be two urgent questions after PMQs. At 12.30pm Angela Rayner, the deputy Labour leader, will ask why Rishi Sunak has not got round to appointing a new ethics adviser at No 10. (As my colleague Jessica Elgot reports, the answer is because he can't find anyone to take the job, because he is not willing to offer the adviser enhanced powers). And after that, at around 1.15pm, the DUP's Carla Lockhart will ask about the energy support scheme for Northern Ireland.