Key events
Starmer asks how many asylum claims from people who arrived on small boats last year have been processed.
Sunak starts by avoiding the question, and then he says "not enough". The government will address this, he says.
Starmer says Labour voted against the plan because it would not work. It didn't. He says the government's strategy is not working.
Sunak says Labour can't even say if it wants immigration to be higher or lower.
Starmer says no one on the Labour side wants open borders. He says it is "the same old, same old" from Sunak. He asks how it can be anyone responsiblity other than the government's.
Sunak says Labour voted against the nationality and borders act. "Who can't oppose a plan if you don't have a plan," he says.
Keir Starmer says the home secretary says the asylum system is broken. Who broke it?
Sunak says, look at the government's record on immigration. It gave the people a referendum on Brexit, he says.
Fiona Bruce (Con) asks what the government is doing to deal with internet scammers.
Sunak says the government will soon be publishing a fraud strategy.
Dame Meg Hillier (Lab) says Sunak promised professionalism, decency and integrity in government. What will Suella Braverman have to do to get the sack?
Sunak says Braverman made a mistake, and took responsibility for her actions. She has set out what happened in a letter. She is now getting on with her job, "defending our borders – something I know the party opposite has no interest [in doing]".
Rishi Sunak starts with the usual spiel about his meetings.
From the i's Paul Waugh
Here is the list of MPs down to ask a question at PMQs.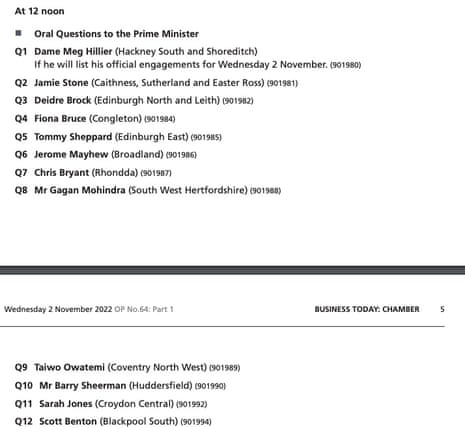 MPs are currently on Cop26 questions. But Alok Sharma, the Cop26 president, isn't there (despite me assuming earlier that he would be). The i's Paul Waugh says that is probably because he is no longer technically a minister. Graham Stuart, the climate minister, is answering the questions.
Green MP Caroline Lucas has branded Rishi Sunak's backtracking over Cop27 a "screeching U-turn" and an "embarrassing misstep on the world stage" in a tweet.
Labour leader Keir Starmer has accused Rishi Sunak of acting "in the name of political management" rather than the national interest after U-turning to agree to attend Cop27.
Liberal Democrat deputy leader Daisy Cooper has called for Matt Hancock to quit as an MP and trigger a by-election following his decision to appear on I'm A Celebrity.
She said:
He is abandoning his constituents by going to the jungle and is shirking from his responsibilities. In any normal workplace he'd be sacked.
PA has some interesting lines from a briefing for journalists this morning by polling expert Prof John Curtice, president of the British Polling Council.
The Conservatives will find it "extremely difficult" to win the next general election despite some signs of a recovery under Rishi Sunak, Curtice said.
He added that while the new prime minister is significantly more popular than his party, voters were unlikely to forgive the Tories for the financial crisis unleashed by his predecessor Liz Truss.
At the height of Truss's unpopularity, the Conservatives had been trailing Labour by more than 30 points in the polls suggesting they could have been left with fewer than 60 seats if that pattern had been repeated at a general election.
He added that support for rejoining the EU has been growing steadily over the past year with the latest polling suggesting 57% would favour rejoining with 43% against.
He said:
No government that has presided over a financial crisis has ever survived at the ballot box. Voters don't forget governments being forced to do a U-turn by financial markets.
Transport secretary Mark Harper was grilled by broadcasters about the problems with dangerous overcrowding at the Manston migrant processing centre in Kent this morning.
He said the French and British authorities both need to step up work to prevent migrants risking the dangerous English Channel crossing in small boats, and that the partnership with the French needed to improve.
Harper told Sky News:
I think both countries, Britain and France, could do more. What we need to do is work with the French, they do a lot already.

We provide resources to help them and, of course, people will know our border controls in France are actually physically located in France, and we've always worked in close partnership with French authorities.

Do we think they could do more? Yes. We could do more as well. It's about improving that partnership.
He said work was ongoing to get migrants from Manston quicker but said "it is reasonable to say it is not going to happen overnight".
This is from my colleague Jonathan Watts, the Guardian's global environment editor, on the (possible) significance of Rishi Sunak's Cop27 U-turn.
Ed Miliband, the shadow secretary for climate change and net zero, has now released a fuller version of his Twitter response to Rishi Sunak's Cop27 U-turn. (See 10.38am.) Miliband said:
The prime minister has been shamed into going to Cop27 by the torrent of disbelief that he would fail to turn up.

Rishi Sunak is going to avoid embarrassment not to provide leadership.

His initial instinct tells us about all about him: he just doesn't get it when it comes to the energy bills and climate crisis.

Yet again we see a prime minister who only makes decisions for reasons of political management not the national interest.

If the prime minister was really serious he would commit to Labour's plans for a zero carbon power system by 2030, a national wealth fund to invest in green jobs and GB Energy – a publicly owned energy generation company to create jobs and wealth in Britain.