Rishi Sunak refuses to bow to pressure on nurses' pay, saying offer is 'fair'
Rishi Sunak is refusing to bow to pressure from health leaders and some senior Conservatives to negotiate pay with nurses to prevent further strikes (see earlier post).
Speaking to the BBC during a visit to Belfast, the Prime Minister said:
"The Health Secretary has always been clear, the door is always open, that's always been the case, but we want to be fair, reasonable and constructive, that's why we accepted the recommendations of an independent pay body about what fair pay would be."
That recommendation, for a pay rise between 4% and 5% for NHS England staff excluding doctors and dentists, was made in July. Since then, inflation has surged to double-digit levels (it was 10.7% in November).
The Prime Minister, though, insisted today that the offer given to nurses is "appropriate and fair", PA Media add.
Key events
Labour MP Angela Eagle is calling for a probe into "misleading" figures used by ministers when claiming that public sector pay claims are unaffordable, Huffington Post reports.
Ministers claim that public sector pay increases demanded by trade unions would cost £28 billion – or £1,000 for every UK household.

However, Dame Angela argues the figure is "inaccurate" and that the government is using "deliberately inflated figures".

"I am concerned that government ministers are using misleading statistics publicly regarding the cost of pay rises, and believe it is critical that figures used are accurate," she wrote.

Eagle has written to Sir Robert Chote, chair of the UK Statistics Authority, asking him to verify the figures.
Eagle has tweeted that the government should stop using 'blatantly misleading claims'.
The £1,000 figure is based on a government estimate that meeting an 11% pay rise for all public sector staff would cost a total of £28bn, spread around 28 million UK households, as my colleague Peter Walker explained here earlier this month.
The government's sum seems to assume the pay rise would be covered through public taxation, rather than through increased borrowing or, higher business taxes.
Also, the money would be spent in the economy, helping retailers for example, while a proportion would be clawed back through income tax.
Due to various industrial action, there will be a reduced train services across the rail network until Sunday 8 January 2023 — National Rail have a page here outlining the situation.
An overtime ban by RMT members at 14 train operators is expected to lead to disruption, with about 4,000 trains expected to be cancelled daily even after this week's strikes are over.
RMT chief Mick Lynch told ITV News earlier today that "The strikes are about the timing," when asked about some members of the public who question why the strikes are occurring in the run up to Christmas.
Speaking from a picket line near Euston station on Friday morning, Lynch explained that the union needs to have "leverage at the talks".
"The companies want to move forward with their changes. They started the next phase of their implementation yesterday, Network Rail."
London's Waterloo Station was notably quiet today too, as these photos show: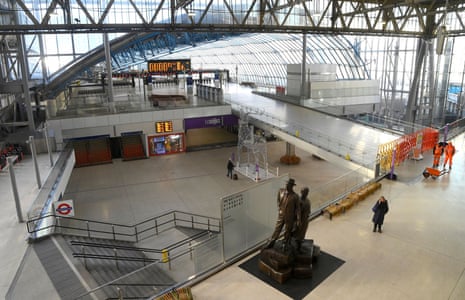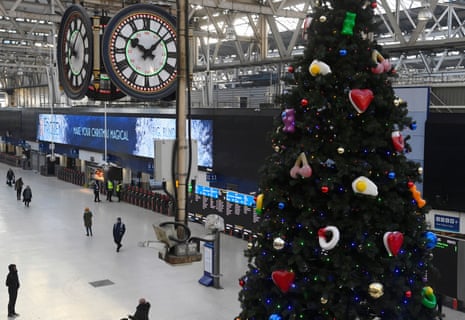 How train strikes are affecting Guardian readers
Guardian readers have been getting in touch to tell us about how they've been affected by the train strikes, my colleagues Alfie Packham and Mabel Banfield-Nwachi report.
Elizaveta Matveeva, 34, a university tutor from Nottingham is "exhausted" by the disruption to her commute to Leicester, although this existed before any industrial action, she said.
She tells us:
"The strikes are just making existing disruptions worse. I have been getting up at 5am to be sure I get to work on time, and getting back very late because of the delays. I haven't seen my 19-month-old son on some days as he was already asleep when I got home. I definitely support the strikes. I think it's the government's fault that we're in this situation.

"I was planning to go by the National Express coach today, which is more expensive, but fortunately my line manager allowed me to work from home. The previous strike days were much worse. I am having to take driving lessons now despite having been unwilling to drive because of the impact on the environment. I just don't think that the situation with railway services will become better any time soon, and I don't see a viable alternative."
Sofia Piccoli, 24, an apprentice engineer who lives just outside London in Kings Langley, says she feels "frustrated" with the ongoing train strikes because she has had to miss almost half of her university lectures.
She travels to London once a week to attend lectures at London South Bank University, where she studies part-time. The train journey from Kings Langley to London Euston usually takes under 30 minutes but she said she hasn't been able to get in due to cancellations.
She says:
"I only have one day a week where I go to uni and if I can't go in that one day, it's a whole week's worth of lectures lost.

I can't get into London any other way."
Piccoli was told by one of her professors to get the bus into university, which she says is "only possible for people who already live in London", adding that:
"I do support people striking but this time around it's very hard, especially because travel is very important for people outside of London. It makes me angry but I don't know who to be angry at."
Tiago Oliveira, 38, a self-employed art conservator, worries about how long the disputes could go on for.
"I commute between Sevenoaks and my workshop in New Cross. There is some admin work I can do at home but three to four days in one week is too much for that, especially in the run-up to Christmas. I need to be in my workshop to generate an income.

"I support the strikes and what they are fighting for but I think some sort of service should be maintained. Because if I do not travel, I do not earn. No one compensates me for the lost days, which are not my fault. I fear this will go on for a long time. I also fear the ticket costs will rise in January."
Traffic was heavy in major cities this morning, as some people switched to their cars because of the rail strikes.
PA Media reports that figures from location technology firm TomTom showing congestion at 8am Friday was significantly higher in London, Liverpool and Glasgow compared to a week before.
Currently, London's congestion level is 67%, or 21% more than average at this time.
The wintery weather and industrial action hitting the UK economy this month could push the country into a technical recession.
Economists at Deutsche Bank have predicted that heavy snow and strikes will hit GDP this month. That will push growth in the fourth quarter of 2022 into contraction territory, with a 0.1% drop in GDP, they estimate.
Deutsche Bank also estimate that 1m to 1.5m working days in December will be lost as a result of strike action.
Chief UK economist Sanjay Raja told clients:
RMT (and their near 40k workers) will be striking for four days in December. The Communications Worker Union (CWU) and their 115k workforce will also be on strike for four days. Nurses will also be on strike for a couple of days.

The Public and Commercial Services Union (PCS) will also send their 100k workers on strike, marking the biggest civil service walkout in a generation.
Transport, hospitality, leisure, mining & quarrying, and construction industries will probably be the main sectors hit, Raja explained, adding:
Indeed, evidence thus far already points to a modest hit to GDP.

TfL data on tube usage on Monday, 12 December, showed a near 10pt drop from the previous week. OpenTable reservations have fallen nearly 20 points to start the week. Box-office sales too tanked with weekend sales down to £4.9bn – the lowest weekend total recorded since mid-September, and around 25% lower than the week before.
Former Conservative Party chairman Sir Jake Berry repeated his call for the Government to negotiate on pay with the nursing union to avert further strikes, saying "machismo and chest beating" does not work.
He told Times Radio this morning that:
"There is no do-nothing option except continued strikes. And I just think the cancellation of probably literally hundreds of thousands of non-urgent appointments yesterday has huge repercussions for an already-overstretched health service…

"That's why I think it's reasonable to say in this regard, it is time for pragmatism and talking between the Government and the unions. I don't see why that is controversial.

"Machismo and sort of chest beating and 'we'll take the unions on' doesn't work. You only get these things sorted out by talking."
As we covered earlier (see here), Berry has written a comment piece in the Daily Express, in which he says "even the most hawkish" Conservative MPs are sceptical that the current offer of between 4 and 5% will satisfy either nurses or the vast majority of the British people who are "inherently" on their side.
There is disruption on the London underground today, partly due to the rail strikes.
At the north end of the Bakerloo line, there is no service between Queen's Park and Harrow & Wealdstone due to strike action by National Rail staff.
On the Elizabeth line, there are severe delays between Paddington and Reading and between Liverpool Street and Shenfield "due to industrial action by National Rail staff", Transport for London say.
Technical problems are disrupting other lines. On the Piccadilly, a signal failure at Ealing Common means no service between Acton Town and Uxbridge, in West London.
And on the Circle line, there's no service clockwise due to a signal failure at Gloucester Road.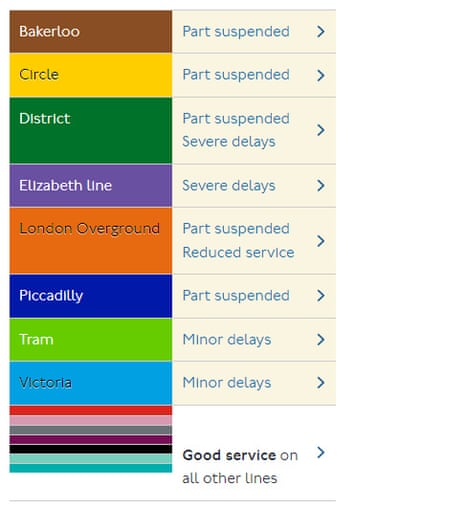 The shadow health secretary Wes Streeting has refused to say whether a Labour government would agree to a pay rise for nurses.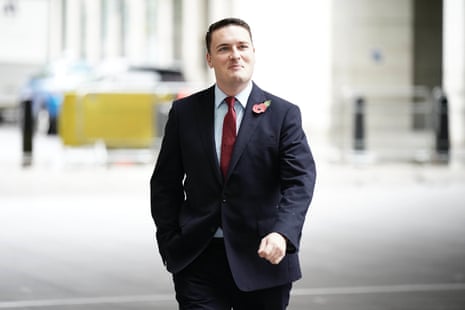 PA Media is reporting his comments from a Q&A following a speech to the Policy Exchange think tank, where he has said:
I've been honest about the fact that if Labour were in government today, we wouldn't be able to offer inflation plus 5%. But we would be willing to negotiate.
He added that Labour is "anxious not to make promises we can't keep," given it was not clear what the state of public finances or the level inflation would be in two years' time.
I'm not going to make a commitment today about precisely where Labour would set pay.

But I do understand why the nurses feel the way they do.

And I think it is the most reasonable request in the world to say to a government 'we'll suspend our strike action if you're just prepared to sit down and talk and seriously negotiate on pay.