Key events
A quick snap here from the Russian embassy in Iran which claims Russia's ambassador to Iran, Alexei Dedov, met with Iranian foreign minister, Hossein Amirabdollahian.
The pair reportedly "expressed their mutual intention to further expand Russian-Iranian relations", according to the embassy.
Iran has significantly deepened its involvement in Russia's invasion of Ukraine by agreeing to provide a batch of medium-range missiles, as well as large numbers of cheap but effective drones, US and Iranian security officials revealed last month.
Iran also providing technical support for Russian pilots flying Iranian-made drones to bomb civilian targets, the White House confirmed.
Turkish defence minister, Hulusi Akar, has told Ukraine's defence and infrastructure ministers that keeping the Black Sea grain export deal going is "of great importance" and that, as a humanitarian initiative, it should be kept separate from the conflict in Ukraine.
A statement released by his ministry on Tuesday said 10m tons of grain had already been shipped to those in need and "all problems can be resolved through cooperation and dialogue". It added:
The Black Sea corridor is much faster and more convenient for grain transportation than the land route.

The enterprise of grain shipment, which is a purely human activity, should be separated from conflict conditions."
The statement follows Russia's suspension of its participation in the deal, brokered by the United Nations and Turkey in July and aimed at keeping food commodities flowing to world markets
Akar also told his Russian counterpart on Monday that Moscow should re-evaluate its decision.
Russian-installed officials extend evacuation zone in Kherson
Russian-installed officials in Ukraine's southern Kherson region said on Monday evening they were extending an evacuation zone further from the Dnipro River.
In a post on Telegram, Vladimir Saldo, the Russian-backed head of the region, which is partially occupied by Russian forces, said he was extending the area covered by an order for civilians to evacuate by an additional 15km (nine miles) to include another seven settlements.
Saudi Aramco posts 39% jump in profits
Saudi Aramco on Tuesday posted a 39% jump in third-quarter profits year on year, the latest financial results boosted by higher oil prices resulting largely from Russia's invasion of Ukraine, AFP reports.
The announcement came as the OPEC+ cartel of oil producers was set to implement production cuts that have drawn the ire of the US, which says the move – approved at a meeting last month – amounts to "aligning with Russia" in the conflict.
The energy giant's net income totalled $42.4bn – up from $30.4bn during the same period last year – and was "primarily driven by higher crude oil prices and volumes sold", it said in a filing with the Saudi stock exchange.
Asia's factory output weakened in October as global recession fears and China's zero-Covid policy hurt demand, business surveys showed on Tuesday, adding to persistent supply disruptions and darkening recovery prospects.
Further US interest rate hikes are also expected to force most Asian central banks to prevent sharp capital outflows by tightening their own monetary policies, even if it means cooling already soft economies, analysts say.
The International Monetary Fund cut Asia's economic forecasts as global monetary tightening, rising inflation blamed on the war in Ukraine, and China's sharp slowdown dampened the region's recovery prospects.
Grain was flowing out of Ukraine at a record pace on Monday under an initiative led by the United Nations aimed at easing global food shortages despite Russia warning it was risky to continue after it pulled out of the pact.
Russia said on Monday that the deal was hardly feasible as it was impossible to guarantee the safety of shipping after its withdrawal over the weekend following what it said was a major Ukrainian drone attack on its fleet in Crimea.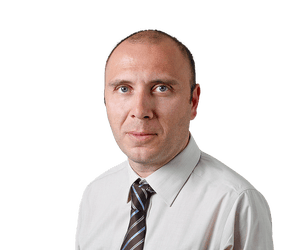 Dan Sabbagh
Three days after a Russian S-300 missile slammed into the roof of her apartment block in the small hours of Sunday morning, Iryna Davydiuk was improbably hanging out the washing on what was left of the balcony of her apartment. It was a generously warm late October afternoon in the southern port city of Mykolaiv, but on the terrace below her lay a large concrete block and copious amounts of rubble.
Fortunately, Davydiuk, 48, had decided to shelter with relatives in the countryside over the weekend and so avoided the night-time impact. When she returned on Monday morning, she was stunned to find the widespread damage to her family home. "I couldn't understand why, what for," she said. "Why did they do this? We were just peacefully living our lives. Why did this happen?"
At 1.40am on 23 October, two S-300 missiles landed on Davydiuk's estate a couple of minutes apart. One hit her block, and the other blew up a shop, blasting rubble all over a children's playground. Olena Izotova, 46, said she was woken up by the first bomb, while the shock wave from the second "blew her into the other room". Miraculously, nobody was killed, because the strike happened at night – and so many people have already moved away.
Since March, Mykolaiv has been relentlessly and indiscriminately targeted by the Russian invaders, after their advance was halted a few miles away. Missiles and bombs land most days – there have been only 25 days without shelling, officials say, and 148 civilians have been killed, including, earlier this month, an 11-year-old boy:
Strikes cut power to 270,000 homes in Kyiv
Ukraine suffered sweeping blackouts and water supplies were cut to large parts of Kyiv on Monday after another wave of Russian missile strikes on key infrastructure.
The Ukrainian army's commander in chief, Valeriy Zaluzhnyi, said on Telegram that Russia had launched 55 cruise missiles and dozens of other munitions at "civilian targets" across the country, days after Russia blamed Ukraine for drone attacks on its fleet in the Black Sea.
Presidential adviser Oleksiy Arestovich early Tuesday called the bombardment "one of the most massive shellings of our territory by the army of the Russian Federation".
But he noted on the same platform that thanks to improved air defences, "the destruction is not as critical as it could be".
Though the army said many of the missiles had been shot down, Prime Minister Denys Shmygal said the strikes had still caused power cuts in "hundreds" of areas across seven Ukrainian regions.
Several blasts were heard in the capital Kyiv.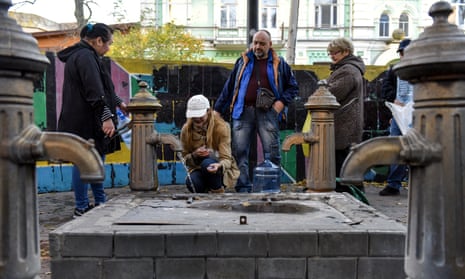 Kyiv's mayor, Vitali Klitschko, said on Monday that 40% of the city's residents had been left without water, while 270,000 homes had no electricity.
In the west of Kyiv, an AFP journalist saw more than 100 people with empty plastic bottles and containers waiting to collect water from a park fountain.
Ukrainian Foreign Minister Dmytro Kuleba said on Twitter: "Instead of fighting on the battlefield, Russia fights civilians."
Ukraine's battered energy infrastructure would be repaired with equipment from 12 countries, Kuleba said in a separate statement.
The Russian army confirmed it had carried out cruise missile strikes and said they had all reached their intended targets.
In Moldova, the government said a Russian missile shot down by Ukrainian air defences fell on the village of Naslavcea in the north of the country, but without causing any injuries.
Hello and welcome to today's live coverage of the war in Ukraine. My name is Helen Sullivan and I'll be taking you through the latest for the next while.
Kyiv's mayor, Vitali Klitschko, said on Monday that 40% of the city's residents had been left without water, while 270,000 homes had no electricity after Ukraine suffered another wave of Russian missile strikes on key infrastructure.
In the west of Kyiv, an AFP journalist saw more than 100 people with empty plastic bottles and containers waiting to collect water from a park fountain.
More on this shortly. In the meantime, here are the key recent developments:
A barrage of Russian missiles has struck hydroelectric plants and other critical energy and water infrastructure across Ukraine. Russia said it hit military and energy infrastructure targets, but Ukraine said its military facilities were not targeted.

Large parts of Kyiv were left without power or water. The Ukrainian capital's mayor said 40% of residents did not have water, with 270,000 apartments without power as of Monday evening.

Twelve grain export ships left Ukraine despite Russia's decision to pull out of the Black Sea grain deal, Ukraine's minister of infrastructure said. The UN also confirmed the first of 40 planned ship inspections was completed in Istanbul waters.

Russia's president, Vladimir Putin, said the strikes and the decision to pull out of the Black Sea grain deal were responses to a drone attack on Moscow's fleet in Crimea that he blamed on Ukraine. Putin told a news conference on Monday that Ukrainian drones had used the same marine corridors that grain ships transited under the UN-brokered deal.

Moscow called ship movements through the Black Sea security corridor "unacceptable". In a statement, the Russian defence ministry said it wanted "commitments" from Ukraine not to use the Black Sea grain corridor for military purposes, adding "there can be no question of guaranteeing the security of any object" in the area until then.

The UN disputed Moscow's claim that a civilian cargo ship carrying Ukrainian grain may have been involved in a drone strike against Russia. The UN aid chief Martin Griffiths said no such ships were in the Black Sea's designated "safe zone" corridor at the time Russia said the attack had taken place.

France is working towards allowing Ukrainian food exports to go through land routes rather than the Black Sea.

Russia dismissed reports that its agents hacked Liz Truss's phone and gained access to sensitive information.

Norway put its military on a raised level of alert to enhance its response to the war in Ukraine, though the prime minister, Jonas Gahr Støre, said no direct threat of invasion was detected from Russia.

Afghan special forces soldiers are being recruited by the Russian military to fight in Ukraine, three former Afghan generals have told the Associated Press. They said the Russians wanted to attract thousands of the former elite Afghan commandos into a "foreign legion" with offers of $1,500 a month and promises of safe havens for themselves and their families.

Also on Monday, the Russian defence ministry said Moscow had completed the partial military mobilisation announced by Putin in September and no further call-up notices would be issued.

A 40% cut in deliveries of Russian natural gas is hitting Moldova's ability to provide sufficient electricity for its 2.5 million people, the deputy prime minister of the small ex-Soviet state has said.