Key events
Mikhail Razvozhayev, the governor of Sevastopol in Crimea, which Russia annexed in 2014, has said on Telegram this morning that air defence in the city shot down a Ukrainian drone. The claim has not been independently verified.
In these pictures you can see volunteers yesterday distributing power generators and gifts to residents in Kupiansk in the Kharkiv region.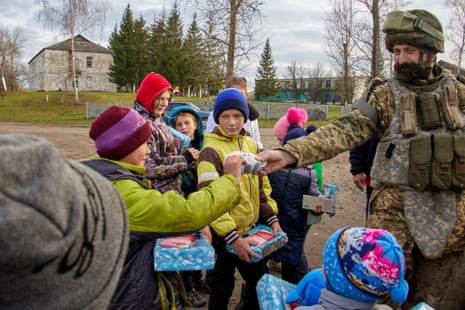 Swedish prime minister Ulf Kristersson will seek Turkey's approval for his country's bid to join Nato during talks due later today in Ankara with president Recep Tayyip Erdoğan.
Reuters reports that along with Finland, Sweden applied to join Nato in May in response to Russia's invasion of Ukraine. Turkey had objected over security concerns related to the banned Kurdistan Workers party (PKK) and other groups, and over the Nordic states' arms-export bans.
The three sides signed a memorandum in June that lifted Turkey's veto and obligated Sweden and Finland to address its remaining concerns.
Erdoğan is set to host Kristersson at the presidential palace this afternoon, with a news conference scheduled for after the meeting.
One of the Russian-imposed leaders in the occupied Kherson region of Ukraine, Kirill Stremousov, has claimed on Telegram: "The situation in the morning is unchanged along the entire frontline. We do not see any kind of mass offensive. At this stage, everything is unchanged and without difficult moments for our region."
Stremousov claims that "more than one thousand" Ukrainian forces are massed on the outskirts of the town, but that "despite the numerical superiority of the armed forces of Ukraine, the Russian military are specialists in their field".
The claims have not been independently verified.
Maksym Kozytskyi, governor of Lviv, has posted a status update to Telegram for the region, warning of scheduled power outages, but saying that there were no air raid warnings overnight.
Electricity consumers in the region have been divided into three groups, and each group can expect a blackout of between three and five hours. He said that specialists at the region's electricity company – Lvivoblenergo – say that the duration of the outages may be shorter and "the shutdown schedule will not be applied in full".
The state-owned Russian RIA Novosti news agency is reporting that the Russian-installed authorities in occupied Kherson claim to have arrested nine people they claim are Ukrainian special forces (SBU) who were planning sabotage operations.
Russia's security forces, the FSB, are quoted as saying:
On the territory of the Kherson region, the activities of the sabotage and reconnaissance group of the SBU , whose tasks included the commission of terrorist acts against high-ranking members of the military-civilian administration of the Kherson region, were exposed and suppressed.

As part of operational measures, more than five kilograms of plastic [explosive], electric detonators, actuators, three grenades ready for use by the Ukrainian military, small arms and ammunition, as well as special reconnaissance equipment were seized from the detainees.
RIA reports that the FSB claims to have discovered and neutralised a car bomb.
Vitaliy Kim, governor of Mykolaiv, has posted a status update to Telegram of the situation in his region. He listed multiple locations that had been struck by Russian fire over the last 24 hours, but said that despite some damage to buildings, there were no casualties.
Russia's ministry of defence is supporting the introduction of military training in Russian schools, according to local media reports.
Valery Gerasimov, chief of the general staff of the Russian armed forces, wrote to Sergei Mironov, ​​a leader in the Russian parliament, about his support for introducing basic military training (NVP) in schools, Izvestia reports.
The publication quotes Gerasimov as saying 140 hours should be allocated for military training in the last two years of study.
Russia and the US are discussing holding talks on strategic nuclear weapons for the first time since Moscow sent troops into Ukraine, Russian newspaper Kommersant reports, citing at least three sources familiar with the discussions.
Talks between the two sides on strategic stability have been frozen since Russia began its military campaign in Ukraine in February, even as the New Strategic Arms Reduction and Limitation Treaty (Start) on nuclear arms reduction stays in effect. The paper reads:
Kommersant has learned that Russia and the United States are discussing the possibility of holding a meeting of a bilateral consultative commission on the Strategic Offensive Arms Treaty in the coming weeks. For the first time, the parties consider the Middle East region as the venue for its holding. There have been no such face-to-face meetings for a year now, and the parties have accumulated questions to each other: from guarantees of the impossibility of the reverse conversion of American bombers and submarine ballistic missile launchers to the resumption of inspections suspended by the Russian Federation."
The talks may take place in the Middle East, the paper said, adding that Moscow no longer saw Switzerland, the traditional venue, as sufficiently neutral after it imposed sanctions on Russia over Ukraine.
According to sources, the first meeting may be scheduled for the end of November or the beginning of December.
30 Ukrainian Snake Island PoWs released
A further 30 Ukrainian service personnel who were captured from Ukraine's Zmiinyi (Snake) Island have been released from Russian captivity, according to the Ukrainian parliament's commissioner for human rights.
Dmytro Lubinets confirmed that 30 prisoners of war captured from Snake Island have been released from captivity in a Facebook post on Tuesday evening.
Authorities are continuing to work on releasing the remaining soldiers from captivity, he added.
During an emotional communication, representatives of different agencies told that 30 prisoners of war from Snake Island had already been released from captivity."
Russian-installed officials in Kherson continue 'evacuation'
The Moscow-installed head of Ukraine's occupied region of Kherson has promised a one-off payment of 100,000 roubles (£1,424) for "each evacuated resident" who leaves and resettles in Russia.
Kirill Stremousov made the announcement in a Telegram update on Monday, writing:
Today is the last day of organised evacuation from the right-bank part of the Kherson region.

Most of the residents who did not leave Kherson, only now began to realise the seriousness of the situation and my warnings.

Upon arrival on the left bank, residents of the right-bank part of the Kherson region are picked up by buses and transported to the Crimea, where the people will be met by volunteers and then the evacuees will go to other regions of the Russian Federation.

In other subjects of the Russian Federation, residents of the Kherson region are provided with temporary accommodation points.

Also, each evacuated resident of the Kherson region will be able to receive a one-time payment in the amount of 100,000 rubles and housing certificate."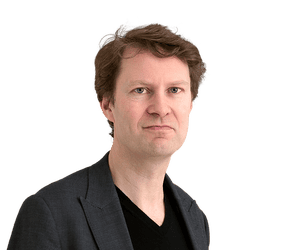 Luke Harding
Things are disappearing in the Ukrainian city of Kherson at a rapid rate. Some are physical objects. Russian troops are taking away ambulances, tractors and stolen private cars. Cultural things are going too: archives, and paintings and sculptures from the art and local lore museums. Even the bones of Catherine the Great's friend and lover, Grigory Potemkin, have been grubbed up from a crypt in St Catherine's cathedral and spirited away.
Luke Harding reports how Russian soldiers are ferrying this loot across the Dnieper river, to the left bank of the Kherson region. They have also been deporting local citizens under the guise of a humanitarian rescue mission. Others have refused to leave. A round-the-clock curfew has been introduced. Nobody knows how many of Kherson's 300,000 pre-war inhabitants remain. According to relatives of those still there, the city is mostly empty, its ghostly fate likely to be decided over the next few weeks in a series of bloody battles.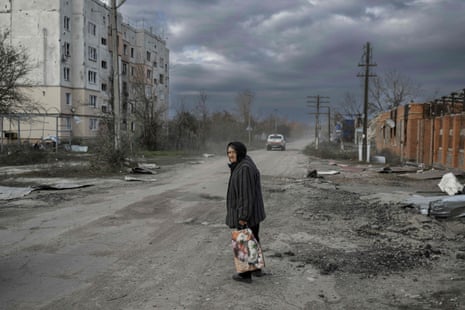 As the Ukrainian army closes in on Kherson, the Russian contingent is effectively surrounded. Russian officials were urging locals to leave and warning of imminent "terrorist" acts from the advancing Ukrainian military. However locals are unconvinced Moscow will abandon the city, which it seized in early March.
Read the full story below:
Ukraine prepares for Kherson 'street fighting'
Ukrainian forces say they anticipate fierce fighting before attempting to push Russian occupying troops out of the southern city of Kherson.
Russia has signalled that its forces may withdraw from the region but locals are unconvinced.
"It's probably a trick," Alyona Lapchuk told the Guardian. "The Russians are dressing up as civilians and hiding in houses." Telegram posts from the region's villages tell tales of "orcs" (Russian soldiers) occupying private properties.
Lapchuk, who left Kherson in April, said it was more likely Russian troops were preparing for bitter street-to-street fighting over the autumn and winter.
The main directorate of intelligence of the ministry of defence of Ukraine issued a statement on Monday describing "mass looting"
There is mass looting in the settlements of the right bank. In particular, in the Berislav district, the occupiers are methodically looting private homes, shops, and warehouses. The property of the Beryslav substation of the district power grid (machines, equipment, devices, repair materials) was completely looted."
Ukraine's military told Reuters that Russian forces, "disguised in civilian clothes, occupy the premises of civilians and strengthen positions inside for conducting street battles."
Russian forces were also "involved in looting and theft from residents and from infrastructure sites and are taking away equipment, food and vehicles to the Russian Federation," it said in an update late on Monday.
In recent days, Russia has ordered civilians out of Kherson in anticipation of a Ukrainian assault to recapture the city, which was the first to be seized by Russian forces following their invasion in February.
US confirms communications channels with Kremlin – reports
White House national security adviser Jake Sullivan has been engaged in confidential talks with senior Russian officials and confirmed that "channels to communicate with the Russian Federation at senior levels" remain open between Washington and Moscow.
Speaking at an event at the Economic Club of New York on Monday, Sullivan said it was "in the interests" of the US and every country affected by the war in Ukraine to maintain contact with the Kremlin.
We have done so when it's been necessary to clarify potential misunderstandings and try to reduce risk and reduce the possibility of catastrophe like the potential use of nuclear weapons," he said, according to a BBC report.
However he insisted officials were "clear-eyed about who we are dealing with", telling attendees the US had "an obligation to pursue accountability" and pledged to work with international partners to "hold the perpetrators of grave and grotesque war crimes in Ukraine responsible for what they have done".
Russia state media agency Tass reported Sullivan as saying:
We in the Biden administration have the opportunity to engage at senior levels with the Russians to communicate, to reduce risk to convey the consequences of the potential use of nuclear weapons. We have not described the channels that we have done in order to protect those channels and I'm afraid I can't go further than that today."
The White House, which has been careful not to make diplomatic moves about Ukraine without Ukrainian involvement, did not deny the talks.
The comments come after the Wall Street Journal reported last week that Sullivan has been holding talks with aides to Russia's president, Vladimir Putin, with the aim of reducing the risk that the war in Ukraine could spill over or escalate into a nuclear conflict.
The paper said the senior White House figure had held confidential conversations in recent months with the Kremlin aide Yuri Ushakov and Russian security council secretary, Nikolai Patrushev, Sullivan's counterpart, that were not made public.
White House spokesperson Karine Jean-Pierre later told reporters:
We reserve the right to speak directly at senior levels about issues of concern to the United States. That has happened over the course of the past few months. Our conversations have focused only on … risk reduction and the US-Russia relationship."
A separate source, who spoke to Reuters on the condition of anonymity, said the talks are ongoing.
Hello and welcome back to the Guardian's live coverage of the war in Ukraine. I'm Samantha Lock and I'll be bringing you all the latest developments as they unfold over the next few hours.
Ukrainian forces say they anticipate fierce fighting before attempting to push Russian occupying troops out of the southern city of Kherson. Ukraine's military claimed that Russian forces, "disguised in civilian clothes, occupy the premises of civilians and strengthen positions inside for conducting street battles."
The BBC reports that White House national security adviser Jake Sullivan has been engaged in confidential talks with senior Russian officials and confirmed that "channels to communicate with the Russian Federation at senior levels" remain open between Washington and Moscow, according to multiple reports from a speech he gave in New York on Monday.
For any updates or feedback you wish to share, please feel free to get in touch via email or Twitter.
If you have just joined us, here are all the latest developments:
Ukraine's president, Volodymyr Zelenskiy, has claimed his forces are gradually pushing back Russian troops in some parts of the east and south. "We are gradually moving forward," he said in his latest Monday evening address. Zelenskiy added that Ukraine's eastern Donetsk region remains the centre of Ukraine's bloodiest battles, claiming Russians "die by the hundreds every day".
Ukrainians are bracing for more blackouts after the country's grid operator told consumers to expect power outages in Kyiv and other regions on Monday as it seeks to reduce the strain on energy infrastructure damaged by Russian missile and drone attacks. Rolling blackouts are becoming increasingly routine after a wave of Russian attacks on power facilities damaged 40% of energy infrastructure since 10 October.
Ukraine received more air defence systems from western allies, defence minister Oleksiy Reznikov announced on Monday. Included in the military aid are national advanced surface-to-air missile System (Nasams) and Italian aspide air defences. "These weapons will significantly strengthen the Ukrainian army and will make our skies safer," Reznikov said. "Thank you to our partners – Norway, Spain and the US," he added.
Ukraine has accused Russian troops of looting and occupying empty homes in the southern city of Kherson to prepare for street fighting in what both sides predict will be one of the war's most important battles. In recent days, Russia has ordered civilians out of Kherson in anticipation of a Ukrainian assault to recapture the city, the only regional capital Moscow has seized since its invasion in February. Kherson was also cut off from water and electricity supplies on Sunday after an airstrike and damage to the Kakhovka dam, local officials said.
The Russian president, Vladimir Putin, has said 50,000 Russian soldiers called up as part of his mobilisation drive were now fighting with combat units in Ukraine, the Interfax news agency reported. Putin said 80,000 were "in the zone of the special military operation" – the term Russia uses for its war in Ukraine – and the rest of the almost 320,000 draftees were at training camps in Russia.

However criticism is brewing over the chaotic mobilisation campaign as Russian conscripts say hundreds were killed in an attack. Moscow's willingness to throw hundreds of ill-prepared conscripts on to the frontline in Ukraine's east has prompted growing anger in Russia as more coffins return from Ukraine. Last Friday, Putin boasted that Russia had mobilised 318,000 people into its armed forces, citing a high number of "volunteers".
A senior adviser to Ukraine's president has said Kyiv had never refused to negotiate with Moscow and that it was ready for talks with Russia's future leader, but not with Vladimir Putin. "Ukraine has never refused to negotiate. Our negotiating position is known and open," Mykhailo Podolyak wrote on Twitter, saying that Russia should first withdraw its troops from Ukraine. "Is Putin ready? Obviously not. Therefore, we are constructive in our assessment: we will talk with the next leader."

Zelenskiy made a pitch for closer security ties with Israel on Monday, saying both countries faced similar threats. "I think it is clear to everyone what Ukraine emphasises and the security emphasis of Israel," he said in his nightly address after a conversation with Benjamin Netanyahu, the winner in last week's Israeli election. "I believe we can significantly strengthen our states, especially since the threats we have are related."
North Korea said it has never had arms dealings with Russia and has no plans to do so, its state media reported, after the US claimed it appeared to be supplying Russia with artillery shells for its war in Ukraine. A North Korean defence ministry official called the allegations a rumour and said Pyongyang has "never had 'arms dealings' with Russia" and has "no plan to do so in the future," according to a Reuters report.