Key events
Kyiv heating fully restored after attacks – mayor
Heating has been fully restored to Kyiv after the latest Russian bombardment that targeted water and power infrastructure, the capital's mayor said on Sunday.
Vitali Klitschko said on the Telegram messaging app:
The city is restoring all services after the latest shelling. In particular, the capital's heat supply system was fully restored. All sources of heat supply work normally.
Reuters also reported that Ukrainian officials said Russia fired more than 70 missiles on Friday in one of its heaviest barrages since the start of its invasion, forcing emergency blackouts nationwide and cutting access to heat and water.
Temperatures in Kyiv and many places across Ukraine were below freezing on Sunday morning, with forecasts expecting them to dip to -6C (21.2F) in the capital by the evening.
Kyiv is by far the largest city in Ukraine with an estimated population of about 3 million, with up to 2 million more in the Kyiv region.
As of late Saturday, a third of the city remained without power.
Sergei Kovalenko, chief executive of Yasno, which provides electricity for Kyiv, said late on Saturday that access to power has been increasing with each hour.
He said on his Facebook account:
The situation remains difficult and critical.
Ukraine worked to restore electricity and water supplies on Saturday after Russia's latest wave of attacks pitched multiple cities into darkness and forced people to endure sub-zero temperatures without heating or running water.
Agence France-Presse reported that the Ukrainian president, Volodymyr Zelensky, said late on Saturday that while electricity had been restored to almost 6 million Ukrainians, there were ongoing problems with heat and water supplies and "large-scale outages" in many regions.
He said in his nightly address:
The main thing today is energy. There is still a lot of work to do to stabilise the system.
In Kyiv, the metro had stopped running so that people wrapped in winter coats could take shelter at underground stations. But mayor Vitali Klitschko said on Saturday the service had resumed, while water supply had also been restored and 75% of the city's population had heating back.
In the eastern city of Kharkiv, power had also been fully returned, regional governor Oleg Sinegubov said on Saturday, after the strikes had left Ukraine's second city without electricity.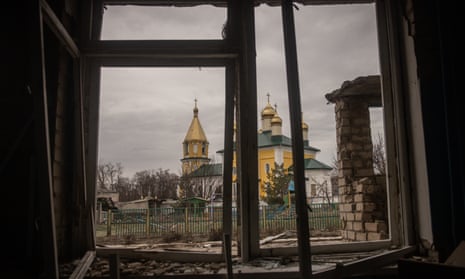 Ukraine's national energy provider Ukrenergo had imposed emergency blackouts in response to the strikes, warning the extent of the damage in the north, south and centre of the country meant it could take longer to restore supplies than after previous attacks.
The country's energy system "continues to recover", it said on Saturday.
Russia's defence minister, Sergei Shoigu, inspected the country's troops involved in Moscow's "special military operation" in Ukraine, the defence ministry said on Sunday.
The ministry said on the Telegram messaging app:
The head of the Russian military flew around the areas of deployment of troops and checked the advanced positions of Russian units in the zone of the special military operation.
Reuters also reported the ministry said Shoigu spoke with troops "on the frontline" and at a "command post". However, it was not immediately clear when the visit took place or if Shoigu had visited Ukraine itself.
A short video posted with the statement showed Shoigu in a military helicopter and a couple of aerial shots of empty swathes of land.
The announcement comes a day after the Russian president, Vladimir Putin, held a meeting with the country's top brass, including Shoigu, seeking proposals on how they think Russia's military campaign in Ukraine should proceed.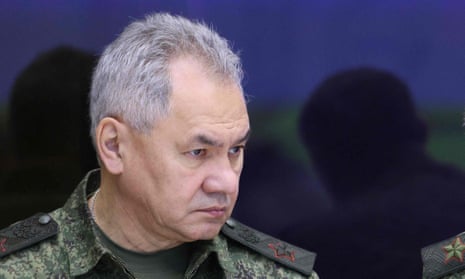 Hello and welcome back to the Guardian's continuing live coverage of the war in Ukraine. I'm Adam Fulton and here's a brief look at the latest news as it approaches 8.10am in Kyiv.
Power has been restored to nearly 6 million Ukrainians after Friday's barrage of Russian missile strikes against the country's infrastructure, including its electricity generating systems.
President Volodymyr Zelenskiy said in a video address on Saturday:
Repair work continues without a break after yesterday's terrorist attack.
The mayor of Kyiv, Vitali Klitschko, said on Telegram on Saturday that heat had been restored for three-quarters of the capital's residents and engineers were continuing to work to stabilise supply.
However, half of the Kyiv province still lacked electricity on Saturday, regional governor Oleksiy Kuleba was quoted as saying, with snow and rain complicating efforts.
In other recent developments:
Russian president Vladimir Putin has held meetings with his military commanders and sought their proposals on how Russia's campaign in Ukraine should proceed, during a visit to the operation's headquarters, the Kremlin said.

Russia has claimed its mass strikes against Ukraine on Friday were part of preventing foreign weapons being delivered to Ukraine. On Friday, "military command systems, the military-industrial complex and their supporting energy facilities of Ukraine were hit with a mass strike with high-precision weapons", Russia's defence ministry said in its daily briefing. The attacks have prompted accusations from Ukraine's allies of war crimes.

Rescuers have recovered the body of a one-and-a-half-year-old boy from the rubble of Friday's Russian strike on a three-storey residential building in the central Ukrainian city of Kryvyi Rih in Dnipro region, the region's governor said. In total, four people were killed in the attack on Kryvyi Rih, Valentyn Reznichenko said. Thirteen others, including four children, were injured.

Russia has denounced a decision by Moldova to temporarily ban six television channels as "political censorship". Moldova accused the channels of airing "incorrect information" about the country and Russia's military operation in Ukraine.

Moldova has reached a short-term energy deal that will help wean it off its dependence on Russian natural gas, a senior official said on Saturday. The Moldovan deputy prime minister, Andrei Spînu, said the state gas firm Moldovagaz would buy 100m cubic metres of gas from domestic supplier Energocom this month.

Russia's campaign of strikes against Ukrainian critical infrastructure has largely consisted of air- and maritime-launched cruise missiles but has almost certainly also included Iranian-provided drones, according to the UK's Ministry of Defence. In its latest intelligence update it also said Russia was probably concerned about the "vulnerability" of Crimea.

A Ukrainian military commander has said Russia may try to invade from the north, potentially around the anniversary of when Vladimir Putin first ordered his troops to invade Ukraine. Maj Gen Andrii Kovalchuk told Sky News the fiercest fighting might be ahead and appeared particularly focused on the possibility of Russian troops invading via Belarus, on Ukraine's northern border, in order to target the capital.

A Ukrainian presidential adviser has said it is "unrealistic" to expect Kyiv to come to an agreement with Russia to end the war. "War must end only with its defeat," Mykhailo Podolyak wrote on Twitter, saying Ukraine would act with "required proportions of artillery, armoured vehicles, drones and long-range missiles".

A 36-year-old man was killed inside his car after Russian forces shelled the southern Ukrainian city of Kherson on Saturday morning, the regional governor, Yaroslav Yanushevych, said. A 70-year-old woman was also injured after Russian troops struck a western district of the city with artillery and multiple rocket launchers, Yanushevych wrote on Telegram.