Key events
In the icy waters of a Siberian harbour, the Christophe de Margerie, a Russian ship with an unusual French name, was ready for loading. The world's first ice-breaking gas tanker had been designed for a very specific purpose: opening up Russia's Arctic shipping routes towards Europe and Asia during the winter months.
It was December 2017, and the temperatures had plunged to -27C, but the politicians and oil executives gathered in Sabetta, on the Yamal peninsula, were jubilant. Vladimir Putin had flown in for the event. At the president's signal, gas began to pump into the tanker.
"This is probably the biggest step in the development of the Arctic," Putin declared.
As they watched, the onlookers will have noticed another of the ship's distinguishing features: its prow was painted with a giant white moustache.
The whiskers – and the name – were a tribute to the former boss of the French oil major Total. Known as "big moustache" for his luxuriant facial hair, De Margerie had spent years flying between Paris and Moscow, setting up a $27bn (£22bn) partnership with Novatek, Russia's largest private gas group, and China's state oil company, to transform a remote wilderness with a vast untapped gas field into a busy industrial hub.
Sabetta now has a port, an airport, a railway station, a power plant and a facility for condensing methane into its liquid form. The liquid natural gas (LNG) is then exported by sea. But De Margerie was not there for the tanker's inauguration. He had been killed in an accident three years earlier, when his private plane collided with a snow plough at Moscow airport.
Air raid sirens sound across all of Ukraine
Air raid sirens have been reported across Ukraine, including Kyiv, Lviv, Mykolaiv and Volyn.
Russian 'concerned about the vulnerability of Crimea', says UK's MoD
Russia's campaign of strikes against Ukrainian critical infrastructure has largely consisted of air- and maritime-launched cruise missiles, but has almost certainly also included Iranian-provided drones, according to the UK's Ministry of Defence.
In its latest intelligence update, the ministry said there had been "an uptick" in Russia's campaign of long-range strikes against Ukraine's critical national infrastructure.
These Iranian-provided uncrewed aerial vehicles (UAVs) were being launched from Russia's Krasnodar region, it said, where previously they were primarily launched from locations within occupied Crimea.
It said the change of launch site "is likely due to Russian concerns about the vulnerability of Crimea, while it is also convenient for resupply from the weapons' likely arrival point in Russia, at Astrakhan".
Putin meets military commanders to discuss Ukraine strategy, says Kremlin
The Kremlin said Russia's president, Vladimir Putin, held meetings with armed forces commanders on Friday to discuss its military campaign in Ukraine during a visit to the operation's headquarters.
A statement by the Kremlin read:
On Friday, the president spent the whole day at the army staff involved in the special military operation in Ukraine.
The Russian leader met his defence minister, Sergei Shoigu, and chief of general staff, Valery Gerasimov, and held "separate discussions with commanders" from different defence branches, it said.
In video footage released by the Kremlin, Putin is seen presiding at the meeting of around a dozen people at a circular table, flanked by Shoigu and Gerasimov.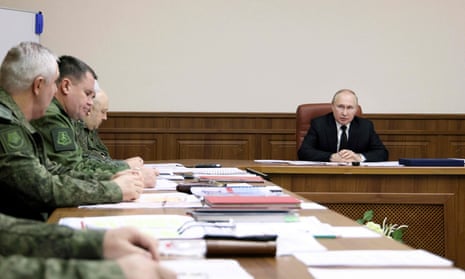 He was also filmed at the head of another conference table at the joint taskforce headquarters, inviting suggestions from a number of military commanders.
Putin said:
We will listen to the commanders in each operational direction, and I would like to hear your proposals on our immediate and medium-term actions.
Rob Lee, a senior fellow at the US-based Foreign Policy Research Institute, has shared the video of the meeting, which was also broadcast on Russian state media.
Air force Gen Sergei Surovikin, the overall commander of Russian forces fighting in Ukraine, was also shown attending the meetings in photographs published on the Kremlin website.
Putin spent the whole of Friday at the task force headquarters, Kremlin spokesperson Dmitry Peskov told Interfax news agency. No other details of the visit or the location of the headquarters were reported.
Explosions were heard in Ukraine's southern city of Odesa on Saturday morning, Ukraine's public broadcaster Suspilne reported.
Two Russian Oniks-type missiles were shot down in the Odesa region, according to Serhiy Bratchuk, a spokesperson for the Odesa regional military administration.
Writing on Telegram, Bratchuk said:
This morning the enemy has launched another missile attack on the Odesa region. Two Oniks-type missiles were fired from a coastal missile system in the temporarily occupied Crimea. The anti-aircraft defense units destroyed them.
It has not been possible to independently verify this information.
Rescuers pull body of one-year-old from under rubble of Russian strike on Kryvyi Rih, says governor
Rescuers have recovered the body of a one-and-a-half-year-old boy from the rubble of a Russian strike on a three-storey residential building in the central Ukrainian city of Kryvyi Rih in Dnipro region, the region's governor, Valentyn Reznichenko, said.
In total, four people were killed in Friday morning's attack on Kryvyi Rih, Reznichenko said. 13 others were injured by the attack, including four children.
In an earlier update, Reznichenko said:
A 64-year-old woman and a young couple died. Their little son still remains under the rubble of the house.
Announcing the recovery of the toddler's body from the rubble of the building this morning, he said:
It is difficult to write about something like this.
Hello. It's Léonie Chao-Fong with you as we unpack the latest developments from Russia's war in Ukraine. Feel free to get in touch on Twitter or via email.
Here are some of the latest images we have received from Ukraine after Russia fired more than 70 missiles at Ukraine in one of its biggest attacks since the start of the war.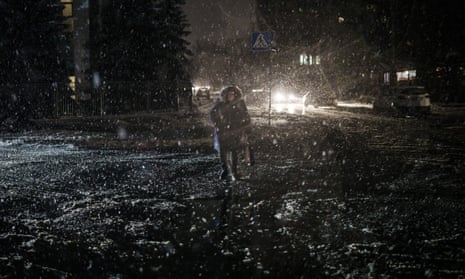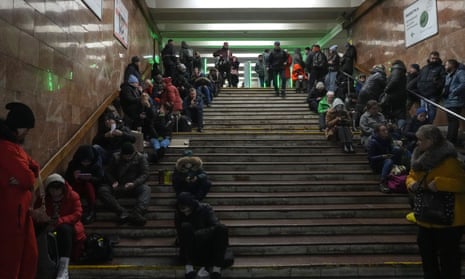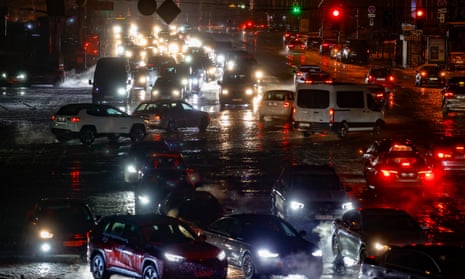 Kyiv mayor says metro service and water supply back, heating restored to half the city
The mayor of Ukraine's capital said early on Saturday the city's metro system was back in service and that all residents had been reconnected to water supply a day after the latest wave of Russian airstrikes on critical infrastructure.
Ukrainian officials said Russia fired more than 70 missiles on Friday in one of its biggest attacks since the start of the war, forcing emergency blackouts nationwide.
Vitali Klitschko also said heating had been restored to half the city and electricity had been returned to two-thirds.
"But schedules of emergency outages are being implemented," he wrote on the Telegram messaging app. "Because the deficit of electricity is significant."
Hello and welcome to our live coverage of the war in Ukraine. My name is Christine Kearney and I'll be bringing you the latest developments. It's about 8.30am in Kyiv, here's where things stand:
Ukraine was working on Saturday to restore electricity to hospitals, heating systems and other critical infrastructure in major cities after Russia's latest wave of attacks on the power grid prompted accusations of "war crimes". The volley of missiles unleashed on Friday pitched multiple cities into darkness, cutting water and heat and forcing people to endure freezing cold.

Russia fired more than 70 missiles at Ukraine in one of its biggest attacks since the start of the war. Ukraine shot down 60 out of the 76 missiles fired at it, the commander-in-chief of the Ukrainian armed forces said.

Kyiv's mayor, Vitali Klitschko, said early Saturday the city's metro system was back in service and that all residents had been reconnected to water supply a day after the latest wave of Russian airstrikes on critical infrastructure. He also said heating had been restored to half the city and electricity had been returned to two-thirds.

Ukraine's second largest city, Kharkiv, had restored power to just 55% of residents, with plans to have a fully operational grid by midnight.

France and the European Union said the suffering inflicted on freezing civilians constituted war crimes, with the bloc's foreign policy chief calling the bombings "barbaric". "These cruel, inhumane attacks aim to increase human suffering and deprive Ukrainian people," Josep Borrell said.

Ukrainian president Volodymyr Zelenskiy said Russia still had enough missiles for several more massive strikes and he again urged western allies to supply Kyiv with more and better air defence systems. "Whatever the rocket worshippers from Moscow are counting on, it still won't change the balance of power in this war," he said in an evening address.

The mass strikes appeared to be a continuation of the Kremlin's attempt to destroy Ukraine's energy infrastructure. Ukraine's state energy company Ukrenergo said energy consumption had fallen by 50% as a result of the attacks. The company said Russia had hit thermal power plants, hydroelectric plants and substations of main networks. Ukrenergo said it would take longer to repair the national grid and restore power than it did after previous Russian missile attacks, with priority given to "critical infrastructure facilities".

Energy infrastructure was hit across the country, resulting in complete outages in Ukraine's eastern and central regions of Kharkiv and Poltava. Nine power facilities in the country were damaged by Friday's strikes, Ukraine's energy minister, Herman Halushchenko, said. The mayor of Kharkiv, Ukraine's second-largest city, said the missile strikes caused "colossal" damage to infrastructure and left the city without power, heating and water. A senior Ukrainian presidential official said emergency power shutdowns were being brought in across the country.

The Kyiv city administration said Ukraine's capital had withstood "one of the biggest rocket attacks" launched by Russian forces since they invaded Ukraine nearly 10 months ago. The administration said Ukrainian air defence forces shot down 37 of "about 40" that entered the city's airspace. There were water disruptions in every district, Klitschko said.

At least eight people were killed and 23 injured by Ukrainian shelling in the Russian-controlled Luhansk region of Ukraine, Russia's state Tass news agency reported on Friday, citing an unidentified source in the emergency services. The shelling destroyed a building in the village of Lantrativka and some people were trapped under rubble, Tass said. The head of the "people's militia" in Luhansk also claimed there were civilian casualties as a result of Ukrainian shelling on the town of Svatove on Friday morning.

EU states should buy arms jointly to replenish stocks after supplying Ukraine, said the bloc's defence agency, warning the US may not always be able to shield Europe from threats. "The Russian war of aggression against Ukraine demonstrates our capability shortfalls," said Jiří Šedivý, chief executive of the European Defence Agency. The agency was in talks with European arms firms about boosting production, he said, as well as with countries about clubbing together to buy equipment and ammunition.

The Russian president, Vladimir Putin, spoke by phone with the Indian prime minister, Narendra Modi, on Friday. The Kremlin said Putin gave "fundamental assessments" of the conflict in Ukraine during the call, at Modi's request. The Indian leader's office was cited as saying that he had reiterated his call for dialogue and diplomacy as the only way forward in the conflict.

Putin will visit Belarus for talks with the Belarusian president, Alexander Lukashenko, on Monday. The pair will discuss Russian-Belarusian integration "as well as current topics on the international and regional agenda", the Kremlin said. Putin and Lukashenko will hold a one-on-one meeting in which they will "give priority to security issues and exchange views on the situation in the region and the world", Belarusian state-owned news agency Belta said, without mentioning Ukraine.