Key events
England are huddling on the boundary – discussing the match, rather than because it's cold – and the stumps are in the ground, so we should be good to get away imminently.
"And it's raining again. Just a super-fine mist, but the covers are going back on," returns our man. "Suddenly a bit brighter here, and covers going off again."
I guess it's usually a bit different if the weather comes before play starts, rather than once it's under way. So far, so Melbourne, says a a man who's never been to Australia and is sat in a north London box-room.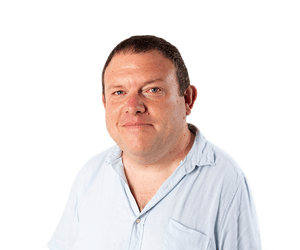 Simon Burnton
Our man in Melbourne gets in touch: "Covers coming back off now, and a rope going around the outfield. But I'm not sure Melbourne's had four consecutive rain-free hours in the last day or so, so they might be on and off a bit. Play due to start 15 minutes late. Jos Buttler was asked about the weather in his pre-match press conference yesterday, and this is what he said:
'Where it's reasonable if you can continue the game as much as you can, I think that's the right decision. If it becomes dangerous or unfair then it's certainly the right decision to stop the game. As much as we can, if we can get the game moving, get the game continuing, say for instance we play tomorrow and there's a little bit of rain which isn't that heavy and it looks like it's going to blow through, can we just stay on and keep going?'"
The hessian mat is back on the pitch.
FYI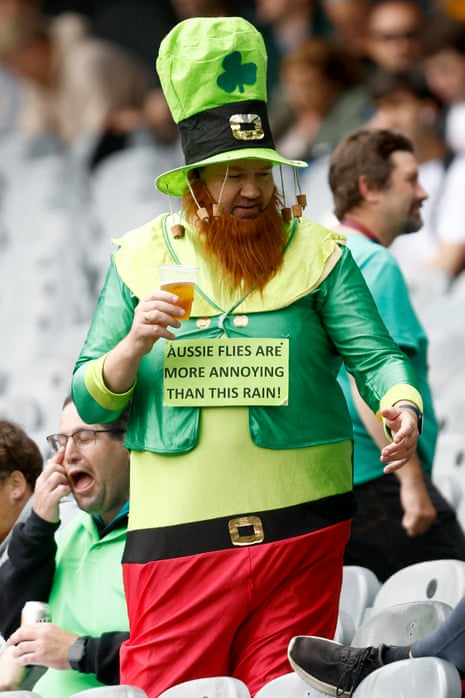 We'll get under way in 10 minutes, at quarter past the hour.
The thing I love about T20 – and, if I'm honest, the thing that sometimes bothers me about it – is that I've not a clue who's going to win this competition. I love it because that's one reason we play – we don't know who's going to win – and that sometimes bothers me because we're trying to measure who's best, and in the format, that often depends on the day, rather than a general superiority.
The players are going off, but the expectation is that they'll be back on before long.
The start has been delayed; by how much I'm not sure.
Out come the players for the anthems. It's still raining a bit, but not, it doesn't seem enough to prevent us from getting on with things; the PA asks the few in the crowd to stand if they can and remove their hats. I did not know the latter was a thing, but the mascots have all kept theirs on.
Don't forget that when this match is finished, we've got New Zealand v Afghanistan, so really need the weather to behave for us. Hopefully we get two full matches.
Oh dear, it's raining. It wasn't meant to be, and if it doesn't stop we might wind up with a five-over shootout; in the meantime, the covers are coming on.
Ireland: 1 Paul Stirling, 2 Andy Balbirnie (capt), 3 Lorcan Tucker (wk), 4 Harry Tector, 5 Curtis Campher, 6 George Dockrell, 7 Gareth Delany, 8 Mark Adair, 9 Fionn Hand, 10 Barry McCarthy, 11 Josh Little.
England: 1 Jos Buttler (capt & wk), 2 Alex Hales, 3 Dawid Malan, 4 Ben Stokes, 5 Harry Brook, 6 Liam Livingstone, 7 Moeen Ali, 8 Sam Curran, 9 Chris Woakes, 10 Adil Rashid, 11 Mark Wood.
Morgan confesses that, in the 2016 World Cup final, he didn't give Stokes enough help whereas, in 2019, he helped Archer slow things down. Nevertheless, he was one of the greatest captains I've ever seen, in any sport – I can't think of too many whose personal impact has been comparable.
The ODI series starts the day after the Test side arrive in Abu Dhabi to prepare for Pakistan – I really wish it wasn't like that.
Eoin Morgan is a little surprised England haven't rested Chris Woakes or Mark Wood. The former, he says, often pulls up stiff, and England need them firing for the Australia and New Zealand matches coming up. On England's fielding, he says that against Afghanistan, they made half-chances look easy and can pull it off because they train longer and harder than anyone else. That kind of thing can turn big matches.
Buttler perhaps errs in saying he's gone for his strongest team, later revising that to strongest team for the situation.
Balbernie would've fielded first, as with a bit of rain around and also in general, he thinks it can be easier to chase. His team enjoyed themselves in Hobart but are excited to be the first Irish side to play at the G and make new great memories; they make one change, Fionn Hand replacing Simi Singh.
Andy Balbernie tosses, Jos Buttler calls heads, and heads it is! England will field!
He says overcast conditions motivated his decision, that his team set a great standard of fielding against Afghanistan, and England are unchanged.
Sky have just advertised their channel by showing footage of Ben Stokes backed by the commentary "Cut away for four". Yes, they've literally divested Nasser of his first "Cut away"; I've called Interpol.
It doesn't take much for sports fans to lose themselves in nostalgia – and, let's be real, given the absolute state of things, we could be forgiven for diving into an idealised pool of how things once were … if that didn't have so much to do with getting us here in the first place. But it's nevertheless impossible to conceive of an Ireland v England World Cup match without taking ourselves back to Bengaluru in March 2011, when Kevin Pietersen scored 59, Jonathan Trott 92 and Ian Bell 81 … only for Kevin O'Brien to play one of the great innings, 113 off 73, to help Ireland home by three wickets with five balls to spare.
A lot's changed since then; most particularly, England have learnt to play limited overs cricket. But when it comes to T20, that doesn't always matter: of all the sports in the world, only MMA can claim to be as unpredictable. In the latter, it's because there are so many ways to finish a contest and finish it quickly, which is sort of the case with the former too. Cricket has always been an individual sport played by teams – likewise MMA in its way, given the propensity of fighters to use the word "we" when talking about putting themselves through barely believable punishment – and in the shortest form, one brilliant knock or spell can render everything else irrelevant. Just ask Ben Stokes.
So what of today's match? Well, England arrive at it in terrific form, having edged Pakistan in one of the great serieseseses then walloped Australia, Pakistan again and Afghanistan in the last month. But Ireland are at it too, having eliminated West Indies to reach this stage, and though they were well-beaten by Sri Lanka in their first Super 12 match, both sides know they're one Kevin O'Brien innings away from shocking the world.
Play: 3pm local, 5am BST