Key events
Saffron Cordery, the interim chief executive of NHS Providers, said that the NHS trusts were "pulling out all the stops" to lessen the impact on patients.
Speaking to PA, she said: "The cold snap has ramped up demand that was already at or close to record levels, but on strike day NHS trusts will do everything they can to ensure that essential services are properly staffed and patient safety, always the number one priority, is safeguarded."
Pat Cullen, the RCN chief executive, has accused Health Secretary Steve Barclay of "belligerence" after he refused to discuss the issue of pay.
He has said the Government is sticking to the recommendations of the independent pay review body, which said nurses should get a pay rise of around 1,400.
On the picket line outside St Thomas' Hospital in Westminster, Linda Tovey, a critical care nurse, said: "It's increasingly difficult to come to work and go home and think 'Actually I don't think I can turn the heating on'.
"My wages aren't bad for a nurse but I still have to think about what I'm doing with my money every month and that is not the position I imagined myself being in.
"People do a huge amount of extra work, in terms of studying and all that kind of stuff, and you don't get the recognition in terms of wages.
"My own particular circumstances mean I do just about have some money left at the end of the month but I still go home and think twice about turning a light on.
"I don't cook food in my oven very often since I realised to cook one meal costs the same as it used to cost me for my electricity the whole day."
The RCN chief Pat Cullen has joined union members on a picket line in London. And strikers were also pictured in Newcastle.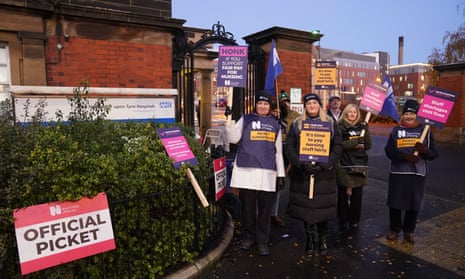 Outside Aintree University Hospital in Liverpool, nurses gathered to join the picket line from 7.30am.
Many held placards, with slogans including "Short staffing costs lives" and "You clapped for us, now act for us".
One woman held signs saying "F*** the Tories" and "If nurses are out here, there's something wrong in there".
As Cars passed they beeped their horns in support for the picket line outside the hospital's emergency department.
There are pictures from the strikes coming through on the picture wires now. Here is a first look at industrial action in London this morning.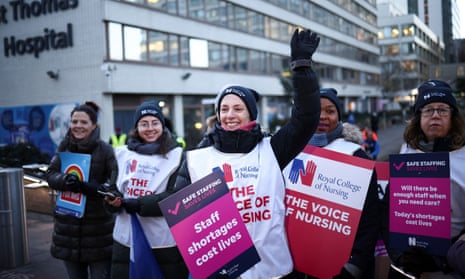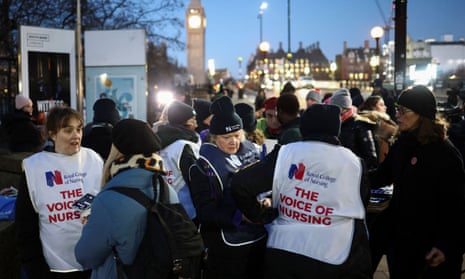 RCN chief: 'It's tragic that this government has decided not to speak to us'
Pat Cullen, the Royal College of Nursing chief executive, has said there is "nothing independent" about the independent pay review body process, adding that "hundreds of nurses" are leaving the profession every day.
"This is a tragic day for nurses, a tragic day for patients… and it's a tragic day for the people of society and for our NHS," she told BBC Breakfast. "And it's tragic that this Government has decided not to speak to us, talk to us, get into a room on the first day of strikes, and that's why we're here today."
Cullen added that nurses were asking for the "20% that has been eroded from our nurses' pay over the last decade to be put back" and Health Secretary Steve Barclay had told her she could talk about "anything but pay – that's going to resolve nothing. What it is going to do is to continue with days like this."
She said the independent pay review body was "set up by government, paid by government, appointed by government and the parameters of the review are set by government, so there's nothing independent about it, and that's why they came up with the 3% that they've come up with.
"There's nothing independent about the independent pay review body – it might be accepted by government, it's not accepted by the Royal College of Nursing."
Speaking on Sky News, health minister Maria Caulfied how said that borrowing could not be used for spending on a larger pay award for nurses due to the failures of Liz Truss' mini budget.
She said: We could've ignored the pay review bodies recommendation and gone for a much lower pay rise – we could go higher, but we have got to find that money from somewhere. This isn't Government money, it's taxpayers' money."
She added that around 70,000 appointments would be cancelled as a result of the strikes.
An Ipsos poll found that over half (52%) of the British public support the strikes, with only 27% against.
Yesterday during Prime Minister's Questions, Keir Starmer accused Rishi Sunak of "playing games with people's health" by failing to negotiate a pay rise with the union.
He said: "Nurses going on strike is a badge of shame for this government. After 12 years of Tory failure, winter has arrived for our public services, and we've got a Prime Minister who has curled up in a ball and gone into ­hibernation.
"If he can't act on behalf of patients or nurses, or everyone who wants these strikes called off, then the country's entitled to ask what is the point of him?"
Former pay review body chair suggests current pay recommendation out of date
Ministers should ask the NHS pay review body to reconsider the pay rise recommended and consider how inflation has soared, as a possible solution to strikes, a former head of the body has said.
Speaking to BBC Radio 4's Today programme, Jerry Cope defended pay review bodies as "fiercely independent" but told BBC Radio 4's Today programme their decision could be "lagged".
"It took place in February and the world was a rather different place in February and therefore I think some of the evidence they considered was probably out of date by the time it was published," he said.
"That may be a possibility for a solution for this apparently intractable problem.
He added: "I think they (ministers) should ask the pay review body to reconsider what they did last year and not reopen last year because I think it's too late to do that but actually say I want you to do a very quick turnaround for this year's recommendations and I want you to take account on anything you might have missed last time round. I think it's a way out because it respects the integrity of the pay review body."
Pat Cullen, the Royal College of Nursing chef executive, has just spoken to members of the union who has already gathered in the picket line outside St Thomas' Hospital in Westminster, saying: "I want to thank you so much for what you are doing – you're just amazing."
Some of those who have joined the picket are wearing white RCN vests with the slogan "The Voice of Nursing", while others clutch placards with messages such as "It's time to pay nursing staff a fair wage".
Nurses in England, Wales and Northern Ireland to refuse work in unprecedented strike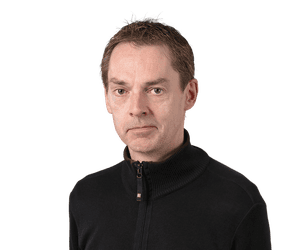 Denis Campbell
Tens of thousands of nurses will strike across England, Wales and Northern Ireland on Thursday, sparking major disruption to services in the first such action in NHS history.
Nurses will refuse to work at hospitals and other places of care across the three countries from 8am until 8pm, in the first of two days of scheduled walkouts over their pay claim.
Their action has led to large numbers of outpatient appointments and operations being cancelled. Urgent and life-saving services will be fully staffed, but many non-urgent services will operate with only the much smaller numbers of nurses usually on duty on Christmas Day or overnight.
Less unwell patients attending A&E have been told to expect to wait even longer than usual.
Members of the Royal College of Nursing (RCN) are staging the strikes in an effort to win a pay rise for this year of 5% above inflation, and in protest at the government's decision to award them an increase of at least £1,400, which is the equivalent of about a 4% uplift.
The RCN's general secretary, Pat Cullen, has stressed that nurses do not want to strike but feel obliged to do so because, with soaring inflation, the government's pay offer amounts to a real-terms cut in their salaries after a decade in which the value of experienced nurses' pay has already fallen by 20%.
"Nurses are not relishing this," she said. "We are acting with a very heavy heart. It has been a difficult decision taken by hundreds of thousands who begin to remove their labour from tomorrow in a bid to be heard, recognised and valued.
"It is a tragic first for nursing, the RCN and the NHS. Nursing staff on picket lines is a sign of failure on the part of governments."
You can read more of Denis Campbell's report here: