Gdańsk and Gdynia, Poland
Gdańsk is one of the most interesting cities in Europe. Birthplace of philosopher Arthur Schopenhauer, author Günter Grass (when it was still known as Danzig) and the Solidarity movement, the old town, artfully rebuilt after the second world war, thrives with hotels and a buzzy bar scene (a standout is the Red Light pub, with comfy armchairs and vodka cocktails). The city has two superb museums, the European Solidarity Centre and the immersive Museum of the Second World War.
In summer, it is easy to escape north to the beach, taking a train from Gdańsk's handsome neo-gothic railway station (renovation work is ongoing but it is fully functioning) to Gdynia, an under-celebrated compact coastal city with maritime heritage and sandy beaches a 15-minute ride away.
Gdynia beach has clean, sugary sand, a pier and a promenade popular with cyclists and skaters. One of the quays, Nabrzeże Pomorskie, features two museum ships – a fully rigged tall ship and a decorated second world war destroyer – and the marina is Poland's largest yacht port.
The place to eat is Osteria Fino, which as its name suggests is not very Polish, but the prawns in lobster sauce are superb. This year's summertime Open'er music festival (day tickets £88), starting at the end of June, has a strong lineup featuring Lizzo and Kendrick Lamar, and is another reason to go. The chic Willa Wincent boutique hotel (doubles from about £60 in summer) is close to the beach, where staff can arrange a guided walk of the city's best modernist buildings or hire of bikes and scooters.
Palanga, Lithuania
In summer, the little Lithuanian seaside town of Palanga transforms from backwater to buzzing social hub. Edged by small dunes, the six-mile beach fills up quickly at sunrise, and the day ends with crowds taking a sunset stroll along the unusual L-shaped pier.
Pedestrianised Jono Basanavičius is the centre of things, lined with cafes and bars, though one of the nicest spots in town for coffee and sandwiches is a five-minute walk away, inside a photography shop called Fotokava.
At dinnertime, shashlik sizzles, pilaf is piled on to plates and vodka flows at popular alfresco Armenian restaurant Armėniška Virtuvė, while concerts start up at the rose-filled Birute park, where Palanga's orchestra performs free evening serenades in the rotunda. In the same garden, the Amber museum, in a grand mansion, is home to several thousand items of "Baltic gold" – clocks, ashtrays, clogs, you name it – and is far more interesting than it sounds, with modern jewellery exhibitions and ancient lizards and mayflies fossilised in amber.
Palanga is a place of sanatoriums, spa hotels and wellness centres, all making use of the local pine forests, mineral waters and sea air, so the place to stay is spa hotel Gradiali (doubles from £123 in summer), which offers an "amber honey" treatment with amber powder, amber oil and warm amber bags (£65 for 90 minutes), and a massage incorporating warmed-up Baltic Sea stones (£50 for 30 minutes). With a car, it's possible to head further south to the Curonian Spit with its national park of lagoons and sand dunes.
Pärnu, Estonia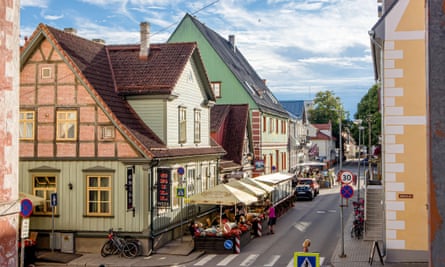 Estonia has 2,350 miles of coastline, and the resort of Pärnu is its best-loved stretch. Popular since 1838, when the first baths opened, its streets are lined with glorious architecture, from wooden villas to gingerbread houses and grand Swiss-style chalets, leading down to a large sandy beach, often dotted with driftwood.
There are several surf schools, with Aloha and Surf Centre offering rentals of kayaks, boards and instructors by the hour. The former has a nice cafe selling crepes and salads. Rannakohvik beach cafe is small and welcoming, with traditional smoked fish and herbed potatoes on the menu along with zingy rhubarb spritz cocktails.
There is just enough going on in the town, too, with the Museum of New Art, Estonia's first modern art museum a top pick. In June, the Grillfest festival takes place in a meadow close to the centre, attracting hundreds of cooks and caterers.
The smart Rosenplänter hotel (doubles from £149 B&B in summer) is in a building dating back to 1696, right in the centre of town. Some rooms are a little small but all 13 are beautifully and individually designed. The on-site cafe Pastoraat is excellent too, especially for its breakfasts of ricotta pancakes and egg and bacon burgers.
Riga and Jūrmala, Latvia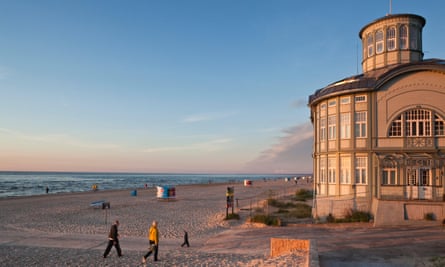 With its art nouveau buildings, affordable opera performances (from £5) and riverside walks along the banks of the Daugava, Riga is captivating all year round. But in summer there's also the chance of a jaunt from the Latvian capital to the beach.
An easy 15-mile cycle path (bike rental in Rīga is about £9 a day) leads from the city's cobbled streets to the resort town of Jūrmala, with its ornate early 20th-century villas. The route follows the railway line through stands of pine trees to the Gulf of Riga where you can pedal right up to the shoreline. Majori beach, with silvery-white sand, is a Blue Flag beach and one of the most popular stretches.
Close by is the 1930s-built Dzintari Concert Hall, which has regular performances in the summer. Jūrmala Museum is brilliantly quirky and its shop sells postcards and gifts inspired by Jūrmala's spa culture, which dates from the early 19th century.
For lunch and dinner, the resort has lots of choice: sushi places, Italian cafes and even an Uzbek bistro. But the alfresco Laivas restaurant offers a Latvian menu inspired by surrounding forests, sea and rivers, with dishes such as herring paté with apple, and duck breast prepared at the restaurant's own smokehouse. For something light, French-style Madam Brioš cafe does excellent buckwheat pancakes. The quirky Hotel MaMa (doubles from about £80) in central Jūrmala has just seven rooms, a sauna and a sun terrace.