Key events
GDP data 'confirms expectations' UK heading into recession
Today's GDP report confirms expectations that the UK economy is heading towards a recession, says Victoria Scholar, head of investment at interactive investor:
"UK final Q3 GDP fell to -0.3% versus the preliminary estimate of -0.2% and expectations for -0.2%, negatively impacted by the additional bank holiday day for Queen Elizabeth's funeral. The services sector grew by 0.1% but the production sector shrank by 2.5% with real GDP now 0.8% below its pre-pandemic levels, revised down from a previous estimate of 0.4%. Real household disposable income suffered the fourth consecutive quarter of negative growth falling 0.5% in Q3. However the household saving ratio increased to 9% versus 6.7% in the previous quarter.

The data confirms expectations that the UK economy is heading towards a recession given the downward revision to the latest quarterly GDP figure. While the service sector output was revised slightly higher, construction swung into negative territory and manufacturing was revised lower. All three sectors have been trending lower underscoring the widespread impact from the broad-based macroeconomic headwinds.

Households' savings jumped during the quarter as a result of soaring gilt yields after the mini-budget turmoil which had an impact on pension entitlements. Consumer spending was the weakest since Q1 2021 when we were locked down during covid because of softer expenditure abroad by UK residents. The pressures from inflation, in particular rising energy bills and rent which added to cost-of-living pressures meaning less money was available for other expenditure during the quarter.
Here's Suren Thiru, economics director at ICAEW:
Business investment contracts as economy weakened
Another worrying sign in today's GDP report -– UK business invesment contracted by 2.5% in the third quarter of the year.
It means that business investment (on, say, new machinery or expanding a factory) is over 8% below its levels before the Covid-19 pandemic began.
The ONS says.
Gross fixed capital formation (GFCF) increased by 1.1% in Quarter 3 2022, revised down from a first estimate increase of 2.5%. The latest quarterly rise was mainly driven by a boost in government investment of 17.3%, although business investment is now estimated to have fallen by 2.5% in Quarter 3 2022.

Business investment saw notable revisions to estimates across quarters because of updated survey data.

Business investment remains 8.1% below its pre-coronavirus pandemic level.
Real household incomes contracted again
Real households' disposable income fell by 0.5% during the third quarter of this year, as the cost of living crisis hit people, today's GDP report shows.
That's the fourth consecutive quarter of negative growth in RHDI, the ONS says.
Although incomes did rise, they did not keep pace with rising prices ('real' incomes are adjusted for inflation).
Rising housing costs (such as gas and electricity), transport, miscellaneous goods and services, and food and non-alcoholic beverages all pushed up inflation during the quarter.
The ONS explains:
Within RHDI, nominal gross disposable income rose 1.8%. With the adjustment for the change in pension entitlements not affecting the calculation of disposable income, growth in social benefits other than social transfers in kind, and wages and salaries drove nominal income growth this quarter.

However, the household expenditure implied deflator grew by 2.4%, therefore outpacing nominal income growth. This is weaker inflation growth than seen in the previous quarter as price growth on spending at restaurants and cafes as well as on UK tourist expenditure overseas eased slightly.
Introduction: UK economy shrank faster than thought in Q3
Good morning, and welcome to our rolling coverage of business, the financial markets, and the world economy.
The UK economy shrank faster than first thought over the summer, new data shows, as the country teetered on the brink of recession.
UK GDP shrank by 0.3% in the the third quarter of 2022 (July to September), down from a first estimate of a 0.2% contraction, the Office for National Statistics reports.
Disappointingly, the ONS estimates that UK GDP was still 0.8% below its pre-coronavirus (COVID-19) pandemic level, revised from the previous estimate of being 0.4% below. That means the UK is still lagging behind other G7 countries.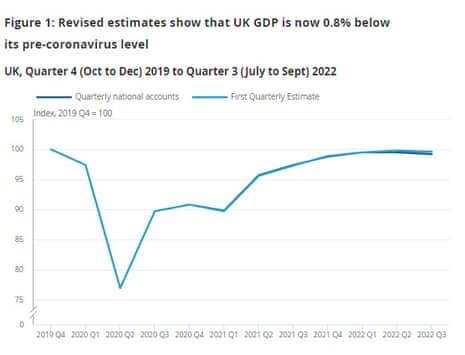 During the third quarter of the year, output across the production sector tumbled by 2.3% – including falls in all 13 manufacturing sub-sectors.
The services sector (the latest segment of the economy) grew by 0.1% while the construction sector shrank by 0.2% (rather than growing as previously thought).
Real household expenditure fell by a revised 1.1% in Quarter 3 2022, which was driven by declines in net tourism, transport, household goods and services, and food and drink.
ONS director of economic statistics Darren Morgan says today's data shows the economy performed "slightly less well" than previously thought:
The bank holiday for the State Funeral of Queen Elizabeth II in September also hit growth in Q3 – leading to a bounceback in October.
Many economists predict the UK will shrink in the fourth quarter of 2022, which would be a technical recession, and struggle in 2023 too.
John Leiper, chief investment officer at Titan Asset Management says today's 'dour' figures set the scene for the looming 2023 recession:
UK GDP declined meaningfully in the third quarter, down -0.3%. That's worse than expected and brings the annual number to just 1.9% from 2.4% prior. That is the lowest reading since June 2021 following a sharp rebound in activity coming out of the Covid slump. It is concerning, albeit not too surprising, to see household consumption and total business investment declined meaningfully as the economic environment continues to sour.

This sets the scene for a dour 2023 and is consistent with our expectations for a recession next year.
The agenda
9.30am GMT: UK report into "Rising food prices and the impact on consumers"

1.30pm GMT: US weekly jobless figures

1.30pm GMT: US Q3 GDP report (final estimate)