Key events
I know I am boring about these things, but it is really offending me deep in my soul that not only don't the group stages end in the correct alphabetical sequence, but Fifa have also jiggled around the matches in the R16 and quarter-finals so that "Match 52" takes place before "Match 51". *shudders*
Anyway, to avoid any confusion, and so you can start planning, here is how your weekend's football viewing is shaping up:
Match 49 – Saturday 3 December 3pm GMT: Netherlands v USA

Match 50 – Saturday 3 December 7pm GMT: Argentina v Australia

Match 52 *eye twitches* – Sunday 4 December 3pm GMT: France v Poland

Match 51 – Sunday 4 December 7pm GMT: England v Senegal
Those eight teams will be hoping to head to these quarter-final fixtures:
I mentioned Stéphanie Frappart earlier, who will become the first woman to referee a match at a men's senior level World Cup finals. Fifa have put out a quick video of her from earlier in the year, when it was announced she would be going to Qatar. In it, Frappart says:
I felt enormous emotion because it wasn't particularly expected that I would be nominated. So, a lot of pride, a lot of honour to represent France at the World Cup.

I think I'll have everything that's around me in mind, and the aim will still be the same, that is to referee well, and have a good performance on the pitch.

So, I'm really going to head into this with enormous emotion. But you have to channel that, because clearly the most important thing is the pitch.

The first thing will be all the emotions of entering a World Cup stadium, packed with a large crowd with plenty of expectations. But after that I'll be focused on the pitch, because we need to make the correct decisions, and perform well by concentrating on the primary objective: the pitch.
Elis James has actually made me laugh out loud at my desk with the line "Unlike the writers in some other newspapers, I am able to experience two emotions at once, with neither being anger". Here he is with his reflections on a disappointing campaign for Wales that he still feels immensely proud of:
Enormous pride that we qualified. Incredible disappointment that we are going home. But it is disappointment with context. It is far better to get knocked out of a World Cup than not to get to one in the first place. What was so frustrating about the great qualification failures of my time as a supporter – Euro 92, USA 94, Euro 2004 and Russia 2018 – was the feeling of unfinished business, a cosmic unfairness that prevented footballers who were good enough to play on the biggest stage from doing so.
On the BBC Gary Lineker asked Ian Rush what the younger members of the Wales squad will have learned from Qatar. After talking briefly about the atmosphere, Rush said: "I don't know, I never played at a World Cup." Rush scored 346 career goals for Liverpool, won the European Cup and European Golden Boot, and yet failed at the final hurdle for his country. Tuesday night has to be better than that.
Read more here: Elis James – Wales fans feel pride and despair but not anger after swift World Cup exit
In Germany, Die Zeit's World Cup briefing has very generously picked Croatia v Belgium at 3pm GMT as the match of the day, rather than the pressing issue of Costa Rica v Germany at 7pm GMT.
Tammo Blomberg also has a rather tongue-in-cheek suggestion. Stéphanie Frappart will become the first woman to referee at a men's World Cup finals in the Germany game, and Blomberg quotes Fifa referee boss Pierluigi Collina saying it is "proof that quality and not gender counts". Blomberg suggests that if that is the case, maybe Germany could address their shyness in front of goal by drafting in Alexandra Popp, who has just the 61 goals behind her in her 124 caps for Germany's women.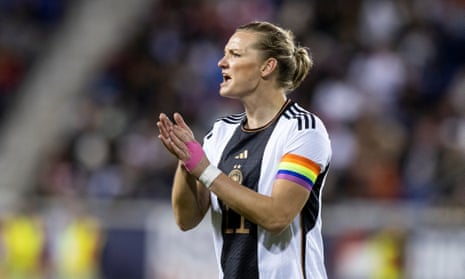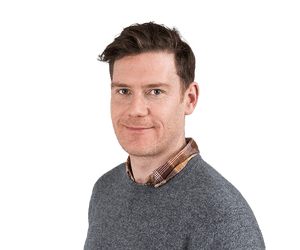 Paul MacInnes
Paul MacInnes was at the Al Janoub Stadium for the Guardian yesterday, and this morning he has these words on that sorry exit by Denmark, who had been hotly tipped to go far before a ball was kicked in Qatar:
Was it the expectations? Was it the armbands? Was it the tinkering? Or did Denmark just not have what it took to progress as expected at this World Cup? The postmortem can now begin for the team ranked 10th in the world, because Kasper Hjulmand's men are going home.
The absence of Simon Kjær will not have helped in terms of mental resilience, the captain proving so crucial in galvanising Denmark last year. But it was surely also the case that Hjulmand made some bad decisions during the tournament.
Speaking after the match the coach did not stint in criticising the levels of performance. "It's a big disappointment and it's not going to be good to look back on," he said. But when he does pore over the videos – providing the Danish Football Association does not intercede first – Hjulmand may reflect on why he had clearly not settled on a preferred attacking system before the tournament, instead changing shape and personnel up front for each of the three matches, with an attendant shift in approach.
Read more here: Paul MacInnes – Expectations, tactics, armbands: Denmark's Qatar postmortem begins
Group F: What do Belgium, Croatia and Morocco need to do to reach the next round?
Belgium have it all to do against Croatia, while Morocco just need to focus on their own game to make World Cup history.
Group F – Belgium, Canada, Croatia, Morocco
Final matches Thursday 1 December, 3pm GMT: Canada v Morocco, Croatia v Belgium
Croatia: A draw is enough for Croatia to qualify. They may still qualify if they lose, if Canada beat Morocco, depending on the margins of the respective victories.
Morocco: A draw will be enough to qualify. If they lose, but Croatia win against Belgium, they would still progress. If they lose and Belgium draw with Croatia, or they lose and Belgium beat Croatia, it would come down to goal difference whether they still progressed.
Belgium: Belgium need to win to be assured qualification. A draw may be enough, but only if Canada beat Morocco, and even then it will come down to goal difference.
Canada have been eliminated, but as co-hosts next time round will be looking to show they belong in this company.
Group E: What do Costa Rica, Germany, Japan and Spain need to do to reach the next round?
Despite thumping Costa Rica 7-0, Spain still haven't quite done it yet, and despite being bottom of the group, Germany might be feeling more confident than you'd expect.
Group E – Costa Rica, Germany, Japan, Spain
Final matches Thursday 1 December, 7pm GMT: Costa Rica v Germany, Japan v Spain
Spain: A draw will be enough for Spain to progress. However, if they lose and Costa Rica beat Germany, they will be eliminated – which would be a huge shock after opening the tournament with a 7-0 win.
Japan: A win against Spain will see Japan qualify. A draw means they are relying on Costa Rica and Germany drawing to progress. If Japan draw and Costa Rica win, Japan are out. If Japan draw and Germany win by just one goal, whoever has scored the most goals will go through. If Japan draw, and Germany win by more than one goal, Japan are out.
Costa Rica: A win will put Costa Rica through. A draw will be enough if Spain also beat Japan. If Japan get a draw, Costa Rica's vastly inferior goal difference means they would not progress.
Germany: The Germans can qualify if they beat Costa Rica and Spain beats Japan. A draw is of no use to Die ex-Mannschaft
Some pictures have just dropped on the wires of South Korea in training today ahead of their crunch match tomorrow. The Taegeuk Warriors face Portugal at 3pm GMT tomorrow knowing that a win is necessary, but they also have to hope that results go their way elsewhere. It is a tough ask, you feel.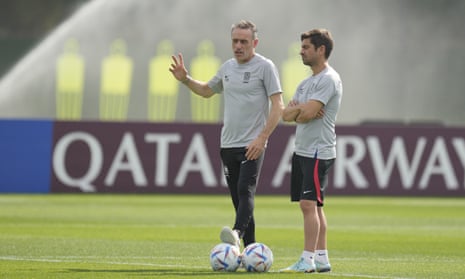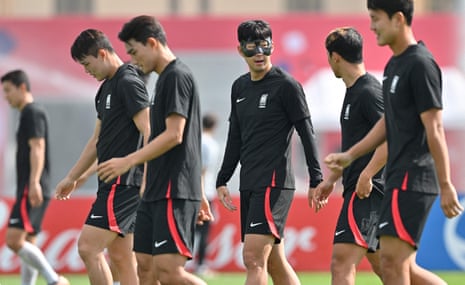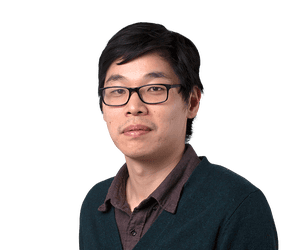 Jonathan Liew
Jonathan Liew is in Doha for the Guardian, and this morning he casts his eye over the situation that Germany find themselves in ahead of their decisive clash with Costa Rica:
Take the lack of a natural striker, an ongoing source of introspection in Germany and one brought into sharper focus in recent years. From Gerd Müller to Karl-Heinz Rummenigge to Jürgen Klinsmann to Miroslav Klose; the dominant, masculine No 9 is a central part of the mythology of German football. And so for many, the absence of world-class centre-forwards – generally believed to be a product of a youth development system that prioritises versatility and technical excellence over specialism – is emblematic of something deeper; a dilution of German identity, a divergence from tradition.
By the same token, the rise of the veteran Niclas Füllkrug – the stalwart Werder Bremen striker who was playing second-division football until this season – has been interpreted as a return to core values. "The German virtues, which we had been missing a bit lately, are back," wrote Lothar Matthäus after Füllkrug's emphatic equaliser against Spain on Sunday night.
Perhaps this feeds into a wider debate about whether, in an age of porous borders and the increasing fluidity of ideas, there remains such a thing as a national footballing identity. And if so, what is Germany's? "I do believe there are identities," Flick said on Wednesday. "Perhaps the nuances have changed in recent years. We want to have high intensity, be active and have possession. We want to force the opponent to make mistakes, which means we sometimes press hard. We want to stand for attractive and modern attacking football."
Read more here: Jonathan Liew – Germany face questions that cut to heart of identity before Costa Rica tie
One sad note that has come out of last night's Australia match is the confirmation from Football Australia that defender Bailey Wright's mother-in-law has died.
Wright came out with an emotional statement in the immediate aftermath of his team's 1-0 victory over Denmark, saying "I've just come in from a message from my wife. I just want to dedicate this to my wife, bless her, and her mum. I'll be honest, I'm not sure if she's still with us."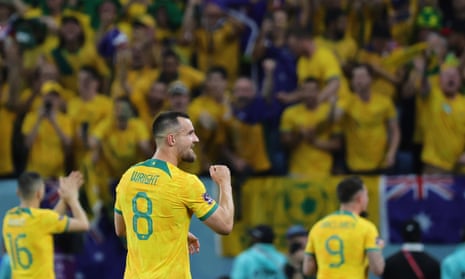 "It was, for them, a really tough time back home, but ultimately it made this possible for me to be here and live one of my dreams so I dedicate that to Tammy."
Reuters reports that Wright said he had not told his teammates about his worries back home. "No one knows. That's something I've kept to myself; we*ve all got a lot going on. Job to do, isn*t it? You've got to be professional all the time," he added.
Football Australia confirmed on Thursday morning that Wright's mother-in-law had died and the defender would not appear for media.
It was another late night for Max and the gang in the pod. If you haven't caught it yet, then here is the latest daily episode of Football Weekly. Joining Max Rushden are John Brewin, Philippe Auclair, Mark Langdon, Marcela Mora y Araujo and Emma Kemp to dissect the final action in Groups C and D.
Today is the day we sort out Group E and Group F, which means this evening it is crunch time for Germany, the possibility of an unlikely redemption for Costa Rica, Japan sweating on results elsewhere if they can't get a second win, and Spain still not guaranteed a second round place.
Before all that, Belgium's golden generation face their last hurrah, Croatia still have some work to do, Morocco will be hoping to progress from a group for the first time since 1986, and Canada want to show they will not "do a Qatar" as co-hosts in four year's time. Here is what we have to look forward to:
We will, of course, have MBMs for them all. Before then there's the fallout from last night, media appearances from all the teams playing in tomorrow's final round of group games, plus any other nonsense that occurs to me along the way. Do get in touch – you can email me at [email protected].