Key events
Nick Ames is in Doha for the Guardian, and he previews today's clash between Serbia and Switzerland:
Four years ago, hostilities had been publicly stoked. Yet much of the buildup to their latest showdown has resembled a convention of the saints. It was clear on Tuesday, when Sergej Milinkovic-Savic and Dusan Tadic took questions at Serbia's Al Arabi training base, that nobody was of a mind to dangle bait.
"There's no doubt it was big pressure four years ago but we need to focus on football and show we can play better than them," Tadic said when asked how Serbia would handle the occasion this time. His teammate matched the answer virtually word for word. Neither player expected emotions to run high: the priority was simply to look at themselves.
Mitrovic struck a similar note, saying: "It was a different game, we're not thinking about what happened before."
The problem is that the wider context tends to lurk beneath the surface and undermine any well-scripted words. Serbia are under Fifa investigation for displaying a flag showing Kosovo as part of their country, along with the words "We do not surrender", in their dressing room before their opening game against Brazil. That did not go unnoticed in Kosovo.
Read more here: Nick Ames – Switzerland and Serbia feel the weight of history before high-stakes clash
Tomorrow we will be in the thick of the knockout stages, and Saturday evening's fare in Qatar will be Argentina v Australia. The Socceroos have been talking up the awe they hold their opponents in, while for Argentina, it has been about avoiding complacency.
Steve Douglas at AP writes that Australia's players speak in glowing, almost reverential terms about Lionel Messi. "He just does things that, you know, no one else can do," forward Mathew Leckie said. Milos Degenek went even further. "Probably," the Socceroos defender said, "the best footballer ever to grace the game."
"I think they're obviously driven by the motivation that it could be Messi's last World Cup," Degenek said, "and he wants to win the World Cup and end it on a high. For us, it's about stopping that. Unfortunately, I'm a big fan of his, but I'd love to win the World Cup probably more than him."
"No one expects us to win," Leckie said. "So let's shock the world."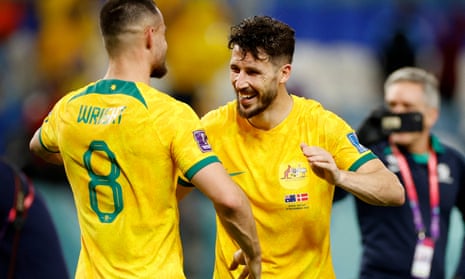 Argentina have already weathered the storm of their shock opening defeat to Saudi Arabia. "We know, at the moment, everything is very difficult," said Messi, who is bidding to win the World Cup in his fifth and likely last attempt. "All the opponents are complicated. We know it as well as anyone."
"We went back to being what we were for a long time," Messi said after Argentina's 2-0 win over Poland that secured a place in the last 16, "and how we were looking to be at the beginning of the World Cup, which for different reasons we could not manage. "It gives confidence for what is coming."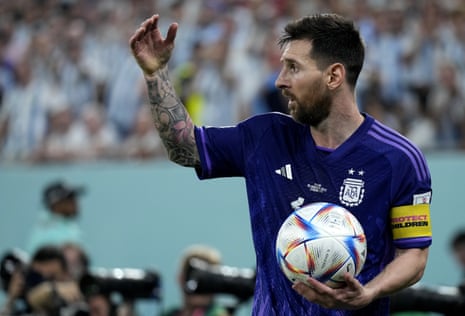 Group H: What do Ghana, South Korea and Uruguay have to do to join Portugal in the next round
Group H – Ghana, Portugal, South Korea, Uruguay
Final matches Friday 2 December, 3pm GMT: South Korea v Portugal, Ghana v Uruguay
Portugal have qualified. A point will guarantee they win the group.
Ghana: A win against Uruguay will put Ghana through. A draw will be enough unless South Korea beat Portugal, in which case Ghana must hope South Korea pull off only a one goal victory, otherwise the Asian side will pip them on goal difference.
South Korea: They must beat Portugal, and hope that Ghana do not win. If Ghana draw then their hopes depend on their goal difference compared to Ghana. If Ghana lose, then South Korean hopes depend on their goal difference compared to Uruguay.
Uruguay: Uruguay must win, and hope that South Korea do not win against Portugal. If both Uruguay and South Korea win, then their relative goal differences will decide who qualifies. Uruguay start with a goal difference one worse than South Korea, so would have to beat Ghana by more than South Korea beat Portugal.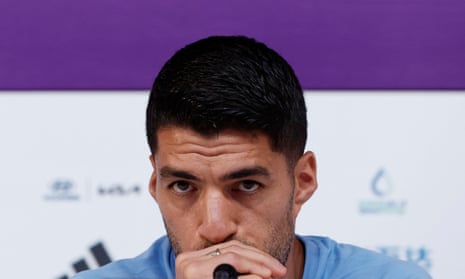 Group G: What do Cameroon, Serbia, Switzerland have to do to join Brazil in the next round
Group G – Brazil, Cameroon, Serbia, Switzerland
Final matches Friday 2 December, 7pm GMT: Cameroon v Brazil, Serbia v Switzerland
Unless Cameroon can beat Brazil, the match between Switzerland and Serbia looks like being a straight knockout tie.
Brazil have qualified and just need a point to guarantee top spot.
Switzerland: A win ensures Switzerland go through. A defeat means they go out. If Switzerland draw, they will still progress unless Cameroon have beaten Brazil, in which case goal difference will come into play.
Cameroon: Cameroon will progress only if they can beat Brazil and Switzerland do not win. A draw between Serbia and Switzerland – or a Serbian victory – would leave second place being contested on goal difference between Cameroon and one of the European sides.
Serbia: Serbia will progress only if they can beat Switzerland. However, if Cameroon also beat Brazil, then second place will be contested on goal difference between Serbia and Cameroon.
Karen Carney's latest column is up for us. She says England have a plan to take them to the final but warns that high-quality Senegal are a danger:
England have not lost in their 20 matches against African opposition, which is an impressive record. There have already been shocks in the tournament and the important thing is for England to maintain their focus. Kalidou Koulibaly scored Senegal's winner after a free-kick was crossed into the box against Ecuador, a sign of how dangerous he is.
England will be favourites but they should not have one eye on the quarter-final because they will be punished. I have played in tournaments where we were tipped to win, lost concentration, conceded two goals from set pieces and were on the next plane home.
Senegal have lost some key players: not only Gueye and Kouyaté but also Sadio Mané before the World Cup began. Selfishly, as an England fan, this is good news because they will be very hard to replace. Senegal do, though, have plenty of quality. We have seen at Watford how dangerous Ismaïla Sarr is and he proved that by winning and scoring a penalty against Ecuador.
Read more here: Karen Carney – England have a plan to take them to the final but high-quality Senegal are a danger
Over 17 million people tuned in to German broadcaster ARD's coverage of the World Cup match between Germany and Costa Rica on Thursday, according to data from audience measurement firm AGF, Reuters reports.
The survey sadly doesn't specify how many people threw their shoes at the telly in disgust at the end of the game.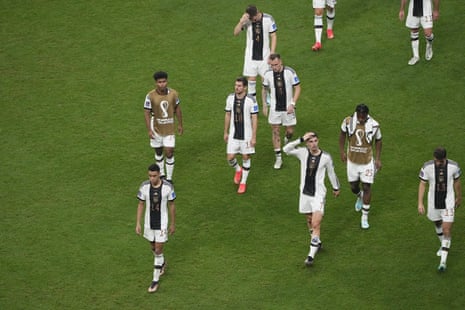 We will be coming to how that Japan goal was allowed to stand shortly, but late last night it was one of the main topics of conversation in the pod with Max and the gang. Barry Glendenning, Lars Sivertsen, Jonathan Fadugba and Archie Rhind-Tutt were with Max Rushden to assess the fallout from an extraordinary night of drama. Get it in your ears.
Well then, Morocco and Japan topping their groups was a coupon-buster yesterday and no mistake. Will we get anything similar today as our final groups, Group G and Group H, come to a climax/shuddering halt [delete as appropriate]?
The evening matches see an already qualified Brazil Reserves XI take on Cameroon. Brazil need a point to top the group, Cameroon need to build on their spirited comeback against Serbia with a win or they are not going any further. Serbia and Switzerland could be tasty. The winner probably goes through, a draw is enough for the Swiss, and they met at this stage in 2018 and it was a bad-tempered affair.
Before that, South Korea need a win against already qualified Portugal to stand any chance of progressing. Portugal need a point to guarantee top spot and avoid playing full-strength Brazil on Monday. Uruguay and Ghana have a rematch of that contentious 2010 quarter-final, with both sides knowing a win will probably see them progress.
Before then I will be bringing you reaction to yesterday's matches, words from the people paraded in front of the press in Qatar today, and all the other World Cup bits and bobs you need. You can contact me at [email protected].