Key events
And for France …
We have Philippe Auclair on Didier Deschamps.
David Hytner on Lloris.
Let's have a little focus on Argentina for a moment.
Starting with Jonathan Wilson on Julian Alvarez.
Sid Lowe & friends on Lionel Scaloni.
And some Paul MacInnes for good measure.
"We're always in the news for bad stuff, politics and the economy aren't going in the direction you might want, and it's been a long time since there's been a genuine reason to celebrate."
Amy Booth in BA.
The global game, in pictures.
We can all see it, right…?
Croatia midfielder Luka Modric said he intends to play for the Balkan nation until the Nations League finals in June next year but has yet to decide about his participation at the Euro 2024 tournament.
Modric helped Croatia win the bronze medal at the World Cup in Qatar after they defeated Morocco 2-1 in the third-place playoff on Saturday, having finished as runners-up at the 2018 edition in Russia.
Croatia head coach Zlatko Dalic said this week Modric is likely to feature for them at the Euros in Germany despite his age should the team qualify, but the 37-year-old said on Saturday that he would consider his options.
"About my future? I do not know if I will play until the Euros in Germany. I need to go step by step," Modric told beIN Sports. "I am enjoying the national team and I feel happy. I still think I can perform at a high level. Then after, there will be more time to think about the Euros. Now it is (to) go step by step and continue at least until Nations League and then we will see." Reuters
I am sure he is open to suggestions.
Buenos Aires is primed.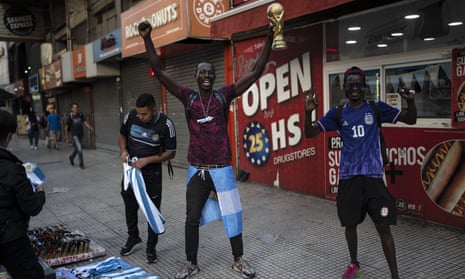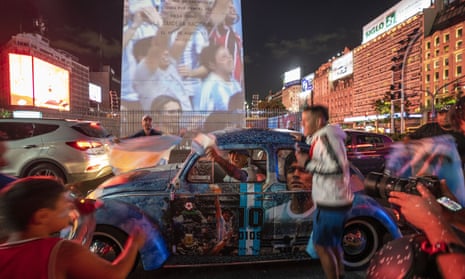 Let's have a look at two key individuals in today's match.
Nick Ames on Emi Martinez.
Jacob Steinberg on Dembele.
"Francisco here, a 32-year-old Argentinian," good morning Francisco.
"Wonderful job throughout the World Cup from you and your colleagues, deep admiration and congratulations!" stop it!
"Three things to share …
"First the incredible level of excitement here. It's something out of this world. Encapsulated by this Twitter thread made of celebrations after reaching the final a couple of days ago – can't even imagine what could happen if things go the way we want them to go yesterday (touch a million pieces of wood!).
"Second, as evidenced in how I phrased the potential result above, is the superstition or "cábalas" we Argentinians use. Amongst all, it is never to say something that may happen lest you jinx it. So every person here talking about the match will never say something like "we'll win it" or start celebrating beforehand. I know of people who always use the same clothes to see the match, others who stand up every time Messi touches the ball, or watching the matches alone on purpose. So much so this way of thinking goes that, as a joke to hope somebody would lose, we say "ah, congratulations to the team for having won x tournament" in a way to jinx them. Lots of traditions and superstitions in the hope that some deity (Maradona?) helps us. Having lived in London for the last six years I find it interesting to compare this view with the classic irony of British humour with the "it's coming home" chant.
"Third – I know Tiger Tiger around Trafalgar Square was showing the matches and it was full of Argentinians."
"Vamos argentina!!"
Mbappe? Nah. Antoine Griezmann is the man to stop, according to our very won Karen Carney.
Fill your boots with the briefing.
Naturally, if Argentina do win and Messi scores the winner, and a commentator says "you could not write this", then they should be sacked on the spot. I think the world's best (ever) player scoring a big goal in the biggest match really is quite easy to write. Even I could put that script together.
Barney Ronay has had a busy few days coughing up phlegm and writing about Doha.
Here are his latest offerings …
One interesting for France is the absence is Karim Benzema. He left the camp before the tournament began with a thigh problem but has not returned despite playing in friendlies for Real Madrid. His social media output has been quite cryptic in recent days, mainly him posting about winning the Ballon d'Or. I think there is a bigger story to come out of that once the competition is done and dusted.
The important thing is to get into the mood for the final and the only way to really do that is by reading a plethora of Guardian features on France and Argentina.
We start with Marcela Mora y Araujo in Buenos Aires on that Messi chap.
Jacob Steinberg looks at France and their stars who were in this position four years ago before defeating Croatia.
Finally, after what seems like an eternity, we have reached the final. We can all go back to spending time with our loved ones and watching club football once the day is done.
In the meantime, it is the final a lot of people wanted: Messi v Mbappe. Argentina have been excellent since their opening match bashing by Saudi Arabia, while France have trudged through to the final two with some acceptable performances.
The match kicks off at 3pm UK time, so use your search engine of choice to find out what the means for you.
Here's to an exciting day that the world has been waiting for since 2018, in a way.