Key events
"Good afternoon Tom." Good afternoon V Krishnamoorthy. "Netherlands – Argentina brings to one's mind that Bergkamp's classic. LvG should surely be showing that to his players to inspire and Scaloni must be making sure that NO ONE from his team sets their eye on it. And THIS article is as exciting as the goal itself. I do not know who is better the scorer of the goal or our respected Rob for this magnificent article. I read it at least once a year."
And well you might. That was very obviously the best match of France 98, and it's curious that that year's Dutch team are rarely mentioned in pub-talk discussions about best teams not to have won the World Cup. Netherlands 98 were a scintillating side. Mind, that Argentina team were hugely watchable too – Ortega et al.
Qatar has failed to meet its visitor-number target of 1.2m for the first fortnight of the tournament, with 765,000 showing up for the first 17 days. Here's the story:
Tite v Roy Keane: The Brazil coach has waded into the dancing celebrations contrived-kerfuffle, launching an impassioned defence of his side's exuberance. "I am very sorry but I will not make comment on those who do not know Brazilian history or Brazilian culture, the way each and every one of us is," Tite scoffed.
"To those, I leave that noise aside. I want my connection to be to my job, to the people who I relate to, to those who relate to my work. They know how much I respect the Brazilian history. Those are the ones I give my heart to. I respect the culture.
"Who knows how many more kids will dance, because that is what is in the culture when a goal is scored. It is not being disrespectful to anyone else, that is how we do things, that is us. This may also help the education of young kids back in school and we will continue doing things in our manner."
Croatia coach Zlatko Dalic is cool with it too. "They have their own way, they celebrate how they know, they are demonstrating their character and tradition," he said. "It is their right. Does that mean it is respectful or disrespectful to the opponent? I can't say. I would not like to see my players celebrate like that but they are a different culture and they like to dance."
Dalic described tomorrow's quarter-final as their toughest test yet. "I believe the match ahead of us will be the most demanding one, I can compare it to the final against France in the previous World Cup," he said. "They are a great opponent and a great challenge for us. I wish such a difficult match was waiting for us a bit later. But life is such. We are ambitious and we will not rest here and we try and win tomorrow."
Some Morocco news now. And Reuters reports that their defender Nayef Aguerd faces a race against time to be fit for Saturday's World Cup quarter-final against Portugal after he limped off in tears during the last-16 win over Spain. The West Ham player faces intense treatment on a suspected thigh injury before they know if he will be ready at the weekend, team officials said.
Morocco gave their players time off for a second successive day on Thursday after the physical exertion of the Spain win. Midfielder Sofyan Amrabat played with a back injury, he said after Tuesday's victory in a tearful television interview. "I was working with the physio until three o'clock in the night trying to do all I could to play. In the end, I had to have an injection to play. I just couldn't let those guys and my country down," he said.
Which is remarkable really, as Amrabat's performance on Tuesday was one of the most dynamic all-action displays by anyone in the tournament, I reckon.
In non-World Cup news, Uefa has fined the Republic of Ireland €20,000 after their women's team sang a pro-IRA chant following their World Cup playoff victory over Scotland in October. The Ireland manager, Vera Pauw and the FAI had previously apologised for the incident.
Thanks Will. To answer Kurt's question: No. Though they'd be a decent bet for the last eight and, even though they had glaring weaknesses up front in this World Cup, the USMNT do appear on an upward curve again. And they'll have more fervent support than at the last World Cup they hosted, in 1994, I think.
Anyway, let's turn to the USA's conquerors in Qatar, the Netherlands. And Nick Ames reports on their preparations for the quarter-final against Argentina, and their hopes of avenging that turgid 2014 semi-final defeat:
Right, it's time for me to nip out and get a pint of milk. No, that's not a euphemism, we've actually run out. I'll hand you over to Tom Davies, teeing him up with a question sent in via email by Kurt Perleberg: "Can the USMNT win the 2026 Fifa World Cup?"
De la Fuente confirmed as Enrique's successor
Well, that was quick. The RFEF has announced that Luis de la Fuente, Spain's under-21 manager, has stepped up to replace Enrique. Once again, it's time for a statement. "The RFEF has chosen Luis de la Fuente as the new national coach. The sports director, José Francisco Molina, has forwarded a report to the president, Luis Rubiales, in which he recommends the choice of the coach from La Rioja, until now the under-21 coach, to lead the new stage that begins after the World Cup in Qatar. Molina will present the report for his appointment next Monday, December 12, to the RFEF board of directors."
In Spain, the reaction to Enrique's exit has been mixed. "For me the departure of @LUISENRIQUE21 from @SEFutbol is not good news," tweets Marca's Miguel Ángel Lara. "I liked his idea and his way of playing, no matter how much it didn't come across in Qatar or was wrong. I'm sure you'll do well wherever you go." According to Javi Giraldo, of Diario Sport, the decision to part ways "leaves the feeling that Luis Enrique's cycle is halfway done."
Here's a snap report on Enrique's departure. There'll be more to come later.
There'll be quite a few club managers having a stiff drink after that news. Expect the Luis Enrique managerial rumour mill to grind fast and hard over the next few months.
Spain bid farewell to Enrique
Following Spain's last-16 defeat to Morocco on penalties, the Spanish Football Federation (RFEF) has confirmed that Luis Enrique is set to leave his role as manager. "The RFEF would like to thank Luis Enrique and his entire coaching staff at the helm of the national team in recent years," read a statement.
"The sports management of the RFEF has sent a report to the president in which it is determined that a new project should start for the Spanish football team, with the aim of continuing with the growth achieved in recent years thanks to the work carried out by Luis Enrique and his collaborators.
"Both the president, Luis Rubiales, and the sports director, José Francisco Molina, have communicated the decision to the manager. The Asturian coach managed to give a new impetus to the national team since his arrival, in 2018, through a profound renovation that has consolidated a generational change in the team and in Spanish football.
"Luis Enrique qualified for two final fours of the Uefa Nations League, of the three he contested as coach, and he reached the semi-finals of Euro 2020 with his own approach and through a defined style. He opted for young talent and has sown hope for the future of the Spanish team. The RFEF enthusiastically wishes Luis Enrique and his team the best of luck in their future professional projects. The coach earns the love and admiration of his collaborators in the national team and of the entire Federation, which will always be his home."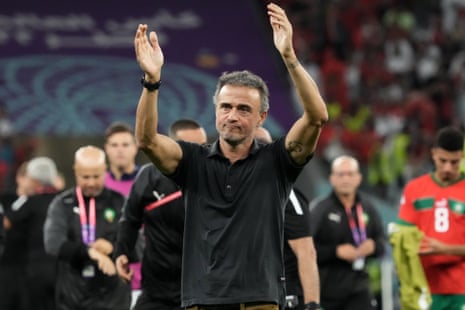 Meandering back to England's quarter-final against France, we have some correspondence from Krishna Moorthy. "Good afternoon Will." Hello! "Could we have handed over the trophy to France if Kanté, Pogba, and Benzema were also in at this stage?"
As a reminder, N'Golo Kanté and Paul Pogba, two heroes of France's World Cup win in Russia, were both ruled out with injury ahead of the tournament. Karim Benzema, who returned from a long spell out in the cold last year, was included in the squad but sustained a thigh injury before France's opening group game against Australia which cut short his World Cup campaign.
Kanté and Pogba have been so hampered by injury in recent seasons – and Pogba by a sustained decline in form – that it's honestly hard to say if they would have been able to lift France's midfield. Kanté is probably missed the most and would likely have started ahead of Adrien Rabiot, though it should be noted that, despite being a lightning rod for criticism, Rabiot has done pretty well so far.
Benzema may be France's Formula One car, but he has actually only scored once for the national side this calendar year. Meanwhile Olivier Giroud, their supposed go-kart, has three goals already at this tournament (and six in total for Les Bleus in 2022). Having already shown that his all-round contribution is worthy of a World Cup-winning side, he deserves his place up top. To answer the question, then: France are still a really, really strong side.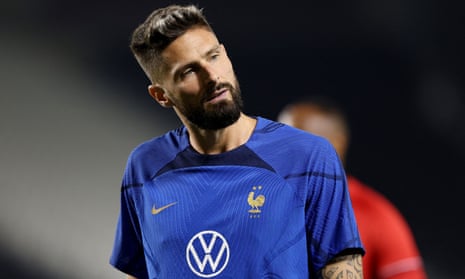 Portuguese Football Federation denies Ronaldo threatened to quit
A controversy involving Cristiano Ronaldo? No, surely not. In the latest twist in the ongoing melodrama over him being dropped, the Portuguese Football Federation (FPF) has released a statement denying a report in Record, a Portuguese sports newspaper, that Ronaldo threatened to abandon the squad owing to his substitute's role in their 6-1 win against Switzerland.
"News released this Thursday reports that Cristiano Ronaldo threatened to leave the national team during a conversation with Fernando Santos, the national coach," reads the statement. "The FPF clarifies that at no time did the captain of the national team, Cristiano Ronaldo, threaten to leave the national team during the stay in Qatar.
"Cristiano Ronaldo builds up a unique track record every day at the service of the national team and the country, which must be respected and which attests to his unquestionable degree of commitment to the national team. Incidentally, the degree of dedication of the player most capped by Portugal was again demonstrated – if necessary – in the victory against Switzerland, in the round of 16 of the 2022 World Cup.
"The national team – players, coaches and FPF structure – is, as it has been since the first day, fully committed and enthusiastic in building what the country wants to be Portugal's best ever participation in a World Cup."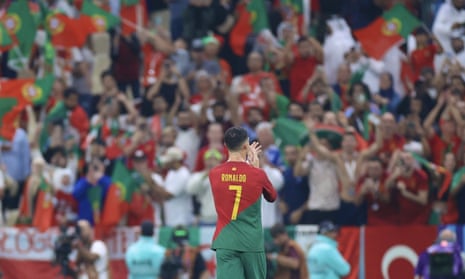 As an aside to the news of Sterling's return to Qatar, he turns 28 today. Remember, he's 28 until he becomes 29. That's how it works.
For what it's worth, Mbappé's teammates have also been at pains to stress that it's not all about him. "Football isn't played by one or two players, it is played by the whole team," is the sage advice from Ibrahima Konaté. Adrien Rabiot, meanwhile, has warned that England shouldn't fixate on stopping Mbappé, which feels a bit like an attempt at reverse psychology.
Here's a stat which backs up the assessment of Griezmann as one of France's biggest attacking threats. Contrary to accepted wisdom, Deschamps' side are not just the Mbappé Show.
You know who appreciates all things Antoine Griezmann? Didier Deschamps, firstly, but also Jonathan Liew. In fact, he thinks the Atlético Madrid man could have been more influential for France than Mbappé at this tournament. It's an intriguing premise. Here's why.
Qatar missed its visitor target for the first 17 days of the World Cup by quite some distance, with 765,000 international visitors instead of an expected 1.2 million, according to an organisers' report. The peak period for visitors was during the group stage and has now passed.
FA confirms Sterling to rejoin squad
And there we have it. The FA have released a statement confirming Sterling will rejoin the England camp, which reads: "Raheem Sterling will return to England's World Cup base in Qatar. The Chelsea forward temporarily left to attend to a family matter but is now expected to rejoin the squad in Al Wakrah on Friday ahead of the quarter-final with France."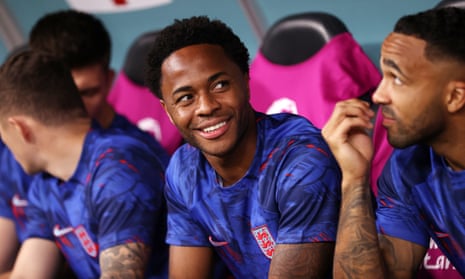 Is there anyone in football under more scrutiny than Kyle Walker at the moment? Tasked with keeping Mbappé under wraps on Saturday, the England right-back seems weirdly chilled out about the whole thing. "He's one of the best, if not the best, in the world," he said cheerfully, when asked about his coming duel with the France forward. "I understand what I need to do and that's to stop him. It's probably easier said than done, but I don't underestimate myself." It's definitely easier said than done, but good luck anyway.
In good news for Gareth Southgate, Raheem Sterling has set the wheels in motion for a return to the England camp. He was forced to fly home after a burglary at his home left him concerned for his family's safety but, having spent time finalising their security arrangements, he hopes to rejoin the squad before the big game at the weekend.
In case you missed it, here's David Squires's latest cartoon. Gianni Infantino, Cristiano Ronaldo and Arsène Wenger, look away now. (Editor's note: none of them read this blog.)
Here's some thoughtful comment from Emma Kemp, reflecting on her time in Qatar covering Australia's campaign. It serves as a much-needed tonic to the "I went to Qatar as a cosseted tourist and can confirm there's nothing to see here" narrative that has emerged in recent days.
According to the family of Abdullah Ibhais, a whistleblower who was jailed after raising concerns about the mistreatment of migrant workers at World Cup stadium sites, he was tortured on the eve of the tournament. In a letter released by FairSquare, a human rights organisation, Ibhais's family have accused Fifa of "callous indifference" towards his case. Here's the full report.
Hello and welcome back to Fear and Loathing in Qatar, a day before the start of the quarter-finals. Croatia, who edged past Japan on penalties in the last 16, take on Brazil, the favourites, before the Netherlands go up against Argentina. On Saturday, Morocco do battle against Portugal and then, finally, there's a little game between England and France. "There's a belief that we've got to win this tournament," said Harry Maguire earlier this week, suggesting he's done a good job of blocking out intrusive thoughts about Kylian Mbappé. "Of course we know how tough it is going to be. There are probably five or six teams with the same belief. But in 2018 we probably weren't one of those teams. Now there's five or six who have that belief and we're one of them."