Key events
I was seven in 1986 and actually, watching this compo of Maradona aged 43 is in even more mind-boggling now than it was then, because then I thought this was normal best-player-in-the-world behaviour. I was probably in my 20s when I realised someone getting the ball and running around everyone on the other team, in World Cup knockouts, was just him – never mind on those pitches against that kind of defending. Sit back, relax and lose your grasp on reality.
Afternoon all! I've some joy to share…
Right, I need to go and have lunch, walk the dog, and flick through my Panini sticker albums for a bit in anticipation, so I will hand you over to Daniel Harris for a while.
The English Premier League's social media manager must be anxious for all this to be over so they can get back to their usual content rota. They are going for a Tottenham v Chelsea spin on tonight's semi-final with Hugo Lloris and Hakim Ziyech literally in the frame.
I was worried for a while that the only pictures that were coming over the newswires from Doha showed just Morocco fans, but fortunately it looks like some French fans have turned up now too.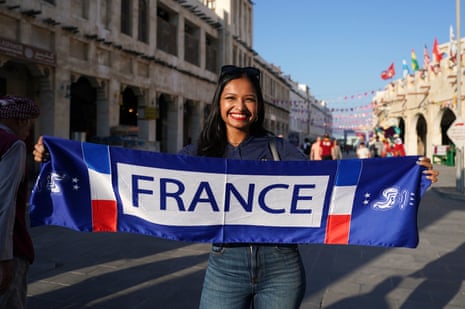 Regardless of the outcome tonight, France have made an impressive defence of their title. They are the first defending champions to reach the semi-final of the following tournament since the 1994 winners Brazil did it in France in 1998.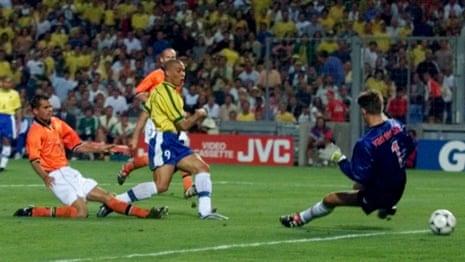 That 1998 winning French team crashed out of the 2002 World Cup at the group stage which included a defeat to Senegal in the opening match. The 2002 champions Brazil were knocked out at the quarter-final stage by France in 2006. 2006 winners Italy failed to win a match in South Africa in 2010, finishing bottom of Group F. Spain then had a nightmare in Brazil in 2014 as champions, opening up with a 5-1 hammering from the Netherlands and then losing to Chile in the group stage. And the 2014 champions Germany had their worst ever World Cup in 2018, exiting at the group stage for the very first time.
Away from the World Cup for a moment, the latest edition of Moving the Goalposts, the Guardian's free women's football newsletter, has dropped. In it Júlia Belas Trindade is writing about FC Viktoria Berlin. They are an ambitious side currently playing in the Regionalliga Nordost in the third tier in German women's football, but aiming to reach the top division in five years with Ariane Hingst, one of the club's co-founders and a two-times World Cup winner with Germany in 2003 and 2007, one of the main faces of the operation.
We are expecting Morocco's fans to massively outnumber the French at the Al Bayt Stadium in Al Khor by the time kick off comes around – there is about seven hours still to wait I'm afraid – and we are already getting pictures through of fans gathering in Doha.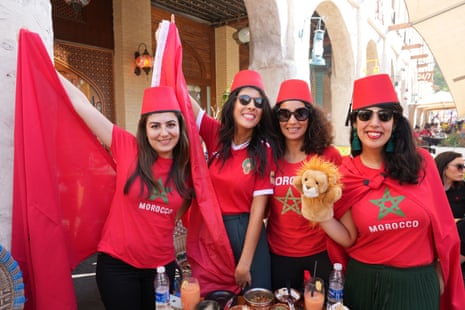 France's Theo Hernandez is undaunted by it all, according to his Twitter feed anyway.
Despite France being a close neighbour and a former colonial power over Morocco, the two sides have not met frequently, and some of the meetings were part of the Mediterranean Games, where the nations sent either amateurs or a B-team as a representative. Morocco have never beaten France.
The last time they played each other was at the Stade de France in 2007, in a game that finished 2-2. Morocco took an early eighth minute lead through Tarik Sektioui, and then Sidney Govou equalised after 15 minutes for a French team that included William Gallas, Patrice Evra, Claude Makelélé and Karim Benzema. Samir Nasri thought he had won it for the home side in the 76th minute, but Moroccan substitute Youssef Mokhtari made it 2-2 with five minutes to go.
You can watch a highlights package of that match here to get you in the mood. It is worth noting that there are some cracking goals, some dodgy goalkeeping, an extremely hostile atmosphere, an extravagant pair of co-commentators who genuinely say "Oh là là!" at one point, and a little wrestling match featuring Lilian Thuram.
Croatia are still rightfully feeling proud of their achievements at this World Cup, despite last night's defeat.
Are you a Moroccan fan? If so, our community team are looking to hear your views ahead of tonight's semi-final.
Away from the football for a minute, a three-judge panel will decide later today whether four suspects charged and arrested in a fraud scandal rocking the European parliament will stay in detention during the investigation or can be set free.
Reuters reports that the investigation, during which Belgian police discovered huge stacks of cash as they raided the homes and offices of EU lawmakers, parliamentary assistants and NGO campaigners has triggered one of the biggest corruption scandals to hit Brussels.
Prosecutors suspect Greek MEP Eva Kaili and three others accepted bribes from World Cup host Qatar in a bid to influence EU policymaking.
Kaili's lawyer Michalis Dimitrakopoulos told Reuters on Tuesday that his client was innocent and Qatari officials have also denied any wrongdoing.
So, do you think they had a good night in Buenos Aires?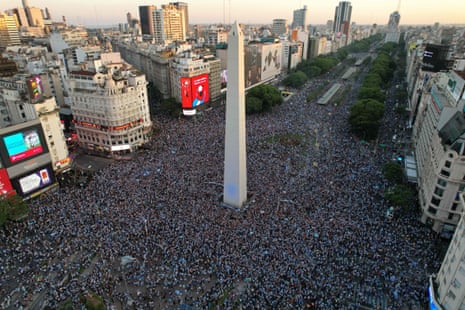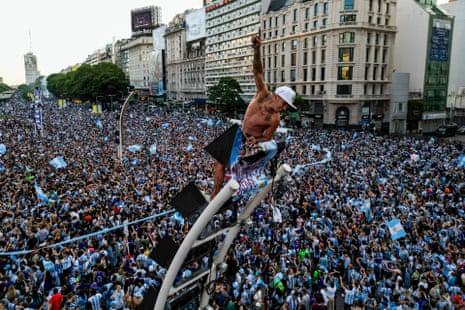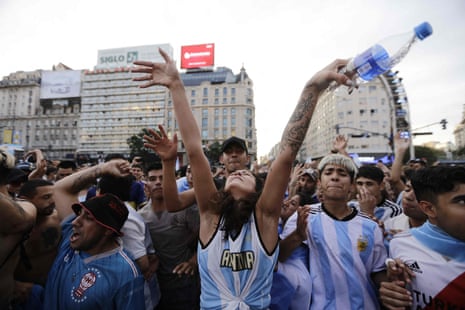 Adam White writes for us this morning on how, having faced down England, Didier Deschamps will have to beat another disciple to reach the World Cup final:
Of the many unexpected trends at this World Cup, Didier Deschamps' growing status as international football's ideological spearhead may be the most surprising. The France coach may lack the revolutionary ideas of the managers who have moved the sport forward in recent times, but his ever-effective philosophy boasts an increasingly prominent group of disciples.
Before England's quarter-final defeat to France on Saturday, Gareth Southgate said he was heavily influenced by Deschamps' approach. Walid Regragui, the Morocco coach who will be facing France in the semi-finals, has since added: "France made me dream in 2018 with the way they played. Deschamps understood how to do it – let's stop with statistics."
French fans might scoff at the term "Deschampsism" but it has quietly become the leading philosophy in modern international football. Deschamps has already seen off a leading disciple in Southgate, albeit with some luck. Repeating the trick against his fellow student Regragui could be even trickier, as Morocco do not have to fight against high expectations back home.
Read more here: Adam White – Didier Deschamps has to beat another disciple to reach the World Cup final
David Cook emails to say that he hopes that Morocco's progress in this tournament will change a few attitudes. He writes:
I hope that Morocco's successful campaign in this competition will stand them in good stead when next we apply to stage the World Cup here in Morocco. No more patronizing comments about third world countries not being able to stage this competition. Win inshallah, or lose tonight's game, the Morocco people can be proud of the team's performance.
Morocco bid unsuccessfully to host the 1994, 1998, 2006, 2010 and 2026 tournaments. Indeed, one of the saddest things still sitting in my draft folder of the Guardian content management system is an explainer on how the Morocco tournament in 2026 would work had they won the bid.
I am not petty* but the French team's social media manager is really annoying me, because they keep posting video clips on Twitter that appear to be geo-locked so that I can't see them in London without resorting to the kind of hooky internet lash-ups I learned back in the Napster and BitTorrent days.
Anyway, they've just published a very moody montage of training and press interview clips with the message "We expect a lot of adversity but the objective is to win", and I'm not embedding it, because I can't guarantee you'll be able to see it.
[*I absolutely am petty, and in fact a reader emailed me yesterday to call me petulant which is possibly also true]
Do you fancy applying for the job of head coach with Belgium? If so, it is your lucky week, because the Belgian FA have posted the vacancy online.
Our new national team coach is extremely ambitious and has the necessary top-level international experience, tactical knowledge and insights as well as the right personal skills.

We are looking for a serial winner with an experience in managing top players. The new national team coach knows how to focus on creating a close-knit group and how to integrate young players. He is a tactical expert who supports his choices with data, technology and objective parameters and draws on RBFA's sporting expertise and structure. He knows how to win trophies in top competitions.

The new national team coach is an ambassador for Belgian football, helping to promote the RBFA values and is available full time.
Applications close on 10 January. Good luck!
Some 10,000 police officers will be mobilised nationwide in France, of which 5,000 personnel will be posted in the Ile-de-France region around Paris and some 2,200 in the capital, double the security staff than for earlier key World Cup matches, interior minister Gerald Darmanin said on France 2 television today.
"Our Moroccan friends, just like the French supporters, are welcome to organise a party and our job is not to stop them from partying … but this will have to be done under good security conditions," Reuters reports Darmanin said.
France is a former colonial ruler of Morocco and has a large Moroccan diaspora, concentrated mainly around Paris and the Mediterranean coast area.
Darmanin said the Paris Champs Elysees will not be closed on Wednesday but might be closed on Sunday evening following the World Cup final. The Paris police prefecture said security forces will focus on the Champs Elysees to prevent vandalism and aggression.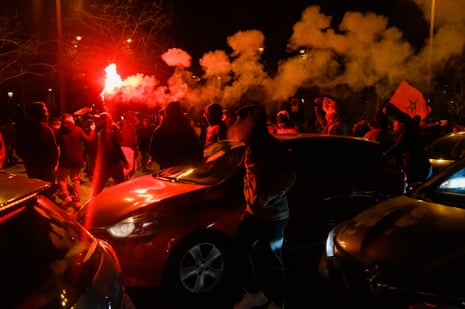 Darmanin said that much could depend on the weather, as France is experiencing an unusual cold spell, with temperatures below zero and snow expected in a large swathe of northern France.
"The weather, which is not very suitable for outdoor gatherings, but we expect that no matter the weather, people will want to express their happiness, which is indeed legitimate," Darmanin said.
Associated Press have had people out and about in Rabat ahead of tonight's match talking to people about their feelings as Morocco face France.
Hind Sabouni, a 26-year-old English teacher in Morocco's capital said "This game is one of a kind, especially since France is next to beat. We can show the rest of the world that Morocco is no longer France's back yard."
Sabouni said her generation of Moroccans is tired of France's dominance. Young Moroccans, she said, "speak English instead of French, they buy more American products than French ones and even those who want to seek a better life abroad try to avoid France."
"Even though this is just a football game, some people view it as an opportunity for revenge," Sabouni said.
But not everyone.
Kenza Bartali, a communications professional in Rabat, sees no political overtones to the match. She obtained her masters degree in France, and lived for two years in Paris and the southern cities of Nice and Toulon between 2016 and 2018. She made "wonderful friends" who are still her friends today. "Most Moroccan students were treated with respect," the 26-year-old said.
Still, there is no doubt which team she's supporting.
"I sincerely hope that Morocco advances to the final," Bartali said. "I am aware that it will be difficult because France is a very good team, but we are hoping for the best."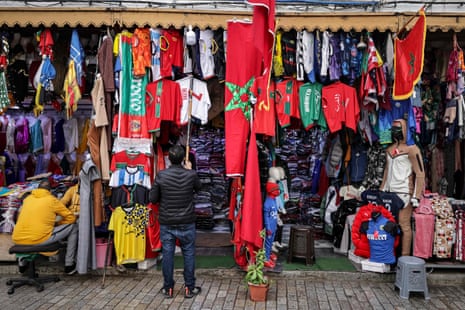 If you need your inner football nerd needs scratching, then have no fear, because the Knowledge is here with the answer to questions like "Which team won the World Cup with the longest pre-tournament odds?", "Who are the top-ranked club side globally to not have any World Cup players in Qatar?", "Which footballer has turned the least successful playing career into a successful punditry career?" and "What is the largest animal you believe you could catch if it was fired directly at you from a cannon at a distance of thirty metres?"
OK, maybe not the last one. Get your answers here.
I've got a lot of time for Croatia coach Zlatko Dalić's comments after the match last night, as reported by Reuters:
I have nothing to blame the boys for, now we have to raise our heads and get ready for the game that awaits us. If someone had offered us this before the tournament, we would have accepted it. We are really proud.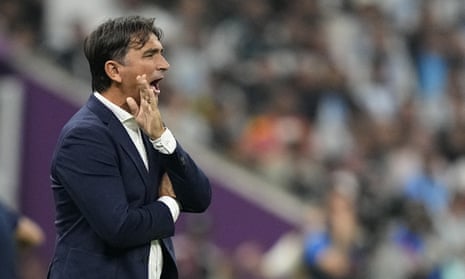 Club football is beginning to intrude. Erik ten Hag has said he does not know when Jadon Sancho will return to action with Manchester United, saying there are "physical but also mental" issues to deal with.
The forward started the season well with three goals before the international break in September, but has not played since United's 1-1 draw at Chelsea on 22 October. Ten Hag said he had seen a notable dip in Sancho's confidence after the 22-year-old was left out of the England squad for the Nations League matches in September.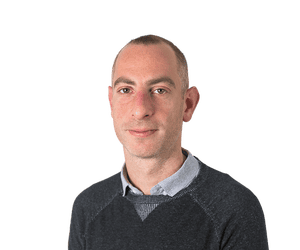 Ed Aarons
Ed Aarons writes for us this morning on the making of the Atlas Lions who have seized this tournament and made it their own:
Osian Roberts, now assistant manager at Crystal Palace, signed up as the Royal Moroccan Football Federation's technical director in 2019, and the two years he spent in the job mean he is looking on from afar at the team's remarkable World Cup achievements with particular excitement and satisfaction.
"I was absolutely convinced and wanted to be fully onboard because of the passion the football association president Fouzi Lekjaa has for football in Morocco – that's what sold it to me," says Roberts. "It wasn't just a wish or a dream. There was a plan behind it in order to achieve success. For me it was just a wonderful opportunity to develop football further in Morocco and become one of the leading nations in Africa that everybody could aspire to work towards. It almost felt like an obligation for me to jump on the bus and drive it forward."
The Atlas Lions will make history on Wednesday when they become the first African team to contest a World Cup semi-final. Led by the Paris-born manager Walid Regragui, a side made up of homegrown stars including the dashing midfielder Azzedine Ounahi and barnstorming striker Youssef En-Nesyri, and players drawn from the country's wide diaspora, such as Hakim Ziyech and Achraf Hakimi, face the world champions, France. According to Roberts, their success is no accident.
Read more here: Ed Aarons – 'Expectation had to be raised': the making of World Cup heroes Morocco
Last night was one of those evenings where I feel for people who don't enjoy football. Tense and tight, and then suddenly the breakthrough. I actually let out an involuntary "Oh my god what a goal" when Julián Álvarez scored Argentina's second. The drive. The determination. He had just steamrollered his way through the Croatia defence and was not taking no for an answer.
Then you watch it in slow-motion, and you realise it involves a series of lucky touches off of defenders back into his path and he just about keeps it under his control before the finish. The fine margins at this level are unbelievable. What a goal. What a time and place to score it. The official highlights are here – the first Álvarez goal starts about 55 seconds in.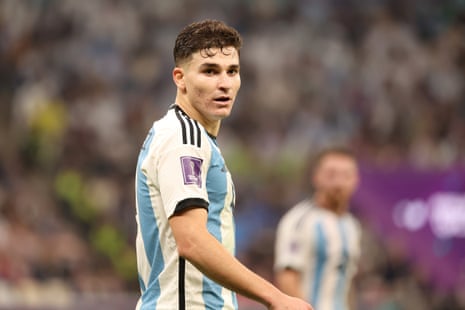 Morocco's national airline cancels fan flights to Doha citing 'restrictions imposed by Qatari authorities'
What would the day of a World Cup semi-final be without a little bit of organisational chaos? Reuters reports that Morocco's national airline said it was cancelling all flights it had scheduled for Wednesday to carry fans to Doha for the World Cup semi-final, citing what it said was a decision by Qatari authorities.
"Following the latest restrictions imposed by the Qatari authorities, Royal Air Maroc regrets to inform customers of the cancellation of their flights operated by Qatar Airways," the airline said in an emailed statement.
The Qatari government's international media office did not immediately respond to requests for comment from Reuters.
Royal Air Maroc (RAM) had previously said it would lay on 30 additional flights to help fans get to Qatar for Wednesday night's semi-final game against France but on Tuesday a source at a RAM travel agency said only 14 flights had been scheduled.
The cancellation of Wednesday's seven scheduled flights means RAM was only able to fly the seven flights on Tuesday, leaving fans who had already booked match tickets or hotel rooms unable to travel. RAM said it would reimburse air tickets and apologised to customers.
Yesterday fans were queueing up outside the ticket outlet in Qatar, where the Moroccan football association was distributing free tickets for tonight's match to fans. It said it had bought up the remaining unsold tickets to give away. Morocco have been one of the best supported teams during the course of the tournament.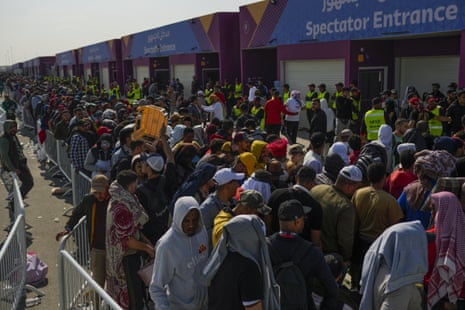 The magnificent Football Weekly podcast has been slightly wrongly named during this tournament, as we've been keeping Max and the gang up at all hours to analyse events nearly every day. Last night was no exception. Join Max Rushden, Barry Glendenning, Nicky Bandini, John Brewin and Marcela Mora y Araujo to hear them discuss Argentina's breathtaking victory last night.
One down. One to go. Tonight at 7pm GMT at the Al Bayt Stadium in Al Khor we will find out whether it will be France or Morocco who are going on to face Argentina in the World Cup final on Sunday. What a prospect.
I think everybody expected the Croatia v Argentina match to be a tight a cagey affair, just as it was for the first thrity minutes. But then Argentina absolutely did a number on the Europeans – what a performance and what goals. Who would back against them winning the tournament now?
And who would have bet that at this stage, with three teams in the mix, Morocco would be the only unbeaten team that remains? They have seen off Croatia, Belgium, Spain and Portugal without conceding a goal. Have they got one more epic performance left in them to see off France? They have injuries and coach Walid Regragui has already said he won't know his team until the last moment.
France are also expected to make injury-inflicted changes, but will go into tonight's match as heavy favourites in a tie that carries a lot of political and colonial baggage and which is generating profound emotions in France, Morocco and across the African and Arab worlds. The organisers would love a final that centres around Mbabppé and Messi – but will Morocco have the last word tonight?
I am Martin Belam, and I will be bringing you all the fallout from last night, all the buildup to tonight, and all the other World Cup news, gossip and silliness that I can muster. Drop me a line to [email protected].