Key events
Not just any match day, say Croatia, it is an epic match day. I honestly cannot wait for either of these semi-finals and I just cannot call who we will be seeing in the final on Sunday.
Talking about being sarcastic about things, I did feel yesterday that I was maybe being a little bit disparaging about the Fifa technical study group briefing that took place, and appeared to be some kind of "Death by PowerPoint" event. Barney Ronay, on the other hand, is in Doha and decided to go at it overnight with a high two-footed tackle:
These occasions are part of the treadmill of Big Football events. Qatar 2022 has hit its last, choreographed deep breaths, the bridge before the final push. It is now time for the football version of those moments in The Office where we watch the printer trays whirring, blank sheets loading, something to feed the machine between the beats.
This is when we get the Fifa Technical Study Group media briefing, there to fill the empty air with words. The job here, like everywhere else, is to reinforce and justify every aspect of this World Cup. Pascal Zuberbühler was basically talking about how successful he thinks Fifa's new rules about staying on the goalline are. Earlier Zaccheroni had hymned the "technical" effects of five subs and masses of extra time.
Nothing is bad in this room. Everything is good, better, progress. At some stage everyone on stage parroted the (arguable) line that this World Cup is a showcase for emerging powers – because, of course, this is a way of selling the expanded version next time out.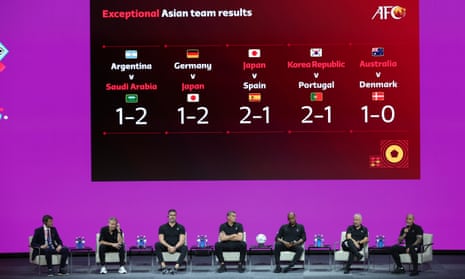 Read more here: Barney Ronay – Welcome to Fifa's Technical Study Group: nothing is bad, everything is good
Hello! Football is back! Briefly. This evening. There are only three competitive fixtures of the Qatar World Cup to go, and one of them is tonight. Strap in for Croatia v Argentina at the Lusail for a place in Sunday's final. 7pm GMT.
A Messi-driven Argentina will be looking for their sixth final appearance and his last chance to lift the trophy. For Croatia, a team who remarkably have never failed to reach at least the semi-finals if they manage to get out of their group, it is a chance for a second successive final, and possible redemption against France for 2018's 4-2 defeat.
As well as the buildup to that, we should also have media appearances from the France and Morocco camps, more speculation about the future of England's Gareth Southgate, probably a little bit of club football gossip creeping back in, and me being sarcastic about things. Drop me a line at [email protected].