Key events
Moving the World Cup into the European winter has disrupted not just domestic club football, but also slightly weirded out the international calendar. The European teams that failed at the quarter-finals stage have got the best part of three months now to dwell on that before they are thrust straight into qualifying for Euro 2024. Matchday one runs from the 23 March to 25 March 2023. Will coaches be staying? Will senior figures be quitting international football?
Two of the teams that got knocked out at the weekend face daunting tasks. The Netherlands open their Group A campaign away to France at the Stade de France on 24 March. The day before that, England's next competitive fixture is away to Italy in the Stadio Diego Armando Maradona, Naples. Portugal at least have a relatively easy fixture to get them going, home to Liechtenstein on the same night.
Jürgen Klinsmann has been discussing the contrast between Brazil and Argentina's penalty shootout strategies at the technical study group briefing in Al Rayyan that I was being a little bit disparaging about earlier. Reuters quotes him saying:
We were freaking out, it was real drama. We tried to discuss the difference between the drama from the Brazil game compared to the Argentina v Netherlands game and we came up with some ideas.

After conceding the equaliser in the 117th minute, Brazil had no time to switch gears. From the disappointment of conceding a last minute goal to the penalty shootout, there was no time to settle and approach the shootout positively.

For Brazil, they should have maybe put their best shooter first, set the tone with the best penalty taker you have and then go down the rankings.
Klinsmann went on to say:
With Argentina, they had extra time to play, even with the shock of the Weghorst equaliser in the last minute. They had 30 minutes more to play. At the end of the game they were far more clearer going into the penalty shootout.
It was notable that talisman Lionel Messi stepped up and scored Argentina's first penalty, whereas Brazil had already been eliminated before it was Neymar's turn to take one.
Tom White over at the PA Sport data journalism unit has been crunching the numbers on Harry Kane and his penalty misses, to show that Saturday's aberration was pretty much a once-in-a-blue-moon event.
It is the fourth time Kane has taken two penalties in the same England game and his first miss in those matches. Three times on the way to his record-equalling 53 England goals Kane has scored two penalties in a match as part of a hat-trick.
The first of those, against Panama, helped him to the Golden Boot at the last World Cup as he scored six times in total on England's run to the semi-finals.
He repeated the feat in a 4-0 European Championship qualifying win over Bulgaria the following year and again, scoring four goals in all, as England beat San Marino 10-0 last November in the qualifying campaign for the current World Cup.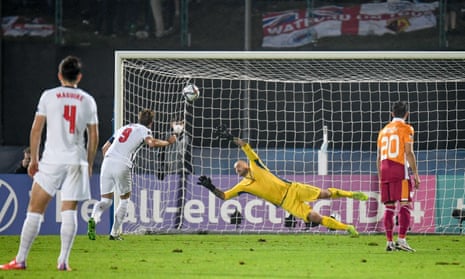 Kane is the only player to take two penalties in an England international on more than one occasion, excluding shootouts.
Some observers suggested Kane should have let somebody else take the second penalty but such a move has not helped England in the past.
Only twice have England had two penalties in a game taken by different players, in friendlies against Brazil in 1956 and Romania last year. Marcus Rashford scored the first against Romania but Jordan Henderson missed the second, while John Atyeo and Roger Byrne both missed in the 4-2 win over Brazil.
Kane is the third England player to both score and miss a penalty in the same game, following Sir Bobby Charlton in 1960 and Allan Clarke in 1971.
Only Kane himself knows, of course, but I personally can't help feeling that the fact that he was facing his own club captain in goal in the shape of Hugo Lloris – who must have seen him take a lot of penalties – was playing on his mind.
I've just been having a quick watch of the highlights package of the opening game in Group F back on 23 November – Morocco and Croatia's nil-nil draw. I'm not sure a single person in the world at the end of that game said "There you go, there's two of your semi-finalists for sure", but there are some cracking saves in it. You can refresh your memory here.
This technical study group meeting looks a little bit like "death by PowerPoint" from a distance.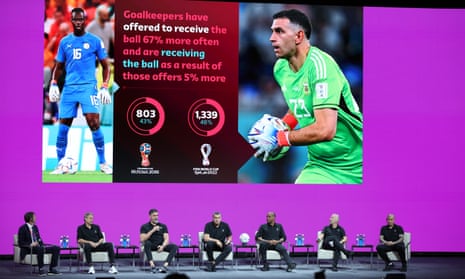 The EU's foreign policy chief said on Monday that allegations of bribery by World Cup host Qatar to burnish its image at the European Parliament were "worrisome", after Belgian prosecutors charged four suspects with corruption.
Agence France-Presse reports this morning that the bribery claims have rocked the EU's legislature and sparked calls for the bloc's institutions to be put under the microscope to root out foreign influence.
"There is a process ongoing. Certainly the news is very worrisome – very, very worrisome," EU foreign policy chief Josep Borrell said. Borrell said no officials from the bloc's diplomatic service or overseas missions were implicated in the allegations.
"There is a police and judiciary actions. We have to follow these actions," Borrell said, adding he could not go beyond the "judiciary statements".
"This is very, very, very grave accusations," he said.
AFP also reports that Greek authorities have frozen the assets of European Parliament vice president Eva Kaili on Monday, after the Greek MEP was arrested on corruption charges over her alleged involvement in a graft scandal linked to Qatar.
The measure, which also applies to her relatives, includes "bank accounts, safes, companies and other financial assets", said the Greek anti-money laundering authority president Haralambos Vourliotis.
Greek banks and state services have already been informed of the decision, the authority said. The 44-year-old former television presenter was charged with corruption on Sunday in Brussels.
That technical study group media briefing has started in Doha – on the panel are Jürgen Klinsmann, Pascal Zuberbuehler, Faryd Mondragon, Sunday Oliseh, Alberto Zaccheroni and Du-Ri Cha. I'll bring you any significant quotes.
Do you know what this World Cup needs? A different ball. Well, that is at least what Fifa and Adidas think, as they have unveiled the Al Hilm, which will be the official match ball of the semi-finals and final. Kaka and Iker Casillas were pressed into duty to stand around with it at the launch in Doha.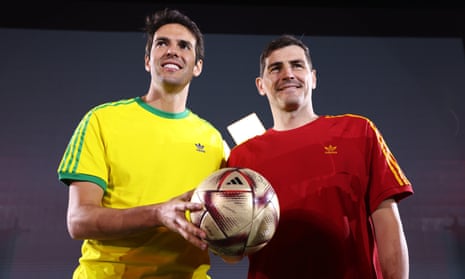 The exciting announcement tells us that:
Al Hilm translates as "The Dream" in Arabic and features a unique graphic design, setting it apart from the Al Rihla used throughout the tournament so far. Al Hilm will be the official ball for the semi-finals and final. Just like Al Rihla, Al Hilm will feature the "Connected Ball" technology, which has proved a huge success in making semi-automated offside decisions faster and more accurate.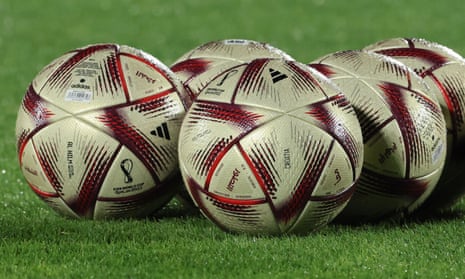 The press release doesn't specify which ball will be in use for the third-place playoff, presumably because nobody cares.
Omar Momani has been drawing his favourite bits of the World Cup – including England going home – and today he has a very serene looking CR7.
I am not saying it is a slow news day in Qatar today, but the latest pictures coming across the newswires are some empty chairs. We are expecting a technical study group media briefing later. I'd put a small wager on them saying it has been the most skilful and excellent tournament ever.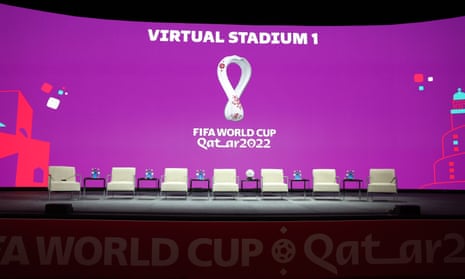 I did mention that a bit of club football news might start seeping in. Chelsea forward Armando Broja picked up a knee injury in the London club's 1-0 friendly defeat by Aston Villa at the weekend, adding to manager Graham Potter's problems in attack ahead of the Premier League restart.
Reuters reports that Potter told the club's website "It doesn't look positive at the moment but it's too early to say. Fingers crossed but it is an awkward one."
Chelsea face Bournemouth on 27 December when the Premier League restarts.
I promise not to keep harking on about the England game at the weekend* but one of the weirdest bits of commentary on ITV in the UK was surely when Sam Whatshisface said something along the lines of "England face an exit at an earlier stage than expected" having already pointed out that England had only ever won three of their nine previous World Cup quarter-finals. Surely that means the quarter-final stage is exactly when they are expected to exit? But you can prove anything with facts these days, I guess …
[*I will, sorry]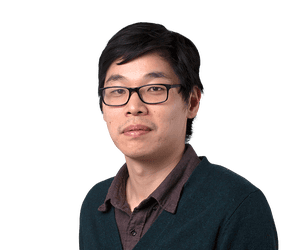 Jonathan Liew
Jonathan Liew is in Doha for the Guardian, and today he is writing for us on the topic of the wailing and gnashing of teeth about England … or rather … the welcome lack of some of it:
There are no easy targets here, no effigies to burn. The common consensus, indeed, is that England played well. Which is nice. It's lovely that England played well. England have been playing well for a few years now. And yet the result was the same that Roy Hodgson's side achieved in 2012, the same as three Sven-Göran Eriksson sides, the same as Diego Maradona's Argentina in 2010 and Germany in 1994. Which leads to a pointed and open-ended question: does any of the above really matter?
In essence, this is a question about what sort of footballing nation England wants to be these days. How much do England really need to win one of these tournaments? How should we want to measure success and failure? Where should we be pitching our expectations?
I use the first person here because really these are questions for all of us to answer: not just players and coaches and administrators and the media but fans and the public. There is a common view out there which seems to be that this time we can spare ourselves the finger-pointing and vindictiveness, set aside the lust for purgation and new blood, and simply applaud a fine performance by a fine team against slightly better opponents. This, in itself, probably represents progress. Top eight in the world: this is not a bad thing. Perhaps this is enough. Perhaps this is fine.
Read more here: Jonathan Liew – England ticked the boxes but did they need to win this World Cup enough?
It isn't just the Morocco team who have been one of the stories of this tournament like no other in Qatar, but also their fans. Overnight Reuters has reported that Morocco's Royal Air Maroc will operate 30 special flights to carry even more fans from Casablanca to Doha for the country's Wednesday World Cup semi-final game against France.
Passengers on the promotionally priced round trips will add to thousands of Moroccans who are already attending the competition, and the flights would depart on Tuesday and Wednesday.
Amine El Amri is a sports journalist working for Le Matin in Morocco. Today he writes for the Guardian that Morocco's Atlas Lions are roaring again and an entire nation roars with them:
For me the Moroccan journey in Qatar is renewing the feeling of pride among the people of my country. When the referee Facundo Tello blew the final whistle that ensured Morocco had beaten Portugal in the quarter-final there were eight players on the pitch who grew up in Morocco and learned their football in the country's academies and clubs.
It showed that the talk about there being a difference between those born and trained abroad and those not was simply not true. The players have all been as one and they have all been legendary. This also sends a strong message to everybody in the kingdom, that no matter what hurdles and difficulties you face, if you put your heart and soul in your dreams, they might just come true.
And that message, of course, is far more important than any sporting achievement, including a World Cup semi‑final. When I first started as a journalist, a little over 10 years ago, my aim was to share my passion with a wider public to show just how much football, and sports in general, can transform the lives of not only the active stakeholders but literally everyone.
Read more here: Amine El Amri – Morocco's Atlas Lions are roaring again and an entire nation roars with them
Hello. It is a non-football day in Qatar, and by my reckoning we are roughly equidistant from the wailing and gnashing of teeth about England starting on Saturday night, and being able to sit down and enjoy Croatia v Argentina at 7pm GMT on Tuesday night.
Today we should have some media appearances from some of your semi-finallists, continued wailing and gnashing of teeth, not just from England but from Portugal, the Netherlands and Brazil too, and presumably club football gossip will begin rearing its head again. And maybe more cat news.
Join me here for the all the news and buildup during the day, and do drop me a line to [email protected] with whatever is on your mind.